Humphrey's Half Moon Inn & Suites from Bring It On
Sep 9th, 2009 | By
Lindsay
| Category:
Movie Locations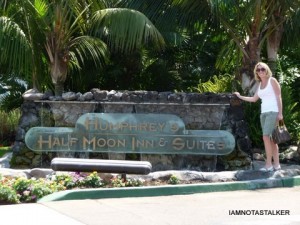 The second item on my Bring It On  stalking agenda from last weekend was a little hotel named Humphrey's Half Moon Inn & Suites, which is also located on San Diego's Shelter Island, just down the street from the Marlin Club which I blogged about yesterday.    This is one location that I actually hadn't planned on stalking when I first headed down to San Diego last Friday.  But – thanks to fellow stalker Owen – I had the address written down in my trusty stalking notebook, so when my dad mentioned that he wanted to look at a boat store that was in the same area as Humphrey's, I asked if he would be so kind as to also take me by the hotel.  Well, as you can probably imagine, that request did NOT go over well AT ALL!  My dad promptly reminded me that I had originally promised I would only be dragging him to two stalking locations that weekend.  He was more than just slightly peeved that I was all of a sudden adding previously unmentioned locales to the list.  In his defense, though, he hadn't really been feeling well all weekend and, being that he just barely tolerates my stalking habit on a good day, perhaps this is one request I shouldn't have made.  But since we were going to be in the area, I just HAD to ask.  Well, my dad did end up – very relunctantly – taking me by the hotel and, as fate would have it, as soon as we got there he absolutely fell in love with the place!  He took about a million pictures, walked the entire hotel grounds, and even suggested to my mom that they stay there during their next San Diego trip.  LOL LOL LOL  See, as I've always said, good things come to those who stalk!!  🙂  You simply just never know what cool spot is waiting right around the corner for you to discover!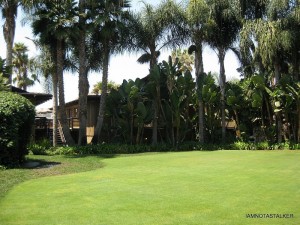 I'm actually not at all surprised that my dad was so taken with Humphrey's, as it is a really beautiful hotel which boasts a private marina, picturesque ocean views, a fitness center, a heated pool and jacuzzi complete with a poolside bar, a putting green, a spa, large lawns, meandering ponds, and a waterfront restaurant which was recently named "San Diego's Finest Restaurant with Live Music Venue" by the California Restaurant Association.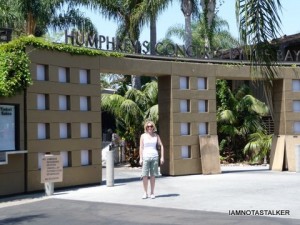 Humphrey's also has quite a large celebrity connection.  Besides being a favorite of television star John Stamos, whose E! True Hollywood Story  was filmed in part at the hotel, each summer Humphrey's is also the site of a very successful outdoor concert series named Humphrey's Concerts by the Bay.   I literally almost fell over when I read a list of the many famous names who had recently graced Humphrey's stage.  Those names include The Soup's  Joel McHale (so LOVE him!), Joe Cocker, Frankie Valli and the Four Seasons, LeAnn Rimes, Joan Baez, the Indigo Girls, Tori Amos, Jewel, Chicago, Tears for Fears, the Moody Blues, Earth, Wind, & Fire, Lyle Lovett, Tracy Chapman, Tower of Power, Dave Koz, Sinbad, Air Supply, Christopher Cross, Wanda Sykes, the Beach Boys, Crosby, Stills, & Nash, Loggins & Messina, and Chris Botti.  Whew!   What a lineup!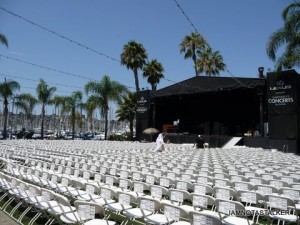 Ironically enough, while my parents and I were perusing the hotel grounds (before we had learned about Humphrey's A-List concert series), we happened upon a rock group setting up in a backstage area.  As we were walking by, one of the band members put his arm out to block my path and said "Hey, are you with the band?"  I was a bit taken aback at the man's rude tone and said "No, I'm sorry, I'm actually not with the band.  Am I not supposed to be walking through here?"  The guy laughed and said "Aw, I'm just joking with you.  Unless, of course, you want to volunteer to help these guys set up the stage."   To which I said, "If you make me the star of your next music video, I might stick around to help."  LOL  Well, the guy just laughed at me and that was that.  Until a few minutes later when I noticed a large crate with the words "RatDog" and "Grateful Dead" stenciled across the front.   I immediately grabbed my mom and said "Oh my God, I think we were just talking to members of the Grateful Dead!"  She looked at me like I was absolutely crazy and said "No, Lindsay, trust me, the Grateful Dead would not be playing here."  Well, come to find out, former Dead guitarist Bob Weir and his band, RatDog, were, in fact, playing at Humphrey's that night and not only had we walked right past some of the band members, but I had actually unknowingly spoken with one and asked him to put me in his next music video!  LOL LOL LOL  When we went back later to ask the band if they'd take a picture with me, they were, unfortunately, nowhere to be found.  🙁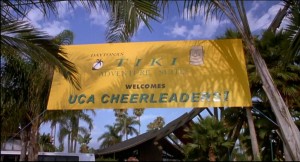 In Bring It On, Humphrey's stood in for the Daytona Beach Tiki Adventure Suites hotel where Kirsten Dunst and the rest of the Toros stayed during the Universal Cheer Association Nationals Competition towards the end of the movie.  I'm actually quite surprised that producers chose to use Humphrey's to represent a Florida area hotel, as the place looks more like it belongs in Waikiki than Daytona Beach.  Although its close proximity to the Marlin Club must have made it the easy choice for filming.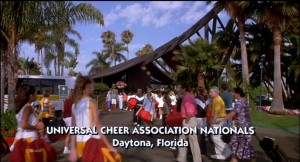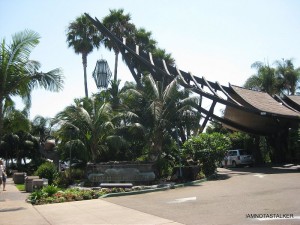 Several areas of the hotel were featured in Bring It On, including the front entrance;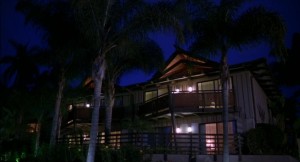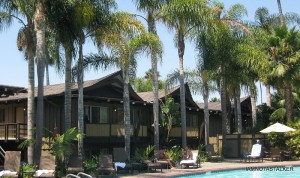 the exterior of some of the rooms,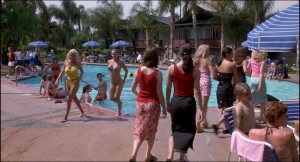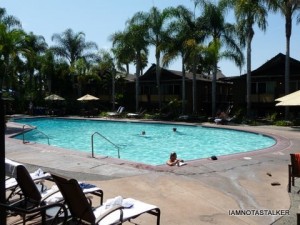 the pool area,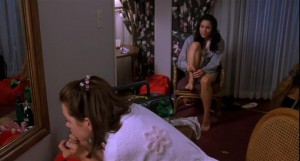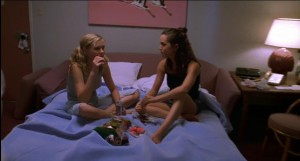 and the interior of one of the rooms.
Humphrey's Half Moon Inn & Suites is a really beautiful place and I highly recommend stalking it!  I am very much looking forward to my parent's next trip down to San Diego, as it looks like they will most likely be staying at Humphrey's, so you can bet I'll be tagging along with them once again!! 
Until next time, Happy Stalking!  🙂
Stalk It: The Bring It On  hotel, aka Humphrey's Half Moon Inn & Suites, is located at 2303 Shelter Island Drive on Shelter Island, just outside of Point Loma, in San Diego.  You can visit their website here.  Humphrey's is located just down the street from another Bring It On location –  the Marlin Club – which can be found at 2445 Shelter Island Drive.
12204