The Vera Wang Flagship Salon
Oct 1st, 2009 | By
Lindsay
| Category:
Sex and the City Filming Locations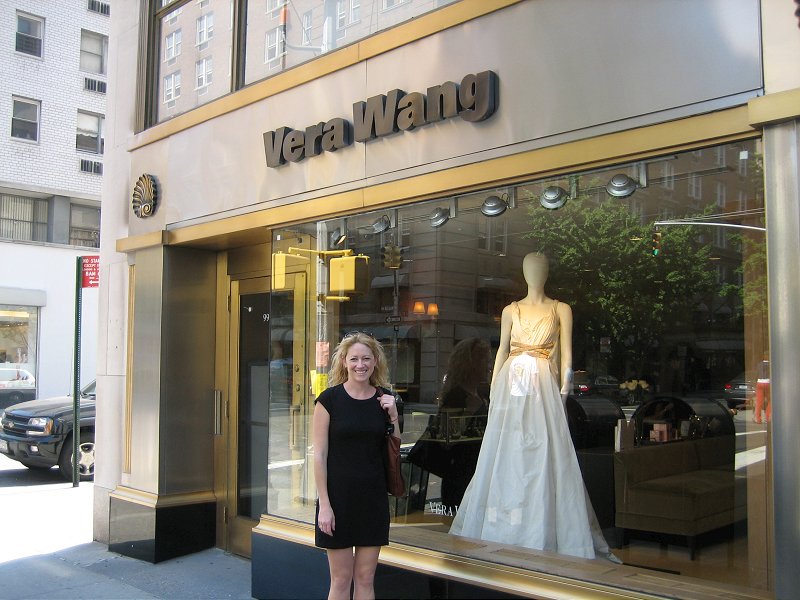 While I realize that today should really be the start of my annual, month long "Haunted Hollywood" theme, since I am on a plane right now headed to Manhattan, I decided to write a post about New York, my favorite city in the world, instead.  🙂  And since I've had weddings on the brain ever since getting engaged this past May, what better way to start my New York blogging than to write about the bridal salon that puts all other bridal salons to shame- the Vera Wang Flagship Store on Madison Avenue.  🙂  Even though there is no way in heck I could ever afford to purchase a Vera Wang wedding gown (let's face it, I probably couldn't even afford the sleeve of a dress in that store!  LOL), I deemed the location to be blog-worthy since it appeared in a Season 3 episode of fave show Sex and the City.  So, here goes!  (Please excuse the above photograph, as it was taken on a particularly windblown New York City day a few years back, and my hair is a bit, um, ruffled.)  🙂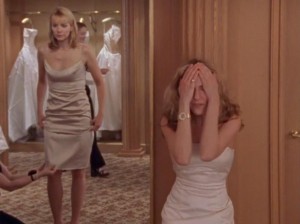 In the episode, which is entitled "Don't Ask, Don't Tell", Carrie and the girls head to the Vera Wang Flagship Salon to try on some absolutely gorgeous bridesmaids dresses for Charlotte's upcoming nuptials to Dr. Trey MacDougal.  It is while trying on the dresses that Carrie laments over whether or not to tell Aidan about her recent affair with Mr. Big.  As the girl discuss the pros and cons of coming clean with Aidan, Samantha, of course, resorts to using foul language, causing Charlotte to whisper "Could you please not use the 'F word' in Vera Wang!"  LOL LOL LOL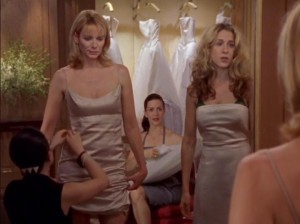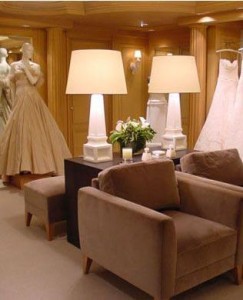 Even though Charlotte specifies in the scene that they are at Vera Wang, I wasn't sure if filming had actually taken place at the legendary Madison Avenue salon until I was able to verify it in the locations section of fave book  Sex and the City: Kiss and Tell.  And once I knew for sure, I, of course, immediately dragged my then-boyfriend out to the Vera Wang Flagship Store to snap a quick picture.  🙂  Unfortunately, though, because the store is a " by appointment only" establishment, I wasn't able to venture inside.  🙁  And being that I stalked the place LONG before I was engaged and had any sort of need for a wedding dress, there was really no reason for me to make an appointment.   LOL   Such a bummer, too, because I so wanted to see the spot where Carrie and the girls tried on their dresses.  I did manage to grab the above photograph of the interior of the Madison Avenue store off of the company's website, though, and you can kind of catch a glimpse of where filming took place.  🙂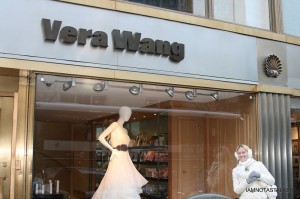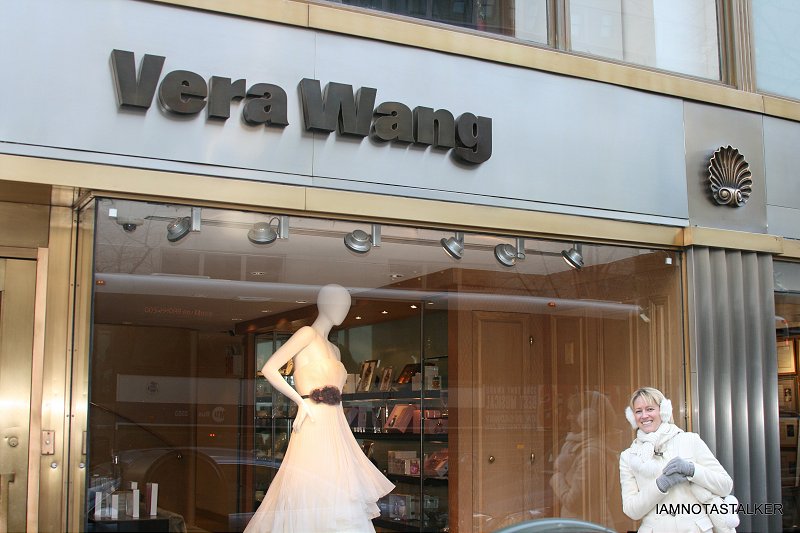 You can also sort of see the store's interior in the above photograph that I took last December.
Until next time, Happy Stalking!  🙂
Stalk It: The Vera Wang Flagship Salon is located at 991 Madison Avenue in Manhattan.  You can visit their website and make an appointment to try on wedding gowns here.
12183