The First Wives Club Building
Oct 5th, 2009 | By
Lindsay
| Category:
Movie Locations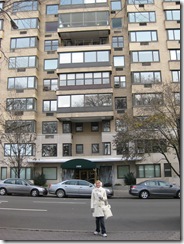 Amazingly enough, I still have a long list of New York filming locations that I have yet to blog about from last year's trip to the Big Apple.  One of those locations is the Fifth Avenue building where Dan Hedaya lived with his trashy trophy-girlfriend Sarah Jessica Parker in fave movie The First Wives Club.  Now, I know The First Wives Club is a fairly old movie – it premiered over 13 years ago – but it happens to be one of my all time favorites.  It is one of those rare flicks that, if I happen to catch on TV, no matter where I am or what I am doing, I HAVE to stop and watch the whole thing.  I just never, ever get tired of it!  Especially the scene when Goldie Hawn storms into her cheating estranged husband's office, slams two quarters down on his desk and says "As per our agreement, I sold our assets to a friend of mine.  Here's your half.   Considering our history together, I thought a dollar was terribly fair."  At her ex's stunned expression, Goldie shrugs, says, "Oh, alright!  Take it all!" and slams the other two quarters down on his desk.  LOL LOL LOL  Anyway, when I found a location from the movie in a stalking book I picked up for last year's NYC trip called Manhattan on Film: Walking Tours Of Hollywood's Fabled Front Lot, I just had to drag my boyfriend right out to stalk it.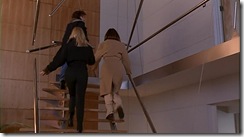 The Fifth Avenue building was actually featured in only one scene in the movie – the brief, but memorable window washing scene.  In The First Wives Club, spurned first wives Bette Midler, Diane Keaton, and Goldie Hawn connive to get even with their estranged ex-husbands, all of whom have recently left them for younger women.  Bette Midler's husband, played by Clueless' Dan Hedaya, and his new mistress, played by none other than a pre-Sex and the City Sarah Jessica Parker, live in the upscale Fifth Avenue co-op with the horrendously ugly staircase pictured above.  In order to steal some potentially damaging business files, Bette, Diane, and Goldie scam their way into the apartment and ransack the place while Dan and SJP are away.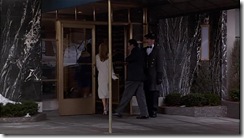 Completely oblivious to the breaking and entering scheme that is taking place in their apartment, the two return home earlier than expected and almost catch the first wives in the act.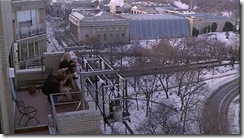 At that point, the trio's only means of escape is an abandoned window washing scaffolding machine located just outside of Dan and SJP's apartment.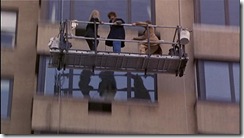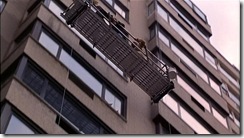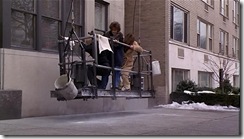 But, of course, the scaffolding malfunctions while the women are on it and they are plummeted down towards Fifth Avenue, stopping safely mere seconds before colliding with the pavement.  LOL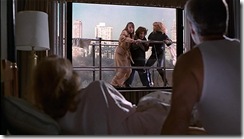 Before hitting the ground, though, the scaffolding stops at the window of an apartment building, where the residents notice that standing in front of them is none other than Academy-award winning actress Elise Richard, played by Goldie Hawn in the film.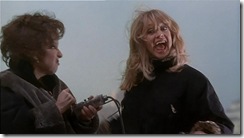 The couple yell out to her "You look GREAT, Elise!" and even with imminent danger pending, Elise gets a huge smile on her face and yells out "Thanks!".  LOL  God, I love that movie!
Until next time, Happy Stalking!  🙂
Stalk It: The window washing building from The First Wives Club is located at 1056 Fifth Avenue in Manhattan.
12515