The Who's the Boss House
Oct 8th, 2009 | By
Lindsay
| Category:
TV Locations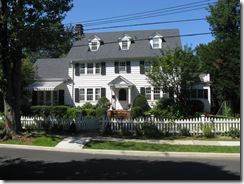 One location that I will, sadly, not be able to stalk during this year's New York vacation for the simple fact that it is located too far from the island of Manhattan is the home belonging to the Bower Family in the 1984 television sitcom Who's the Boss?  But thankfully, fellow stalker Owen visited this location a few weeks back and was kind enough to allow me to share his story and his photographs on my blog.  And while I usually don't like to blog about locations that I haven't personally stalked myself, this one was honestly just too good to pass up!!  Hopefully someday I will be able to visit the Who's the Boss house in person, but until then, a big THANK YOU goes out to Owen for letting me stalk vicariously through him!  🙂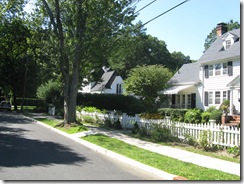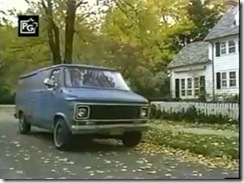 On Who's the Boss?, the house where Angela, Tony, Jonathan, Samantha, and Mona live is supposedly located at 3344 Oak Hills Drive in the New England town of Fairfield, Connecticut.  In reality, though, the house used in the opening credits and for establishing shots throughout the series eight year run is actually located about thirty miles away from Fairfield, in Rye, New York.  It's quite ironic that a real Fairfield house wasn't used in the series, being that according to this 1989 Fairfield Citizen-News  article, Who's the Boss? producers chose to set their show in the New England town after "falling in love with" its "quaint charm and picturesque scenery".  But, for some odd reason, when scouting locations for the Bower Family residence, producers looked not to Fairfield, but to Westchester County, New York.    Even more ironic to me is the fact that while the house was featured in the opening credits of each week's show, for some reason, only a very small portion of it was ever shown, as you can see in the above screen capture.  It's such a pretty house that I am really surprised more of it wasn't shown on the series.
And in a Who's The Boss  side note – for the better part of a year I attended an acting class with Jonathan Halyalkar, who played the character of "Billy" in 21 episodes of the show's 7th Season.  🙂  I kept mentioning how familiar Jonathan looked when someone finally told me about his childhood acting stint on Who's the Boss?, which I thought was just about the coolest thing ever!  So, I, of course, had to ask him all about it.  Jonathan, who was an insanely talented triple threat (as those who can sing, dance, and act are often called) and an all around nice guy, told me all sorts of stories about his time on the show and was even a good sport about the fact that most people say the series "jumped the shark" when they cast him.  LOL Jonathan told me to Google the terms "Who's the Boss" and "jump the shark" and that I'd see his name pop up all over the place.  Too funny.  Sadly, in all our time together in acting class I somehow never thought to get a photograph with him.  🙁
Big THANK YOU to Owen for not only finding this location, but for stalking it as well.  🙂
Until next time, Happy Stalking! 🙂
Stalk It: The Who's the Boss? house is located in Westchester County at 13 Onandaga Street in Rye, New York.
12815