The It's A Grind Coffee House from Weeds
Oct 16th, 2009 | By
Lindsay
| Category:
TV Locations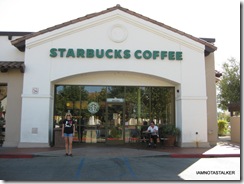 Another location that Mike, from MovieShotsLA, and I stalked while in the San Fernando Valley a few weeks ago was the It's A Grind Coffee House featured weekly in the opening credits of the Showtime series Weeds.  I was dying to stalk this location not only because I love anything and everything having to do with coffee, but because of a little bit of trivia that I had read online.  According to IMDB, the It's A Grind coffee company has had a product placement deal with Weeds since the series began.  Those who watch the show regularly will recall that Nancy (aka Mary-Louise Parker) carries around an iced drink from It's A Grind in pretty much every scene.  A woman after my own heart, I swear!  Anyway, when it came time to shoot the opening credits, which features a scene where about a dozen businessmen dressed all alike enter and exit an It's A Grind, for some odd reason producers chose NOT to film at an It's A Grind location, but at a Starbucks store.  They literally went to all the trouble of redressing the store and removing the Starbucks logo to replace it with It's A Grind signage for the shoot.  Being that It's A Grind is a real coffee company with locations dotted all over the L.A. area, I cannot for the life of me figure out why they didn't just use one of the real stores for the filming!  It doesn't make any sense!  I guess I just have to chalk it up to the magic of Hollywood!  🙂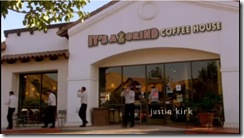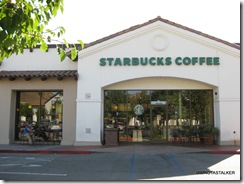 Because of the Starbucks store's odd filming history, I decided I just had to stalk the place.  The only problem was that I had no idea where it was located.  According to IMDB, the store from the opening credits was located somewhere in Calabasas.  So, since Mike is familiar with the Valley, I sent him the above screen capture and he recognized its location immediately.  🙂  YAY!  So a few weeks ago, the two of us headed out to stalk the It's A Grind/Starbucks store from Weeds.  🙂  And, of course, being that it's a Starbucks, I highly recommend stalking the place!  🙂  And thanks to the numerous amount of stars that live in the Calabasas area, the store is no stranger to celebrity.  I hear that MJ's brother Jermaine Jackson is even a regular there.  🙂
Big THANK YOU to Mike for finding this location! 🙂
Until next time, Happy Stalking!  🙂
Stalk It: The It's A Grind/Starbucks coffee house from Weeds is located at 26531 Agoura Road in Calabasas.  You can visit the It's A Grind website to find a real It's A Grind location here.
13130