Blair Waldorf's Gossip Girl Apartment Building
Oct 22nd, 2009 | By
Lindsay
| Category:
TV Locations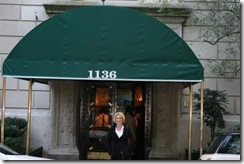 Well, it must be Gossip Girl week here at Iamnotastalker.com because here I am once again blogging about yet another location from the ubiquitous CW series.  While in New York two weeks ago, one of the locales at the very top of my stalking list was the Upper East Side building where Queen Bee Blair Waldorf lives on my new favorite show.  I found this location, once again, thanks to FanPop's awesome Gossip Girl page and, because I love me some BW, I just simply wasn't leaving New York until I had stalked her place.  So, after dropping my best friend, his girlfriend, and his mother off at the Guggenheim Museum – because as I've mentioned before, I don't do museums 🙂 – I dragged my fiancé just a few blocks North to do some stalking of Blair's pad.  On a side note: While doing research on Blair's apartment building for today's post, I came across this ABSOLUTELY AMAZING website, which lists pretty much EVERY SINGLE location ever featured on Gossip Girl!  And, let me tell you, I almost fell off my chair while looking at it!  HOW IN THE HECK DID I NOT KNOW ABOUT THIS SITE BEFORE I LEFT FOR NEW YORK!  UGH!  🙁  I could have spent my entire trip stalking Gossip Girl!!!!!  LOL  Oh well, I guess I'll just have to set that as my goal for next year's trip!  🙂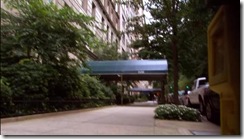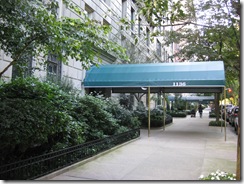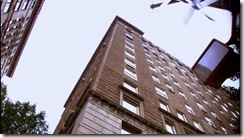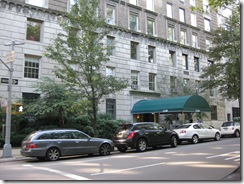 On Gossip Girl, Blair Waldorf lives in the Penthouse apartment of the ultra-exclusive Fifth Avenue building pictured above.  The 15-story building, which houses 43 different apartments, was built in 1925 by architect George F. Pelham, Jr., who also designed the Castle Village apartment complex in Hudson Heights and the residential building located at 1120 Park Avenue.  A two-bedroom unit in Blair's building, which you can take a look at here, is currently for sale for the bargain price of $2,695,000!   Besides views of Central Park, the building also boasts a full-time, white-gloved doorman AND a full-time, white-gloved elevator operator.  That's just so Blair Waldorf, isn't it? 🙂   So love it!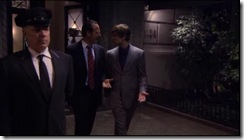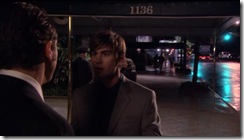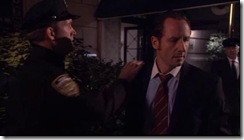 Blair's building has been featured regularly in establishing shots throughout the series' two and a half year run.  Filming also took place there for the Season One episode entitled "Victor, Victrola", in which Nate Archibald and his father get into a fistfight on the sidewalk out in front of the building (pictured above).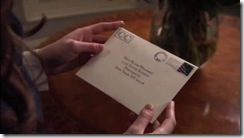 In the Season Two episode entitled "In the Realm of the Basses", Blair receives an invitation from the elite Colony Club in which the actual address of the real apartment building used for the filming is displayed.  Love it!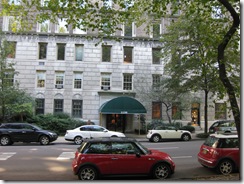 According to fave book Manhattan On Film: Walking Tours of Hollywood's Fabled Front Lot, Blair's building was also used in the 2001 Chris Rock movie Down to Earth, as the residence of Charles Wellington, whose body the spirit of Chris Rock inhabits after his untimely demise.  The building also has a bit of celebrity history, as well.  During their marriage, Meg Ryan and Dennis Quaid owned a seven-room unit on the building's 12th-floor, which they sold in March 2002, almost a year after their divorced was finalized, for a cool $6.5 million.
Until next time, Happy Stalking!  🙂
Stalk It: Blair Waldorf's apartment from Gossip Girl is located at 1136 Fifth Avenue, on the corner of 5th Avenue and 95th Street, on New York's Upper East Side. 
13440