Grand Central Station
Oct 27th, 2009 | By
Lindsay
| Category:
TV Locations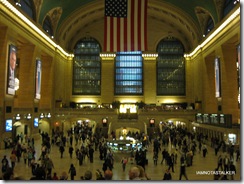 Yet another Gossip Girl  filming location that I stalked a few weeks back while vacationing in Manhattan is the train station known as Grand Central Terminal.  But being that Grand Central has actually been featured in more than a few hundred productions since it first opened in 1913, it's not really accurate to refer to the place simply as a "Gossip Girl filming location".  Truth be told, being that the building is a National Historic Landmark and has been in operation for close to a century now, it's really not fair to refer to the place as a "filming location" at all.  The fact that the station has been immortalized in countless films and television shows over the years is more of a side-note than anything else.  Truth be told, Grand Central Station, or Grand Central Terminal as it is officially called, is not only the largest train station in the entire world, but is also a marvel of modern-day architecture and one of the cornerstones of New York History.  The terminal, which boasts 44 platforms and 67 different tracks and covers over 48 acres of space!!!, first opened on February 2, 1913 after a staggering ten years of construction.  The Beaux-Arts style building was actually designed by two architectural firms – the firm of Reed & Stern handled the engineering, while Warren and Westmore conducted the aesthetic composition.  And the place truly is a site to behold!   The station's main concourse is absolutely breathtaking – I mean my breath was literally taken away the first time I saw it!  Seeing the huge shafts of sunlight stream through the concourse's many window panels, as Hal Morey captured so beautifully in this photograph, is something everyone should experience in person at least once in their lives. The main concourse's Grand Staircase which is made of marble and which was modeled after the main staircase in the Paris Opera House, is flanked by three beautiful – and HUGE – 75-foot tall leaded glass windows (pictured above).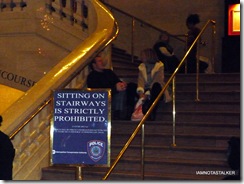 On a side note – The Grand Staircase is also, coincidentally, where I took one of my very favorite photographs of New York (pictured above)!  LOL LOL LOL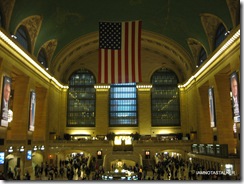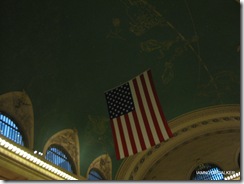 But my favorite part of the terminal's main concourse has to be its ceiling!  Oh, the ceiling!  Grand Central's beautiful, vaulted ceiling, which features a mural of  Zodiac signs painted backwards was designed and created in 1912 by artist Paul Helleu and contains over 2,500 stars which actually light up.  The reason for the backwards Zodiac depiction, you ask?   The mural is supposed to represent the view of the stars a god would see while looking down upon planet Earth through the heavens.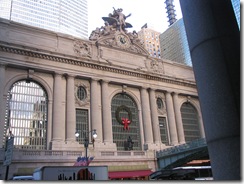 The exterior of Grand Central Station is also quite remarkable, as you can see in the above photograph.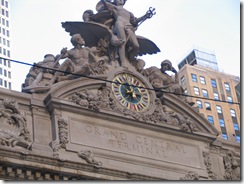 In 1914, while the station was under construction, French sculptor Jules-Alexis Coutans designed a 48 -foot tall statue of the Roman gods Minerva, Hercules, and Mercury which was to sit sentinel above Grand Central's 42nd Street entrance.  The statue, which was carved by the John Donnelly Company, also boasts a central glass clock measuring a whopping 13 feet in circumference.  The clock was designed by none other than Tiffany & Co. and represents the largest example of Tiffany Glass in the entire world.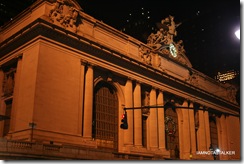 At night, the exterior becomes even more spectacular.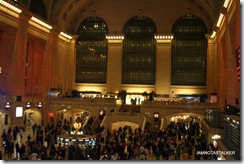 As you can see in the above picture, Grand Central is usually bustling with commuters and visitors alike!  In fact, more than 500,000 people walk through the terminal's doors EACH DAY!!!!  (No, that's not a typo – I really meant EACH DAY!)  According to this fabulous article, in the year 1947 alone over 65 MILLION people visited Grand Central – an amount which equaled 40% of the entire popular of the United States at the time!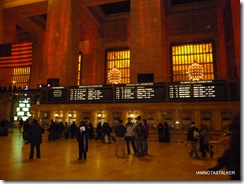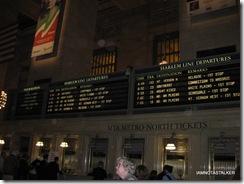 Which makes it all the more amazing that the station's doors were almost shuttered in the 1950s.   Due to the decline of railroads as a popular means of transportation, the terminal faced demolition on numerous different occasions beginning in the year 1954.  Thankfully all such plans were subsequently thwarted, until 1967 when Penn Central Railroad announced its plans to tear down Grand Central and replace it with a sixty-plus story office building.  Thankfully, New York preservationists, most notably former First Lady Jackie O., stepped in to stop the project.  Jackie's efforts took her all the way to the United States Supreme Court, where a ten year battle was fought over the station.  Penn Central eventually lost the case and Grand Central was awarded landmark status, eliminating any further possibility of it ever being destroyed or changed. In 1994, the terminal was taken over by the Metro-North company, who subsequently began an extensive renovation process, restoring the terminal to her original glory to the tune of $250 million.  Today Grand Central is as beautiful, and as busy, as ever.  Besides being simply a commuter hub, today's Grand Central Station also boasts fifty different retail stores and five different upscale restaurants, including the world-famous Oyster Bar which has been in operation since the station first opened in 1913.  And, of course, as I mentioned before, the terminal is also a frequent filming location!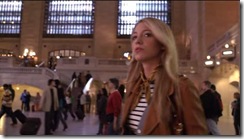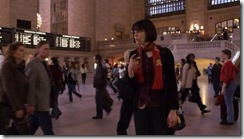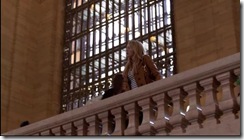 Grand Central has been featured in two different episodes of Gossip Girl – the Pilot episode and the Season Two episode entitled "Oh Brother, Where Bart Thou?".  In the Pilot, It-girl Serena van der Woodsen is spotted at Grand Central while making her infamous return to New York after a year spent in a Connecticut boarding school.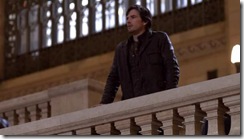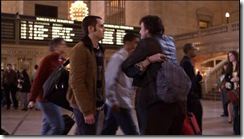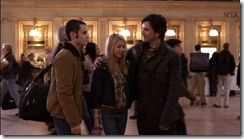 In that same episode, Rufus Humphrey picks up his kids, Dan and Jenny, at Grand Central after a weekend spent with their mother.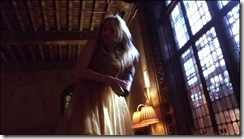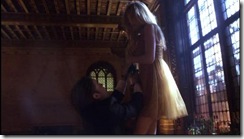 And yet again in that very same episode, Grand Central's famous Campbell Apartment Bar, which I have blogged about once before, shows up at the site of Nate and Serena's illicit tryst.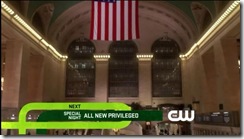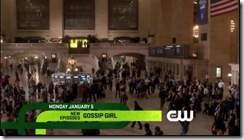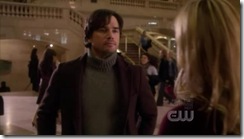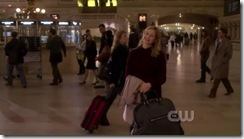 In the "Oh Brother, Where Bart Thou?" episode, Rufus confronts Lily about the child she never told him about while standing in the middle of Grand Central's main concourse.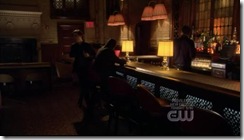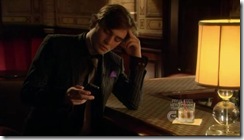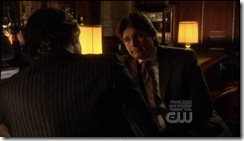 The Campbell Apartment also shows up in that episode as the spot where Chuck Bass hires a private investigator to look into the background of his deceased father's widow.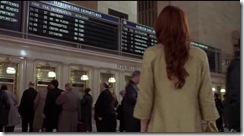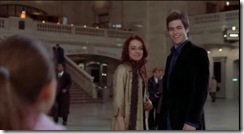 Grand Central, as well as its flap-board destination sign, figure prominently in the end of fave teeny-bopper movie Just My Luck.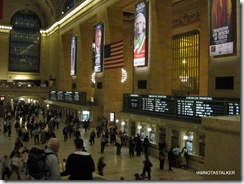 Other movies that have filmed at the terminal include North By Northwest, Armageddon, Carlito's Way, Hackers, I Am Legend, K-PAX, Men In Black and its sequel Men In Black II, Midnight Run, Old Dogs, Party Monster, Revolutionary Road, The Bone Collector, The Cotton Club, The Fisher King, One Fine Day, Conspiracy Theory, Midnight Run, Loser, Falling In Love, The Prince of Tides, The Freshman, The Perfect Score, The Taking of Pelham 1 2 3, and Unfaithful.  And, Grand Central replicas have even been built on studio soundstages when filming on location at the actual station wasn't feasible, as was the case with Superman, Twentieth Century, Going Hollywood, The Thin Man Goes Home and Beneath the Planet of the Apes.
On a "must-see" side note – One of Grand Central's most famous spots, an area which I, sadly, have yet to visit, is the Whispering Gallery, which is located in the station's Dining Concourse.  As the name suggests, thanks to the laws of physics and the Gallery's domed ceiling, two friends can stand at opposite corners of the room, face the walls, and whisper to each other and those whispers will be carried, quite loudly, from one corner of the room to the other.  How amazingly cool is that?  Fellow stalker Owen has even tested out this marvel of science and says it really does work!  I absolutely cannot wait to try it out myself next year!
Until next time, Happy Stalking!
Stalk It: Grand Central Station is located on 42nd Street, in between Lexington and Park Avenues.  Docent-led tours of the station are given each Wednesday afternoon at 12:30 p.m. by the Municipal Arts Society.  The Whispering Gallery is located in the station's Dining Concourse near the world-famous Oyster Bar.  The Campbell Apartment is located at 15 Vanderbilt Avenue, just off Grand Central's main concourse area.  Sadly though, the bar has recently come under new ownership and the dress code has been changed.  And, for some incredibly odd reason, it seems no one on the Campbell Apartment staff knows exactly what the new dress code entails.  When we called the bar to inquire about the dress code prior to our arrival, we were told that jeans and tennis shoes were permissible. But when we showed up we were denied entrance . . . due to our jeans and tennis shoes.  LOL  Now, don't get me wrong, I don't mind a place upholding a dress code, at all.  In fact, I quite like it.  But if you're going to do so, the staff should darn well be able to tell patrons CORRECTLY what that dress code is!
13634