Julianne Moore's House
Oct 28th, 2009 | By
Lindsay
| Category:
Celebrity Homes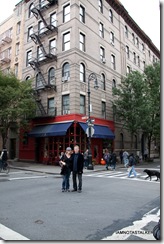 While in New York a couple of weeks ago I had the absolute pleasure of finally meeting fellow stalker Owen in person.  🙂  Because Owen lives in nearby Connecticut, the two of us made plans to get together for one stalking-filled day during my Big Apple vacation.  So, early on the morning of October 2nd, my fiancé and I ventured out to Grand Central Station to finally meet up with Owen.  And, let me tell you, the three of us had an absolute blast together.  The entire day was spent stalking and believe me when I say that we left no stone unturned in our journey.  We traipsed all over New York, literally from one end of Manhattan to the other – even leaving the island at one point!  I literally don't think there is one neighborhood or area of the city that we didn't stalk!  It was incredible!  We even managed to hit up a few Starbucks along the way.  🙂  But my favorite part of the day had to be when Owen gifted me one of the best presents I have ever received in my entire life – an actual piece of a t-shirt formerly belonging to actor Josh Duhamel, aka the love of my life!  How I was not aware that celebrity clothing was available for purchase is absolutely beyond me, but, thanks to Owen, I now know about this amazing company whose website I will now be frequenting regularly!  Seriously, best gift ever!!!  🙂  THANK YOU, OWEN!!!  (That's Owen and me standing in front of the Friends apartment building in the picture above.)  🙂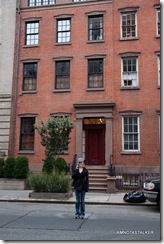 And while I have many stories to share from our Big Apple stalking adventure, today I thought I'd blog about one of the celebrity homes we visited that day – the West Village townhouse belonging to actress Julianne Moore.  Surprisingly enough, I actually have my fiancé to thank for this location.  He stumbled upon the address of Julianne's house, which is currently for sale, on a celebrity real estate blog just a few days before we left for our New York trip and wrote it down for me.  Sigh!  Just one of the many reasons I'm marrying him.  🙂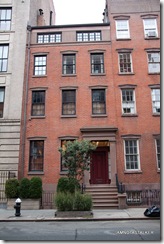 Back in 2003, when Julianne purchased her Regency-style townhouse for $3.5 million, it was configured as a four-unit apartment building.  Julianne and her director/writer husband Bart Freundlich immediately set about renovating and remodeling the property, combining all four units into one 4,004 square foot single family home.  The five-story townhouse, which was originally built in the late 1800's, currently boasts six bedrooms, six bathrooms – including a master bath which looks like it came straight out of a Burke Williams spa!, a 49 square foot garden, a media room, and a master bedroom which encompasses the entire third floor.  Julianne's asking price?  A cool $11,995,000!  But, truth be told, if I had an extra $12 mil lying around, I would be willing to drop it all on Julianne's kitchen alone.  I absolutely LOVE that kitchen!  In actuality, though, the entire house, which you can see photographs of here, is pretty downright incredible!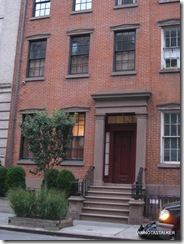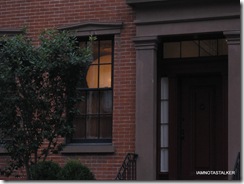 While stalking Julianne's pad, I became absolutely fascinated with the large globe-like light visible through her front window (pictured above).  The light was so unique and so HUGE that I couldn't take my eyes off of it.  So, it was extremely cool to see that light pictured in this interior photograph of the home's living room. 
A visitor also showed up while we were there and rang Julianne's doorbell!  And, let me tell you, I just about died thinking Julianne might answer the door herself.   Alas, that was not the case, though.  Instead, a little redheaded girl, who I can only assume was Julianne's daughter, heeded the call.  Nonetheless, it was still quite exciting.  🙂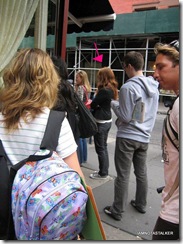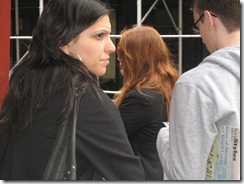 Ironically enough, back in 2007, long before I knew she lived in the area, I spotted Julianne and her children waiting in line at favorite cupcakery Magnolia Bakery, which is located just two and half blocks from her home.  Because I was trying to keep things on the down-low, I wasn't able to snap very good photographs of her, though.  🙁 
Until next time, Happy Stalking!  🙂
Stalk It: Julianne Moore's house is located at 335 West 11th Street in the West Village area of Manhattan.  You can visit her home's real estate website here.  Magnolia Bakery is located just a few blocks away at 401 Bleeker Street.  The Friends apartment building is located at 90 Bedford Street, on the corner of Bedford and Grove, also in the West Village.
13653