John Barrymore's Apartment Building
Oct 29th, 2009 | By
Lindsay
| Category:
Haunted Hollywood
,
This and That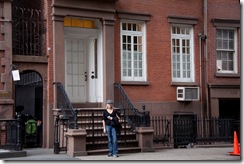 Another Greenwich Village location that Owen, my fiancé, and I stalked during our recent whirlwind day in New York City was the Greek Revival townhouse where beleaguered actor John Barrymore – Drew's grandfather – once lived.  For three years, from 1917 to 1920, John rented the top floor penthouse of the building pictured above, which was originally constructed in 1839.  Barrymore decorated his apartment, which he nicknamed the "Alchemist's Corner", with Gothic elements including gold wallpaper, fake wooden beams, ironwork accoutrements, and stained glass windows.  His piece de resistance, however, was a garden oasis, which consisted of a cottage, a reflecting pool, and large trees, that he erected on the building's roof.  To build his little rooftop paradise a vast amount of soil had to be brought in – over 35 tons, actually – eventually causing the roof of the building to collapse!  LOL Barrymore was nothing if not eccentric!    And while his garden has long since been removed, the cottage Barrymore had built remains standing to this day.  You can even see a photograph of it here.  It was while living in this apartment that Barrymore carried out his illicit affair with married poet Blanche Thomas, who nicknamed herself Michael Strange – no that's not a typo, she actually called herself Michael.  Strange indeed!  In 1920, the two married and moved to Westchester County.  Two years later, on November 16, 1922, Barrymore began his legendary Broadway portrayal of Hamlet.  This was to be his defining role and, in fact, he has even been called history's "definitive Hamlet".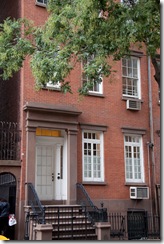 My interest in the townhouse had little to do with the fact that John Barrymore had lived there, however, and more to do with something that occurred on the premises about seventy years later.  In 1987, screenwriter/playwright Paul Rudnick, who later penned the screenplays for In & Out, Addams Family Values, and The Stepford Wives, moved into Barrymore's former penthouse and became inspired to write a two-act comedic play entitled I Hate Hamlet.   The play centers around a mediocre television actor named Andrew Rally who, like Rudnick, lives in John's former dwelling.  Rally has just landed the lead role in a Shakespeare in the Park production of Hamlet and is having a little trouble getting into character.  One night the ghost of John Barrymore returns from the dead, in full Hamlet regalia no less, to help Andrew get a grasp on his new role.  Of course, hilarity ensues when Andrew fails to live up to Barrymore's ridiculously high expectations.   I Hate Hamlet  opened on Broadway at the Walter Kerr Theatre on April 8, 1991 and starred none other than Evan Chandler, who later became famous for playing Charlotte's husband Harry Goldenblatt on fave show Sex and the City.  The show received mixed reviews and, thanks to actor Nicol Williamson, who played Barrymore in the production, was closed after a scant 88 night run.  Apparently Williamson, who seems to be just about as eccentric as the real Barrymore, didn't like to share the stage or the audience's attention with his fellow actors.  To remedy his problem he decided to actually stab Evan during one of the performances!  Evan was harmed, but managed to walk off the stage, never to return to the show.  Needless to say, I Hate Hamlet was shut down shortly thereafter.  You can read a great article that Paul Rudnick wrote about the play's Broadway run here.  And, even though the show didn't enjoy much success on Broadway, I Hate Hamlet has since become an acting class staple.  I have seen monologues and scenes from it performed in pretty much every acting class I've ever attended in my entire life.   You'd think I'd be tired of it by now, but surprisingly that has not been the case.  Even though I've seen its most pertinent scenes and monologues performed countless times, I Hate Hamlet is still one of my very favorite plays.  And even though by now I can probably recite the entire show by heart, I still laugh out loud every time I see it!  🙂  I absolutely LOVE I Hate Hamlet!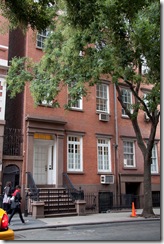 Surprisingly enough, though, I never knew of the play's history until I read a passage about John Barrymore's former abode in fave stalking book New York: A Movie Lover's Guide.  And, once I learned the story behind I Hate Hamlet, the play became all the more fascinating to me, if that's at all possible.  And, as you can probably imagine, once I heard that the setting of the comedy was in fact a real place and that John Barrymore and Paul Rudnick had actually lived there, I just HAD to stalk it!!  🙂  I cannot tell you how exciting it was for me to be able to see the townhouse in person, after countless years of loving the play that was inspired by it.  I highly recommend both catching a performance of I Hate Hamlet if you ever have the opportunity and, of course, stalking the house where the story took place.
Until next time, Happy Stalking!  🙂
Stalk It: John Barrymore's former apartment building is located at 132 West 4th Street in New York's Greenwich Village area.
13664