Halloween 2009 at The Nest!
Nov 2nd, 2009 | By
Lindsay
| Category:
Haunted Hollywood
,
This and That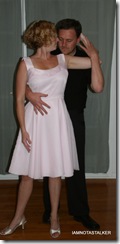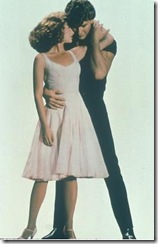 I hope my fellow stalkers had an absolutely fabulous Halloween 2009!  As I've mentioned many times before, Halloween is downright my favorite holiday.  I pretty much look forward to it all year long!  So, today I thought I'd take a little break from my New York blogging to write a post about this year's Halloween adventure, which took place, yet again, in Palm Springs, where my fiancé and I had been invited to a little All Hallows' Eve party.  As you know, the two of us always dress up as either a famous celebrity couple or characters from a movie or TV show for Halloween.  Well, after seeing Dirty Dancing: The Classic Story On Stage back in June, I decided that this year my fiancé and I just had to dress up as Baby and Johnny!  And yes, I always plan my costumes that far in advance.   🙂  I told you, I LOVE Halloween.  I practically live for the holiday!  So, pretty much immediately after seeing the Dirty Dancing stage show, I started scouring the internet and local thrift shops for a pink chiffon dress that would resemble the frock Baby wore in the movie's famous final dance sequence.  And, unbelievably, I came up completely empty-handed!  I am still in shock, actually, that no one, not even an EBay seller, had a dress like Baby's to hawk!!  In fact, the only pages I came across while performing a Google search for "Baby's pink dress from Dirty Dancing" were entries posted from women like myself who wanted to know where they could purchase an outfit similar to Baby's.  Thankfully, in answer to one of those queries, a woman had posted a link to a dress pattern that was a pretty close match to the one Jennifer Grey wore in the movie.   So, I begged and pleaded with my mom, who is an excellent seamstress, to make me Baby's dress.  Begrudgingly she agreed, and did quite the excellent job on it, I might add.  THANK YOU, mom!  🙂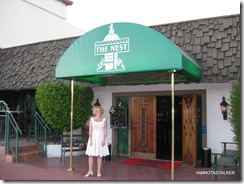 Because my fiancé and I were dressed as one of filmdom's most famous dancing couples, before heading out to our Halloween party we just had to hit up the hottest dance spot in the entire Coachella Valley – a little place known as The Nest.  The Nest is actually a combination bar/eatery/piano lounge/dance club which first opened up in 1965 and is now known as Indian Wells' most famous restaurant and night club.  My fiancé and I refer to it, though, as the "Cougar Den".  Contrary to how it might sound, trust me when I say that the nickname is a term of endearment as The Nest is quite simply one of my very favorite places to visit in all of Palm Springs.  And while the food is great, the drinks are strong, the music is live, and the atmosphere is hopping, none of those attributes are the restaurant's main draw.  No, going to The Nest for the food or drinks or even the music is entirely beside the point. The Nest's main attraction has to be its lively, dressed-to-the-nines, up-all-night-on-the-dance-floor patrons, who are almost all between the ages of 65 and 100.  Yes, you read that right!  You'd be hard pressed to find any Nest regulars who don't fall under the senior citizen category.  You'd also be hard pressed to find any of them sitting down!  On no, the Nest's patrons don't let a little thing like age stop them from dancing all night long!  And, let me tell you, I can only hope that I look and feel as good as they do when I am their age.  But who am I kidding, I don't even look or feel that good now!  My fiancé and I always feel a bit cadish when asking for our check – usually yawning while doing so – at around 10 p.m. – 11 at the latest – while all of the club's more senior regulars are still on the dance floor and showing absolutely no signs of stopping!  It's truly unbelievable!  And so are the outfits, which are usually quite risqué.  And thanks to A LOT of medical enhancement, the women look far better than I would in such clothing.  LOL  It's an absolute hoot to see and something that everyone visiting Palm Springs should experience at least once!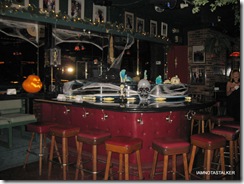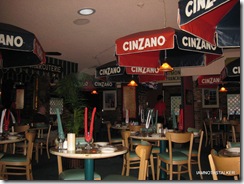 Ironically, I thought my fiancé and I would be a big hit at The Nest come Halloween thanks to our dance-themed costumes.  I could not have been more wrong about that one, however!  No, thanks to the many aged 75 and older women who were dressed in extremely sexy Halloween costumes, no one even gave my fiancé and I a second glance!  LOL LOL LOL  Our costumes were far too tame for The Nest, I guess.  I've actually never seen anything quite like The Nest on Halloween.  It was like a Leg Avenue Catalog had come to life, right before my very eyes.  In attendance were a sexy Batgirl, a sexy Catwoman, a sexy cop, and even a cougar!  🙂  But the costume that really caught my eye?  A Playboy Bunny, complete with a bowtie, fishnet stockings, and . . . a thong leotard.  Yes, you read that right!  LOL  I honestly didn't think such a thing was possible, but The Nest is even more of a sight to see on Halloween than on any other night!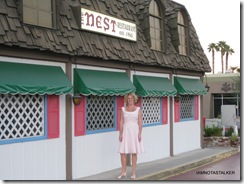 Besides cougars, celebrities have also been frequenting The Nest since it first opened over forty years ago, and they've got the autographed pictures on the walls to prove it.  🙂  In fact, crooner Frank Sinatra and some of his famous friends were regulars during the bar's early days.  Today a bevy of different celebs and sports stars (mostly professional golf and tennis players) can be spotted dancing or singing along with the club's live "piano" – it's actually an electronic keyboard – on a nightly basis.  Country star Toby Keith recently spent a few nights at The Nest and even obliged some fans by stepping up to the mic to sing a few songs.  🙂  So cool!  Even without the celeb connection, though, I'd still recommend stalking the place, as it is just so darn entertaining!  It's DEFINITELY a Palm-Springs-Must-See!   If you arrive after 9 p.m., be prepared to wait, though, as you'll be hard pressed to find a seat, or even standing room, for that matter!
Until next time, Happy Stalking!  🙂
Stalk It: The Nest is located at 75-188 Highway 111 in Indian Wells, just outside of Palm Springs. You can visit their website here.  The live music starts at 7 p.m. nightly.  And if you would like to make your own Dirty Dancing dress, the pattern my mom used is Vogue's Vintage Pattern #2902.
13705