The "Big" School
Nov 4th, 2009 | By
Lindsay
| Category:
Movie Locations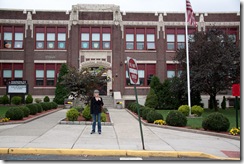 Located just around the corner from the two main houses used in the movie Big is Cliffside Park Elementary School #6 – the elementary school attended by Josh Baskin (aka Tom Hanks) and his best friend Billy (aka Jared Rushton) in the 1988 flick.  So, since we were already in the area, Owen, my fiancé, and I just had to stalk the place.  🙂  I am always a little bit leery of stalking schools while they are in session, though, as teachers and administrators tend not to like it when random adults start taking pictures of their campus while children are present.  Why are there so many bad people out there who have to ruin things for us harmless movie-stalkers???  Anyway, because most of the students of Cliffside Park Elementary were outside playing on the playground while we were stalking the place, I wasn't able to snap the greatest of pictures, nor were we able to venture inside for a closer look.  🙁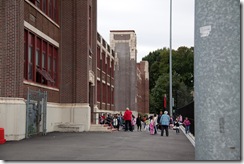 Cliffside Park Elementary School #6, which despite what its name would lead you to believe, is actually comprised of both an elementary school and a middle school and houses about 630 students in grades one through eight.   The reason for the misnomer, you ask?  Originally, the school was solely an elementary school facility.  It wasn't until about eight years ago that the middle school portion was added.  Cliffside Park #6 was featured twice in Big.   It first shows up at the very beginning of the movie, when young Josh rides his bike down the side of the school on his way to play stickball with Billy.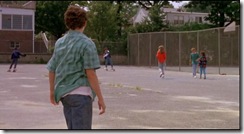 Owen and I couldn't seem to locate the actual stickball court the boys play on while we were stalking the place, though.  But, according to this former Cliffside student,  apparently there did used to be an empty lot located behind the school where children would actually play stickball.  That lot got covered over a few years back, though, when an addition was added to the school building.  So sad!  🙁  I am guessing that addition was built to house the new middle school.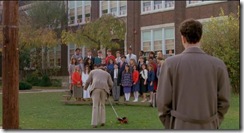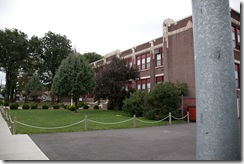 Cliffside Park #6 also shows up towards the end of the movie, during the montage sequence in which adult Josh returns to his hometown and watches a group of children take their class picture at his alma mater.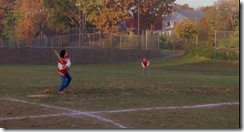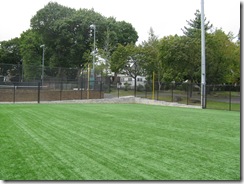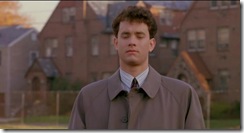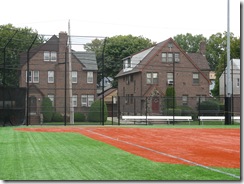 In that same montage, Josh also watches some boys play baseball in the school's baseball field.  Random site note – as Owen and I discovered, the "grass" on the baseball field is not real- it's actually Astroturf!  LOL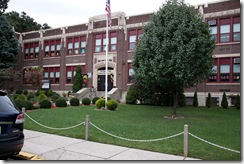 I am very happy to report that Cliffside Park Elementary School #6 looks very much the same today as it did back in 1988 when Big  was filmed.  And I would be remiss if I didn't mention how cool I think it is that the school is located so close to the two homes used in the movie, because if there actually were a real Josh and a real Billy who lived in those houses, then Cliffside Park #6 would really be the school they would attend!  🙂  LOVE IT!  And, while I highly recommend stalking Cliffside Park #6, I suggest doing so during non-school hours when no children are present.  It's a lot easier to take photographs that way.  🙂
Big THANK YOU to Owen for "loaning" me his photographs of the Big  baseball field and allowing me to post them here, as, for some odd reason, I didn't take any pictures of the field while we were stalking the school. 
Until next time, Happy Stalking!  🙂
Stalk It: The Big  school, aka Cliffside Park Elementary School #6, is located at 440 Oakdene Avenue in Cliffside Park, New Jersey.  The Big houses are located just around the corner at 435 and 437 Greenmount Avenue.  The Heffernan house from The King of Queens is also located right around the corner at 519 Longview Avenue.  Unfortunately there is no easy way to get to these locations from Manhattan.  A taxi ride is your quickest, easiest bet, but be prepared as the trip will cost you $45 each way!  Riding the bus is a much cheaper option, but be prepared for a long travel time, as the bus ride to Cliffside Park takes upwards of an hour.
13789