The "Big" Paddleball Court
Nov 6th, 2009 | By
Lindsay
| Category:
Movie Locations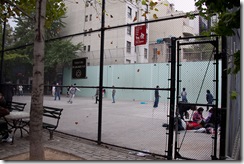 Another day, another Big location.  And, sadly, this is actually the last Big location that I have to blog about.  🙁  Well, from this year's New York trip, anyway.  Being that fellow stalker Owen recently tracked down both the MacMillan Toys headquarters and Tom Hank's loft from the movie, it looks like I'll have a few more Big locations to stalk during next year's New York vacation.  🙂  But for now, the last and final Big  locale that Owen, my fiancé, and I visited during our stalking day in Manhattan last month was the court where Josh (aka Tom Hanks) played a little game of paddleball against his MacMillan Toys co-worker Paul (aka John Heard) in the movie.  In real life, that paddleball court, which Owen found thanks to fave stalking book The Worldwide Guide to Movie Locations, is named Vesuvio Playground and it encompasses not only a paddleball court, but basketball courts, bocce ball courts, a sandbox, a mini pool, and a shower area, as well.  When the park originally opened in 1929 it was called Thompson Playground and it consisted solely of a wading pool and a swing set and existed on a much smaller parcel of land than today's .64 acres. In 1957, the City purchased an additional piece of land in order to expand the playground into what it is today.  The park was then renamed Vesuvio Playground in honor of the nearby Vesuvio Bakery, which is owned and operated by longtime SoHo community leader Anthony Dapolito and his family.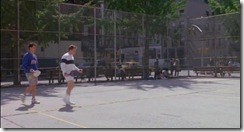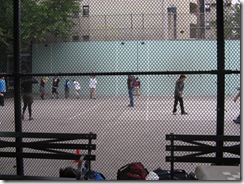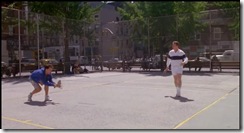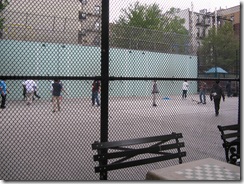 In Big, Vesuvio Playground is the site of a very brief, but very memorable, scene in which the newly-adult Josh gets challenged to a paddleball duel by his douchebag of a co-worker, Paul.  Because Paul is extremely jealous of his girlfriend Susan's growing affection for Josh, he brings him to the paddleball court thinking he'll teach him a lesson.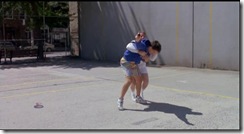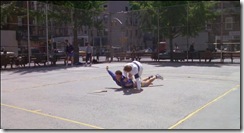 But Josh, who is a paddleball novice, ends up calling Paul out for cheating during the game which leads to a very juvenile – and absolutely hilarious – playground fist fight between the two.  LOL LOL LOL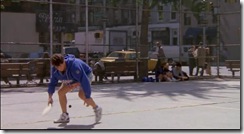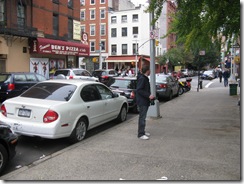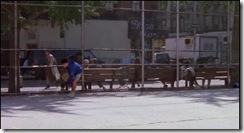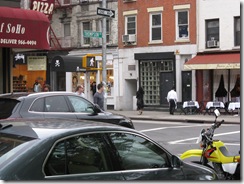 Unfortunately, even though it was mid-day, the paddleball court was absolutely JAM PACKED with children while we were stalking it, so we weren't able to venture inside to take photographs.  I mean, hello, shouldn't kids be attending school during the middle of the day??? 😉  LOL  I am happy to report, though, that the same pizza place which was visible in the background of the Big paddleball scene is still in business to this day, as you can see in the above screen captures and photographs.  🙂  So cool!!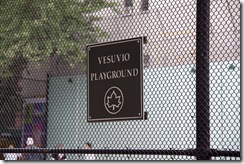 According to fave stalking book Manhattan on Film: Walking Tours of Hollywood's Fabled Front Lot, Frankie (aka Nick Scotti) and Joey (aka Domenick Lombardozzi) play handball on the very same paddleball court in the 1997 movie Kiss Me Guido.   And the playground was also featured in an episode of the NBC series Third Watch.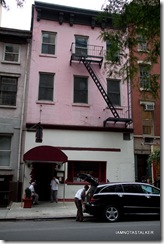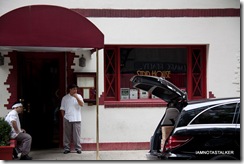 On a very sad side – During our stalking day, Owen, my fiancé, and I also tried to stalk Asti, the Italian eatery where Billy takes Josh for his birthday in Big.  Unfortunately, though, that restaurant closed its doors on New Year's Eve 1999, after 75 long years in operation.  🙁  Such a bummer!  Asti, which was named after a town in Italy famous for its sparkling wine (LOVE IT!), was a New York institution ever since it first opened in 1925.  Apparently, not only did such luminaries as Babe Ruth, Luciano Pavarotti, and Noel Coward frequent the restaurant during its heyday, but there was even an autographed photograph of Tom Hanks from the filming of Big  displayed in the front window.   Also LOVE IT!  🙂  Even the building which once housed Asti is famous – former President Chester A. Arthur once lived there!  I can't even begin to tell you how sad I am that this landmark restaurant is now gone.  🙁  Currently, in its place is another eatery – a steak restaurant named Strip House (pictured above).  You can read more about Asti and its history here.
Big THANK YOU to Owen for loaning me his Big paddleball court pics to post here, as, for some reason, I did not take that many photographs of it.
Until next time, Happy Stalking!  🙂
Stalk It: Vesuvio Playground, aka the Big paddleball court, is located at 95 Thompson Street in New York's SoHo area.  The former Asti restaurant (now Strip House) was located at 13 East 12th Street in Greenwich Village.
13920