Commerce Restaurant
Nov 10th, 2009 | By
Lindsay
| Category:
Sex and the City Filming Locations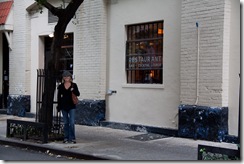 One of the locations that I was most excited about stalking while in New York this past month was a little restaurant named Commerce which appeared in the very last episode of fave show Sex and the City.  Well, truth be told, at the time SATC was filmed, the restaurant was known as Grange Hall, but that space closed its doors back in 2004, shortly after filming took place.   A few years later, a nouveau American cuisine restaurant named Commerce opened in the same spot and it is that eatery that I set out to stalk last month.  I found this location thanks to favorite stalking book New York: A Movie Lover's Guide, which featured a brief blurb about the fact that Grange Hall was used in SATC's  series finale.  Unfortunately, though, it failed to point out what specific scene took place there.  So, being the anal stalker that I am, before leaving on my New York vacation, I made it my mission to figure out which part of the episode, which was entitled "An American Girl in Paris, Part Deux", was filmed at the restaurant.   And, let me tell you, I really had my work cut out for me on this one!  Because several different eateries were actually featured in the finale, I found it virtually impossible to discern which one was Grange Hall.  After watching the entire sixty minute finale all the way through, I came up completely empty-handed.  But then an idea struck me!  I thought that listening to executive producer Michael Patrick King's DVD commentary about the finale might provide some insight.  And, sure enough, it did!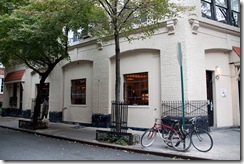 As it turns out, Grange Hall was not actually portrayed as a New York restaurant in Sex and the City ,which explains why I had such a hard time locating it in the episode.  In "An American Girl in Paris, Part Deux", Grange Hall stood in for the Paris eatery where Carrie's French fans threw her a party towards the end of the episode.  It is after Carrie shows up late to this party, only to find that her new friends have already left, that she realizes that Paris isn't turning out quite how she had expected.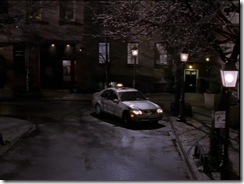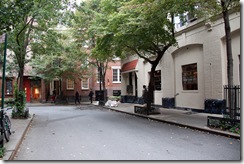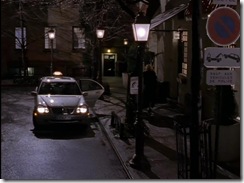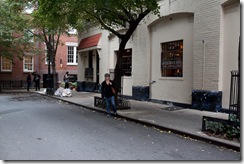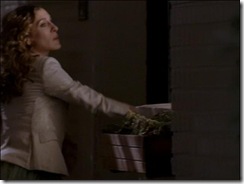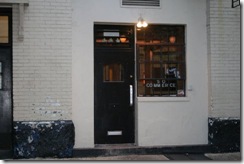 I was shocked to discover that both the interior and the exterior of Grange Hall were used in the filming of "An American Girl in Paris".  I had incorrectly assumed that the exterior shown in the episode was actually that of a real French restaurant.  In reality, though, producers dressed up the entire street in front of Grange Hall to make it look Parisian, even going so far as to add French street signs and French street lamps (as you can see in the above screen captures).  Why they didn't just film this particular scene at an actual restaurant in Paris is beyond me, especially being that the majority of the finale was actually shot on location there.  But that's Hollywood for you!  🙂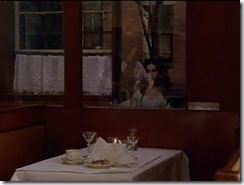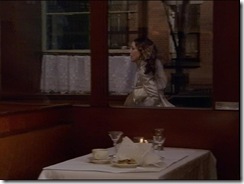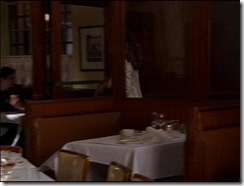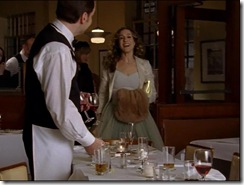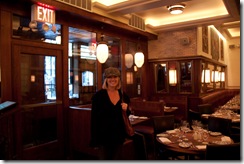 I am VERY happy to report that even though the Grange Hall space has gone through a succession of ownership changes since the SATC series finale was filmed, both the interior and the exterior of the restaurant still look EXACTLY the same as they did onscreen.  🙂   The decor, the booths and tables, and even the wood and glass partition that separates the entryway from the rest of the restaurant are all still very recognizable from the episode.  YAY!  I can't tell you how happy I am that Commerce restaurant kept the Grange Hall interior intact for all of us Sex and the City fans to appreciate!  🙂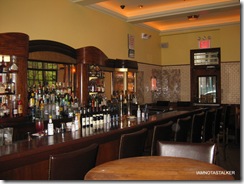 Commerce restaurant's name was derived from the fact that it is located on Commerce Street in Greenwich Village.  The building that houses the restaurant is actually quite famous in and of itself, aside from the fact that Sex and the City  once filmed there.  The property has been in existence since the early 1930's, at which time it housed a speakeasy.  In the 1940's, the Blue Mill Tavern took over the space and quickly became something of a New York landmark.  Blue Mill enjoyed a successful run for over half a century, serving such famed customers as Eugene O'Neill and Ethel and Julius Roseberg. In 1992, Blue Mill Tavern closed its doors and Grange Hall opened in its place.  Grange Hall quickly became a celebrity hotspot, with regular patrons such as Brad Pitt, Jennifer Esposito, Gwyneth Paltrow, Liv Tyler (who hosted her 16th birthday party at the restaurant), and Bill Clinton.  Grange Hall also appeared quite a few times on the silver screen.  According to New York: A Movie Lover's Guide, besides the SATC  finale, the restaurant was also featured in the movies The Brothers McMullen and Anything Else and a commercial for a French cell phone company starring Martin Scorsese.  In 2004, due to an increase in rent, Grange Hall was forced to close its doors and, after a few unsuccessful turnovers, Commerce restaurant was opened.  Commerce is an absolutely adorable little place and I so, so, so wanted to grab a bite there during this year's New York vacation, but unfortunately ran out of time.  🙁  It is DEFINITELY on my list of places to dine during next year's trip, though.  🙂 
Until next time, Happy Stalking!  🙂
Stalk It: Commerce restaurant is located at 50 Commerce Street in New York's Greenwich Village.  You can visit their website here.  You can read a great article about the former Grange Hall here.
13985