Richard Wright's Rooftop Pool from "Sex and the City"
Nov 11th, 2009 | By
Lindsay
| Category:
Sex and the City Filming Locations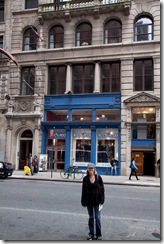 Another Sex and the City  locale that I stalked while in New York last month was the Greenwich Village building where Samantha's Season 4 boyfriend, hotel magnate Richard Wright, lived on the series.  I found this location thanks to fave book Sex and the City: Kiss and Tell, and since fellow stalker Owen, my fiancé, and I were already doing some stalking in the area, I just had to run by to see it.  Ironically enough, though, the exterior of Richard's building was never actually shown on Sex and the City.  So, why would I want to stalk the place, you ask?  Because a scene from the Season 4 episode entitled "The Good Fight", in which Samantha and Richard enjoy a little midnight swim, took place at a spectacular pool located on the building's roof.  And while even I will admit to the fact that it is a little silly to want to stalk a filming location of which the only area that appeared onscreen is not visible to the public, because said location was featured on fave show Sex and the City, I just couldn't resist!  🙂  And, besides, isn't that what aerial images are for?  🙂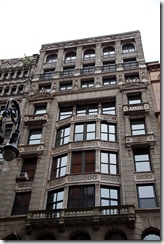 Richard Wright's building, which in real life is known as "The Dandy", was originally constructed in the early 1900's and at the time consisted of just ten floors.  In 1997, Israeli venture capitalist Jonathan Leitersdorf purchased the entire structure and completely renovated it, converting the interior into nine different full-floor condominiums.  He kept the top level for himself and transformed it into a spectacular penthouse, which was originally composed of just one level.  In later years, Leitersdorf added two additional stories to the space creating a massive five bedroom, five bathroom, 11,000 square foot penthouse consisting of 13 to 17 foot ceilings, two separate kitchens, more than 50 windows!, a panic room, a "forest", and of course, a remarkable rooftop pool boasting stunning 360 degree views of Manhattan.  For a time, the penthouse also doubled as an events venue named Sky Studios which hosted such fêtes as the wedding of Jerry and Jessica Seinfeld, a birthday party for Chelsea Clinton, and numerous photo shoots for Ralph Lauren's clothing line.  In 2002, Leitersdorf decided it was time to move on and put his apartment on the market for $27.5 million, where it sat for the next five years.  In September of 2007, the property was finally sold for a cool $17.5 million to supermarket mogul Ron Burkle.   Don't go thinking Ron got the place for a bargain, though, as his monthly maintenance fees are $7,836.  LOL LOL LOL  In an ironic twist of fate, my dad actually knows Ron Burkle, so I almost fell out of my chair today when I found out that he owned the penthouse!  I so have to get my dad to set up a tour of the pool for me during next year's New York vacation!  🙂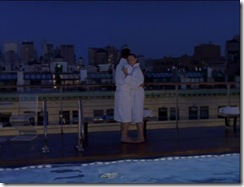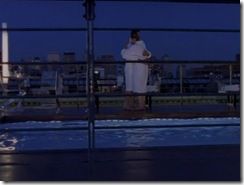 In "The Good Fight", it is at the penthouse's amazing rooftop pool, with Sade playing in the background, that Samantha finally lets go of her fears and insecurities and allows herself to fall in love with Richard, only to have him break her heart just five episodes later.  That's Sex and the City for you, though!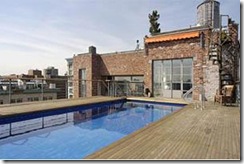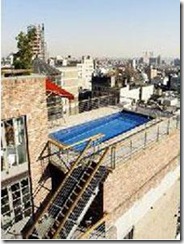 And, as you can see in the penthouse's MLS listing photographs which are pictured above, the pool truly is quite remarkable in real life.  Can you even imagine owning something like that???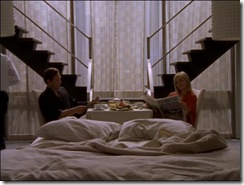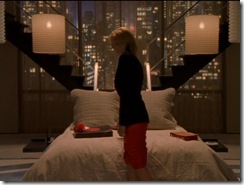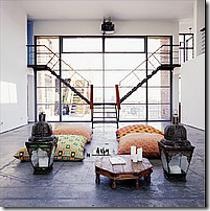 And, while the interior of Richard's penthouse existed only on a soundstage at Silvercup Studios where Sex and the City  was filmed, as you can see in the above screen captures and photograph from the MLS listing, the design was based on that of the real life penthouse.  So cool!  🙂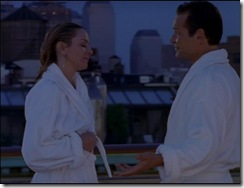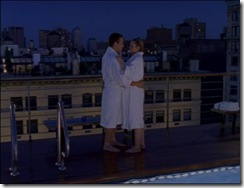 On a very sad side note, at the time that "The Good Fight" episode was shot, the Twin Towers were still standing and were visible in the background behind Samantha and Richard in the scene pictured above.  But by the time the episode was set to air, the towers had already been destroyed and the producers had to digitally remove them from the scene.  🙁  According to executive producer Michael Patrick King, that was the only time in Sex and the City's six year history that something had to be digitally removed from the background of a scene.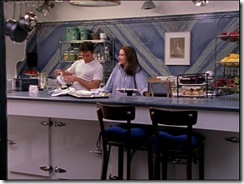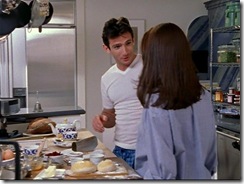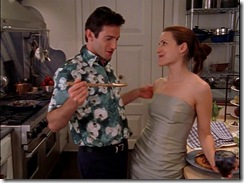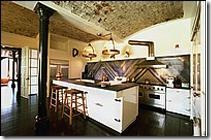 And in an ironic side note, the kitchen of Richard's penthouse was also used – long before Richard came on the scene – in the Season 2 episode of Sex and the City  entitled "Evolution".  In that episode, the kitchen belonged to Charlotte's gay/straight pastry chef boyfriend Stephen.  Executive producer Michael Patrick King first saw the penthouse's rooftop pool while filming "Evolution" and thought it was so spectacular that he made a mental note to write it into a future episode, which he did about a season and a half later.  🙂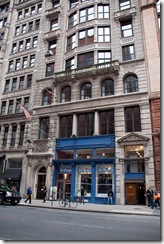 Until next time, Happy Stalking!  🙂
Stalk It: Richard Wright's Building and rooftop pool, aka The Dandy, is located at 704 Broadway in New York's Greenwich Village.  You can read more about Ron Burkle's purchase of the property here.
14027