Jefferson Market Garden
Nov 20th, 2009 | By
Lindsay
| Category:
Sex and the City Filming Locations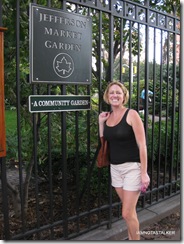 Another Sex and the City  location that I re-stalked while in New York last month was Jefferson Market Garden, the spot where the series' ever-present cynic Miranda Hobbs finally married long-time boyfriend Steve Brady in the Season 6 episode entitled "The Ick Factor".  I first stalked this location back in December of 2006, but at the time had absolutely no idea that it was a filming location and from one of my favorite television shows, no less.  My fiancé had dragged me to the garden and it's adjacent library due to the place's historical significance, and, while I enjoyed visiting it, I took virtually no photographs while there.  So, this year, I vowed to return, camera in hand!  And return, I did!  Thank goodness my family scheduled this year's New York trip in early October, though, as I had not previously realized that Jefferson Market Garden is only accessible to the public seasonally, during the months May through October.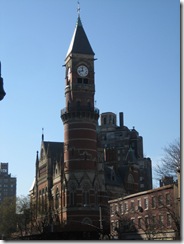 Jefferson Market Garden's name is derived from the fact that in the early 1800's a produce market, named after former president Thomas Jefferson, existed on the site where the garden and library now stand.  In 1873, that market was torn down and a courthouse built in its place.  Jefferson Market Courthouse, which opened in 1877, was designed by Calvert Vaux, one of the men responsible for designing Central Park, and architect Frederick Clarke Withers.  In 1885, the Gothic-style building (pictured above) was voted the fifth most beautiful in the entire country.  In 1931, an eleven story detention center for women was constructed on the lot directly adjacent to the Courthouse.  And while the Courthouse served the Third Judicial District of New York from 1874 to 1945 and the detention center even housed a certain famous prisoner named Mae West at one time, by the 1940's, both structures had fallen into serious disrepair and were threatened with demolition.  Thankfully New York preservationists stepped in and convinced the City of New York to renovate the Courthouse and turn the space into a Public Library.  They also petitioned to have the dreary detention center torn down and a garden created in its place.  Which is exactly what happened.  The library opened to the public in 1967, the detention center was destroyed in 1973, the garden was planted in 1974, and the rest, as they say, is history.  Jefferson Market Garden, which measures one third of an acre, opened to the public in 1975 and, while owned by New York City Parks & Recreation, remains a community project, cared for by local Manhattanites.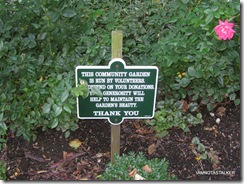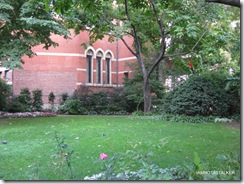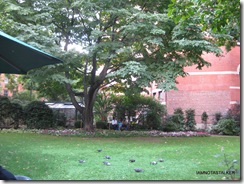 Today's garden consists of a central lawn, a koi pond, a rose garden, beds of various annuals, and several benches upon which to sit and enjoy the view.  It seems like the perfect place to spend a sunny afternoon.  In fact, while we were stalking the place, quite a few people were seated on the benches talking and enjoying the warm Autumn weather, while several artists stood nearby and painted the scene on portable easels.  It looked like something straight out of a movie.  🙂   Jefferson Market Garden is a truly beautiful place, and not surprisingly, has been the site of numerous nuptials ever since Miranda and Steve tied the knot there back in 2004.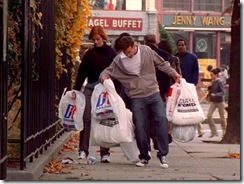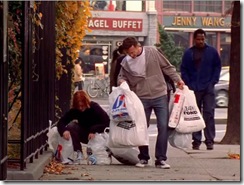 On Sex and the City, the garden first showed up in a beginning scene of the "Ick Factor" episode, in which the recently engaged Steve and Miranda have some issues while walking home after doing their weekly shopping.  Not only do Miranda's shopping bags explode during the scene, spilling their contents onto Greenwich Avenue, but Steve also steps in a wad of chewing gum, causing Miranda to proclaim "We should get married right here in this mess!", to which Steve replies, "We're gonna have to if I can't get this gum off."  LOL LOL LOL   Ahhh, I so love Steve!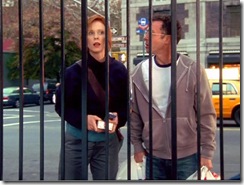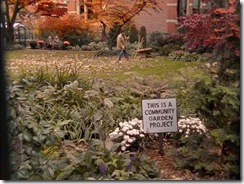 It is then that Miranda looks up and notices the picturesque garden setting situated right in front of them and announces to Steve that she thinks it might just be the perfect spot for the two of them to get married.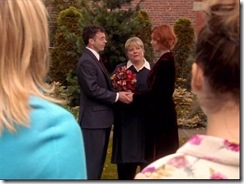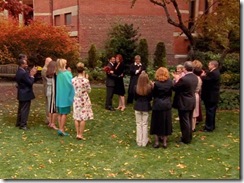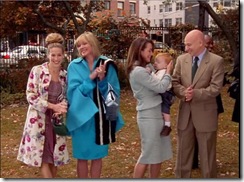 And get married there, they do, in a beautiful ceremony which took place later in that very same episode, which, as I've mentioned before, has to be one of my favorite episodes of all time.   Carrie's closing line of "For better or for worse, we were all ourselves that day, just the way Miranda wanted it.", which she utters just after Samantha's announcement that she has breast cancer, never fails to bring a tear to my eye!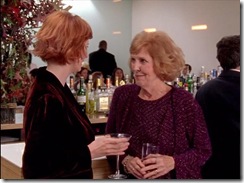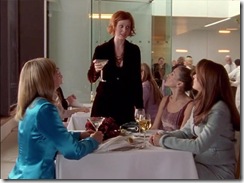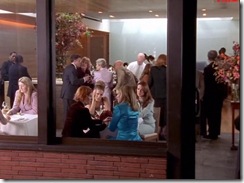 On a sad side note – Jefferson, the restaurant where Miranda and Steve held their wedding reception in the "Ick Factor" episode (pictured above), has since been closed.  🙁   Such a bummer, as I had so wanted to stalk that place.   You can see photographs of the former Jefferson restaurant here and here, though.
Until next time, Happy Stalking!  : )
Stalk It: Jefferson Market Garden is located on Greenwich Avenue, in between Sixth Avenue and West 10th Street.  The garden is open every afternoon, except Mondays, during the months of May through October.  You can visit their website here.  Miranda and Steve's wedding reception took place directly across the street from the garden at the now-defunct Jefferson restaurant, which was formerly located at 121 West 10th Street. 
14392