The Red Robin Restaurant from "Newlyweds"
Dec 2nd, 2009 | By
Lindsay
| Category:
TV Locations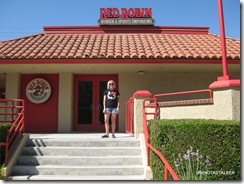 While Mike, from MovieShotsLA, and I were out doing some Valley stalking a couple of months ago, we decided to made a pit stop at the Red Robin restaurant in Calabasas for lunch.  Even though I am not now nor never have been a big Jessica Simpson fan, I had been dying to stalk the restaurant ever since it had appeared in a Season Three episode of the Nick Lachey and Jessica Simpson reality series Newlyweds.   Truth be told, though, I was really just using the fact that the restaurant had appeared on TV as an excuse to eat there, as Red Robin has long been my very favorite place to dine.  🙂  In fact, until POP Champagne Bar came on the scene late last year, Red Robin was literally the only place I ever wanted to eat.  For those who have never had the pleasure of dining at a Red Robin location, let me just say here that the eatery serves up some of the BEST chicken strips (aka "Clucks") I've ever tasted in my entire life, their fries are out of this world, and don't even get me started on the ranch dressing!!!  🙂   So, when I randomly mentioned to Mike that I had always wanted to stalk the Red Robin from Newlyweds, and he not only knew its exact location, but said we happened to be right in its vicinity, I just about died from excitement and begged him to take me there.  Which he happily did.  🙂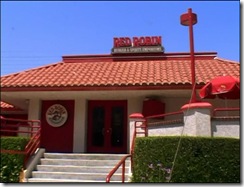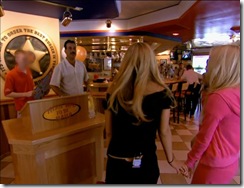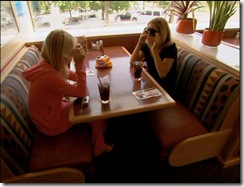 In the Season 3 episode of Newlyweds entitled "Eye Surgery", Jessica Simpson and BFF Cacee Cobb have Lasik surgery performed on their eyes – and yes, the entire procedure is shown, in very high detail I might add – on the show.  I was literally gagging while watching it!  In fact, after seeing the surgery in such an up-close-and-personal format like that, I don't think I will ever in my life sign up for Lasik.  LOL  But I digress!  After the procedure, Jessica mentions that she could really go for a burger and the two make a stop at the nearest Red Robin restaurant.  Because the girls are forced to wear post-surgery eye goggles, which severely inhibit their vision, several comical moments take place during the course of the meal.
My favorite of which being when Jessica drowns her plate in about three pounds of ketchup, and then, not realizing  how much she had poured, asks Cacee, "Do I have enough for my burger?"  LOL LOL LOL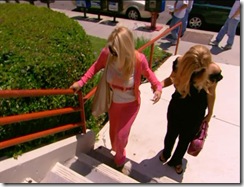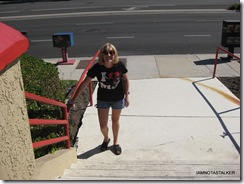 In the episode, Jessica also had a little trouble walking up the restaurant's front steps, so Mike suggested that I imitate her while he took a picture.  LOVE IT!  🙂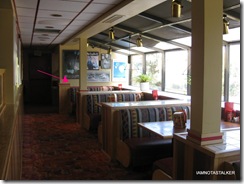 While we were eating, I mentioned to Mike that I wished I could remember the spot where Jessica and Cacee sat during the episode, to which he replied, "Oh, I know their exact booth!"  And that right there is why he is one of my best friends!!! 🙂  For those who are curious, Jessica and Cacee sat in the furthest corner booth of the restaurant's Eastern side (pictured above).  
It should be no surprise that I HIGHLY recommend stalking the Red Robin restaurant from Newlyweds!  🙂  I also highly recommend ordering the Clucks & Fries meal while there.  Trust me on this one, you will NOT be disappointed!!!     🙂
Until next time, Happy Stalking!  🙂
Stalk It: The Red Robin restaurant from Newlyweds is located at 24005 Calabasas Road in Calabasas.
14639