The Venice Christmas Show
Dec 17th, 2009 | By
Lindsay
| Category:
Celebrity Sightings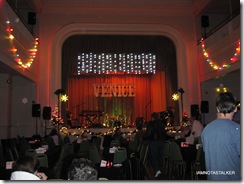 This past weekend, my good friend and fellow stalker Kerry and her husband flew out to California for a little Winter stalking visit.  The main purpose of their trip was to attend a Christmas concert on Saturday night put on by a local band named Venice.  Kerry has been a fan of Venice since she was in her teens and actually used to know a few members of the group personally.  And even though I was not familiar with the band, when she invited my fiancé and I to tag along with her to the show, I jumped at the opportunity.  I'm always up for anything having to do with Christmas.  🙂  Venice first started out back in 1977 and is comprised of four members – brothers Mike and Mark Lennon and their cousins, brothers Kipp and Pat Lennon – all of whom grew up in the Venice area, hence their name.  Kipp and Pat are the younger siblings of Lawrence Welk Show regulars The Lennon Sisters, so I think it's pretty safe to say that this is one VERY musical family.  🙂  Even though Venice usually plays smaller venues, as was the case this part Saturday night, they are an extremely popular group and have been featured on such shows as Entertainment Tonight, Live With Regis and Kathie Lee, E! News Daily, CNN's Showbiz Today, as well as countless others.  They have also appeared onstage or collaborated with such musical legends as Bruce Springsteen, Elton John, Phil Collins, Bon Jovi, Dolly Parton, The Beach Boys, and The Doobie Brothers, among many, many others.  And while Venice has enjoyed much success in America, their biggest fan base is actually located in the Netherlands where they perform several shows each year.  But after seeing the show this past Saturday night, I think it's safe to say that their American fan club has a new member because I absolutely fell in love with the foursome.  In fact, their "Christmas With Venice" CD is quickly becoming one of my holiday favorites!  🙂
And while the three hour plus concert was absolutely phenomenal – Venice even played some Jackson 5! – the highlight of the evening for me had to be when Kerry and I got to meet actress Teri Polo, of Meet The Parents fame.  One of Kerry's friends, who we met up with before the concert began, knew about my blog and my penchant for celebrities and told me to keep my eyes open during the performance as Teri might just make an appearance.  As it turns out, Teri is the long time girlfriend of Venice's drummer, Jamie Wollam.  It is here that I should mention that a Venice concert is not your average, everyday concert event.  Even though the Lennons are very well-known in the music industry, they are all extremely laid back and approachable.  Apparently, a few years back, Mike Lennon invited an entire audience over to HIS HOUSE for a pancake breakfast the morning following one of their shows!!  How incredibly cool is that???  Anyway, the concert venue was very intimate and instead of amphitheatre-style seating, regular tables and chairs were set up, complete with homemade Chex Mix laid out for all of the guests.  Seating was not based on price, but rather on when tickets were purchased and each seat was then marked with a tag denoting the audience member's last name.  Because Kerry's husband was one of the very first to book seats, we were situated FRONT and CENTER.  Literally, I think we had the best seats in the entire house!  🙂  Anyway, once I heard that Teri Polo might be in attendance, I spent the next twenty minutes or so scanning the name cards to see where she might be sitting!  LOL  No, I'm not a stalker, really!!!!  😉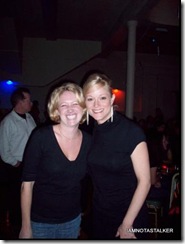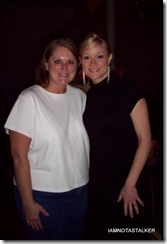 I really needn't have wasted all that time scoping out the tables, though, because once Teri walked in the door, I spotted her immediately!  Even though it was fairly dark inside, she was pretty hard to miss.  Teri is absolutely striking in person, with a long, long mane of shiny blonde hair.  Once Teri got herself seated, Kerry and I immediately approached her to ask her if she wouldn't mind taking a photograph with us.  I have to admit I was a little nervous to do so after the whole Bruce Willis/"Doubtful" incident, but Teri honestly could NOT have been nicer.  In fact, she is hands down one of the NICEST celebs I have ever met.  Teri spoke with Kerry and me for a good ten minutes or so and once she heard that Kerry was visiting from Washington State, started talking about the time she spent there while filming the television series Northern Exposure.  And get this, even though it has been a good 15 years since she acted on the show, she remembered some of its filming locations!  LOVE IT!  🙂  While we were talking with Teri, my fiancé walked up and mentioned that he had seen a film crew setting up for the Meet the Fockers sequel while working in Downtown L.A. a few weeks ago, to which Teri said "Oh, I'm sorry, I hope we didn't cause too much trouble for you while we were there!"  See, what I mean, how nice is that???  LOVE HER!!  Please excuse my hair in the above photograph – I was having major issues that day due to the rain and humidity in Santa Monica. 
After the show, all of the band members came into the audience to sign autographs and pose for pictures.  SO LOVE IT!  Kerry was lucky enough to get photos with each member of the group, including Kipp;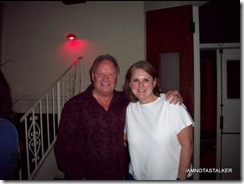 Pat;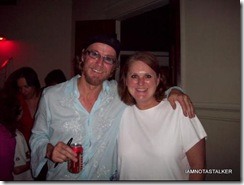 Mike;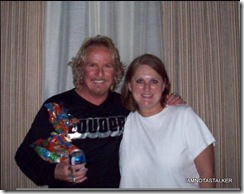 and Mark. 
Mark was the nicest out of the whole group and, let me tell you, I just about fell over when he recognized Kerry almost immediately after she walked up to him, even though he had not seen her in over twenty years and had no idea she would be attending the concert that night.  SO DARN COOL!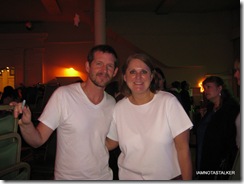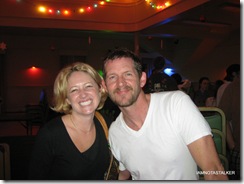 And, of course, Kerry and I both just had to get a picture with Teri Polo's boyfriend, drummer Jamie Wollam.  Jamie spent about fifteen minutes speaking with us and  – just like his girlfriend – truly could NOT have been nicer!!!!  He didn't even get annoyed when BOTH Kerry and I had flash trouble with our cameras.  It took several minutes before we figured out why our flashes weren't working, at which point I think even I would have been annoyed with us.  😉  But Jamie took everything in stride and was extremely gracious about the whole thing, even joking that the flash malfunction had to do with the fact that he was actually a vampire.  🙂  After meeting Jamie, it's not at all hard to see why he is going out with Teri Polo – they are easily two of the nicest celebrities that I've ever had the pleasure of meeting!  🙂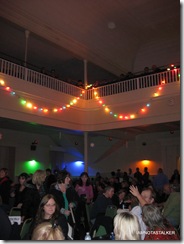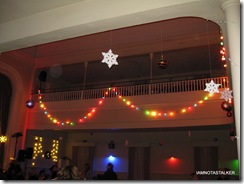 Randomly enough, the Venice Christmas Show was held in the Santa Monica Bay Woman's Club, which, like most venues in the L.A. area, also happens to be a common filming location!   The woman I spoke with was not sure what productions the hall has been used in over the years, but I did some digging and was able to find out that it will be featured in the yet-to-be-released movie The Social Network, based on the life story of Facebook creator Mark Zuckerberg.  And while I didn't get many photographs of the Woman's Club interior, I definitely plan on re-stalking the place after The Social Network premieres.  🙂
Until next time, Happy Stalking!  🙂
Stalk It: Venice will be playing several California shows in the near future.  You can find out more information on the official Venice website.  The Santa Monica Bay Woman's Club is located at 1210 4th Street in Santa Monica.  You can visit its official website here.
15067