Christmas Tree Lane
Dec 23rd, 2009 | By
Lindsay
| Category:
Movie Locations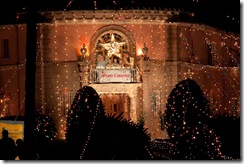 Last December, I blogged about a house in Altadena known as the Balian Mansion, or, as I like to call it, the real Clark W. Griswold house (pictured above).  And even though the mansion has appeared only briefly onscreen – in the movie Obsessed and in an early episode of Beverly Hills, 90210 – the house is somewhat of an institution in these parts due mainly to something that happens there each December.  During the Christmas season, the Balian Family decorates their mansion with THOUSANDS upon THOUSANDS upon THOUSANDS of twinkle lights.  People literally drive from miles around to see the spectacle and, last year, the place was even written up as one of AOL's Top Twelve Festive Holiday Homes.  Anyway, in last December's post on the Balian Mansion, I happened to mention another display of Christmas lights in the Altadena area – a one mile stretch of road named Christmas Tree Lane, which, while not a filming location, is definitely a holiday must-see.  Well, one very astute reader named Allyn contacted me shortly after that post was published to let me know that Christmas Tree Lane actually is a filming location, appearing in, among other things, the 1998 teen comedy Can't Hardly Wait.   Allyn told me that the Lane popped in a scene in which the two nerd characters are shown walking along a cedar tree lined street.   Ironically enough, though, even though Allyn had described the exact location AND the movie in which it was featured, this proved to be a rather difficult stalk for me.  It all started yesterday morning when I popped in my Can't Hardly Wait DVD and scanned through it TWICE, both times coming up completely empty-handed.  I couldn't seem to find a scene featuring Christmas Tree Lane ANYWHERE!  It then occured to me that Allyn had perhaps mistakenly told me the wrong movie.  So, I promptly started scanning through a few other teen comedies that I thought Allyn might have confused with Can't Hardly Wait.  After skipping through Not Another Teen Movie, She's All That, and  the first two American Pie flicks with absolutely no luck, I became completely perplexed.  And then, like a beacon, it hit me!  I needed to consult with fellow stalker Owen.  Because Owen has long had a penchant for actress Jennifer Love Hewitt (JLove, are you listening??), I figured he would know the movie Can't Hardly Wait like the back of his hand.  And, sure enough, he did!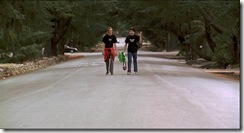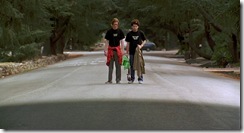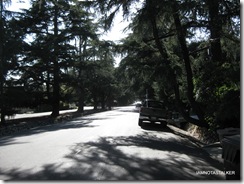 While my first instinct was that the Christmas Tree Lane segment might only have appeared in a deleted scene or an extended version of Can't Hardly Wait, fellow stalker Owen clued me in to the fact that it actually pops up about 15 seconds after the credits start rolling at the very end of the movie.  Which explains why I missed it even though I scanned through the movie TWICE!  LOL  In the scene, the two X-Philes, so named because they are huge X-Files fans :), are shown walking along a tree lined street in the early morning.  And just as one X-Phile says to the other, "This town is so lame.  Nothing exciting ever happens here.", a UFO appears and beams the two right up.  THANK YOU, OWEN!  🙂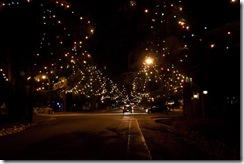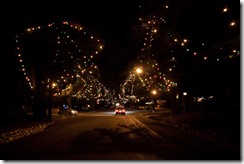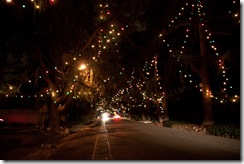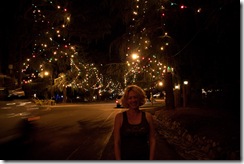 Christmas Tree Lane is, in actuality, a mile long stretch of Santa Rosa Avenue, in between Woodbury Road and Altadena Drive, in Altadena.  The road is lined with over 150 towering deodar trees which were planted by Altadena's founder, John P. Woodbury, in 1885.  Woodbury had originally seen the large-scale deodar trees during a trip to Italy and returned home to Altadena with several hundred of their seeds, which he immediately planted.   After being cultivated at a ranch for two years, the trees were then deposited all along the mile long driveway leading up to Woodbury's yet-to-built Altadena mansion.  And while the mansion was never actually completed, that mile long stretch of driveway eventually became Santa Rosa Avenue, a main thoroughfare in Altadena.  In 1920, a rather festive Altadena gentleman named Frederick C. Nash, along with The Pasadena Kiwanis Club, decided to light one small section of Santa Rosa Avenue during the holiday season.  Over the years, more and more trees were added to the spectacle, finally resulting in a one mile stretch of land encompassing 150 trees, which are lit with over 10,000 twinkle lights.  The street was eventually dubbed Christmas Tree Lane and was added to the U.S. National Register of Historic Places on September 13, 1990.  According to the official Christmas Tree Lane website, the display is "the oldest large-scale Christmas lighting spectacle in the United States" and each December more than 50,000 motorists venture out to Altadena to view it.  The lights on the trees are hung each year by a group of hard-working, dogged volunteers and members of the Board of the Christmas Tree Lane Association.  Up until the year 2000, the electricity costs were paid for by Southern California Edison, but after the deregulation of California utilities, the financial obligation of keeping the trees lit fell to the Christmas Tree Lane Association.  The tree lighting tradition has only been able to continue thanks to the many generous donations received each year.  If you would like to donate your time or money to the Christmas Tree Lane Association, you may  do so here.  I honestly can't recommend stalking Christmas Tree Lane enough!  It is an absolutely magical display of Christmas lights, the likes of which I have never seen duplicated.  On a side note – the fact is not lost on me that I am wearing a tank top in one of the above photographs, despite the fact that it was taken after dark in late December.  LOL  That's Los Angeles for you, though!  And while I am usually a big fan of L.A.'s warm climate, during Christmastime I actually prefer there to be a chill in the air.  As Kevin McAllister said in Home Alone 2, "Who wants to spend Christmas in a tropical climate, anyway?"  😉  Come December 26th, though, I am all about the heat!  🙂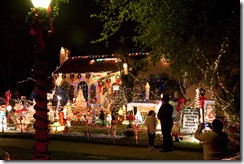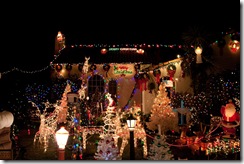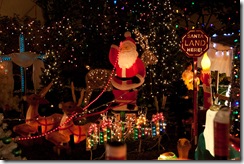 I would be remiss in my duties if I didn't take the time here to mention two other Pasadena area homes which, while not filming locations, are definitely holiday must-sees. The two houses are actually located on neighboring streets and, let me tell you, both are a site to behold!  The first one is pictured above.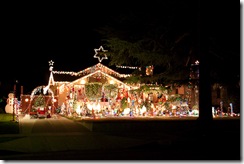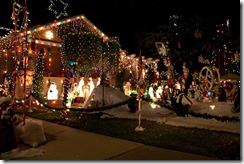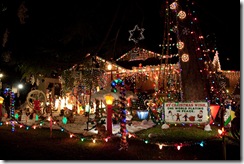 Not only do both houses feature a myriad of multi-colored twinkle lights, but they also boast musical animatronic displays starring such characters as Mickey Mouse, Snoopy, and The Grinch Who Stole Christmas, among countless others!  Not kidding!  I can't even tell you how much fun it is to visit these two homes each year and to see what new Christmas decorations have been added to the already over-the-top spectacles.  LOVE IT!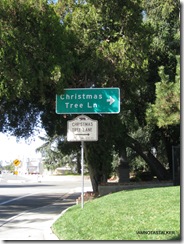 Big THANK YOU to Allyn and Owen for helping me out with this location!  🙂
Until next time, Happy Stalking!  🙂
Stalk It: Christmas Tree Lane is a mile long section of Santa Rosa Avenue located between Woodbury Road and Altadena Drive in Altadena.  This year, the lights will be turned on nightly from dusk until midnight through January 6th.  If you would like to donate time or money to the Christmas Tree Lane Association, you can do so here.  At the end of Can't Hardly Wait, the two X-Philes are shown walking north on Santa Rosa Avenue, directly in front of the house numbered 2287.  The Balian Mansion is located at 1960 Mendocino Lane in Altadena, just a short distance from Christmas Tree Lane.  The other two must-see houses in the area are located at 1776 Las Lunas Street and 1775 Monte Vista Street in Pasadena, just north of the 210 Freeway.
15322