Tamale Heaven from "Beverly Hills, 90210"
Dec 29th, 2009 | By
Lindsay
| Category:
90210 & Beverly Hills, 90210 Filming Locations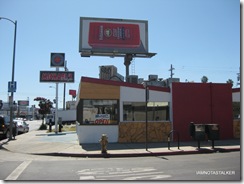 One location that Mike, from MovieShotsLA, has been begging me to blog about for over a year now is the Canoga Park burger restaurant that stood in for Tamale Heaven in the Season Two episode of Beverly Hills, 90210 entitled "Ashes to Ashes".  In real life that restaurant is named Michael's Burgers and even though it has been on my "To Stalk" list for ages now, because I rarely find myself in the Canoga Park area, I had yet to visit the place.  So, during our Valley stalking day back in October, Mike made a point of stopping by the tiny restaurant to finally show it to me.  And, let me tell you, I could NOT have been more excited!  🙂    Especially because the "Ashes to Ashes" episode has always been one of my favorites, thanks to the fact that it featured all of the elements that made 90210 such a classic show – a sugary sweet, albeit cheesy, moral message, Dylan and Brenda back together and madly in love, and boyscout Brandon not only taking on the Beverly Hills Security Patrol, but race relations, as well!  Love it!  One of my favorite 90210 lines EVER was actually spoken during this episode, in the scene in which Devo (love the name!) accuses Brandon of trying to score drugs at Tamale Heaven, causing Brandon to say, "Hey, I'm not a doper, man!"  LOL LOL LOL  See what I mean?  Classic 90210!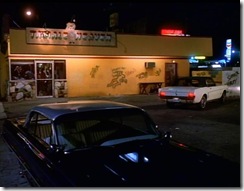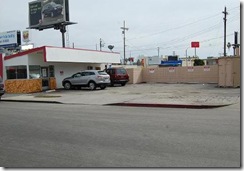 Amazingly enough, Mike frequented Michael's Burgers on a regular basis back in the early '90s.  So, when the restaurant appeared in the "Ashes to Ashes" episode, he immediately recognized the place.   Love it!  According to Mike, the burgers at Michael's are out of this world, but unfortunately we didn't get a chance to eat there while stalking the place.  🙁  Oh well, it looks like I'm just going to have to drag my fiancé back there in the near future.  In the "Ashes to Ashes" episode, only the back entrance and rear parking lot area of Michael's Burgers were used.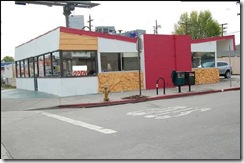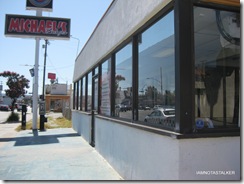 For some reason, the front exterior, which is pictured above, was never shown.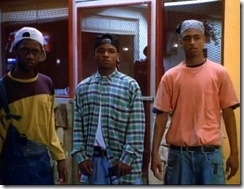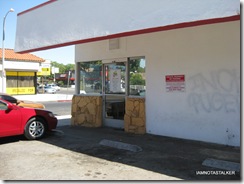 The areas which appeared in the episode include the main rear door,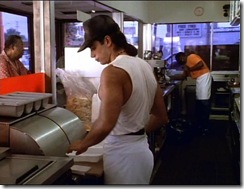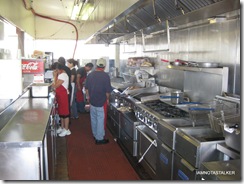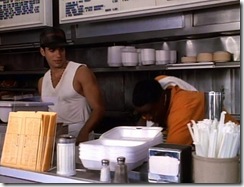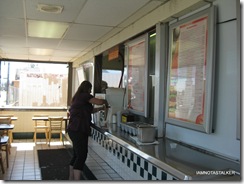 the interior,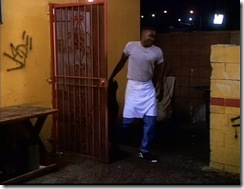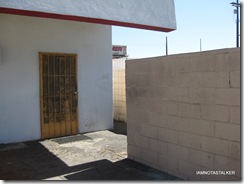 the rear employee entrance,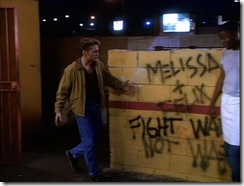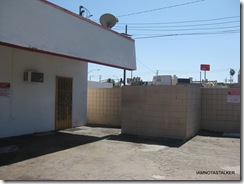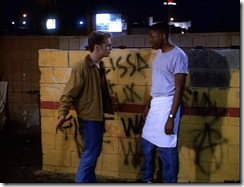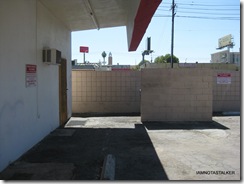 and the dumpster area.  Because Tamale Heaven is supposed to be located in the ghetto, somewhere between "Watts and the airport", producers really dressed the place down for the filming.  In reality, though, Michael's Burgers is not located in a bad area at all, nor is it completely covered over with graffiti.  And, amazingly enough, despite a change in paint color and the lack of graffiti, Michael's Burgers still looks almost exactly the same today as it did eighteen years ago when the episode was filmed!  LOVE IT!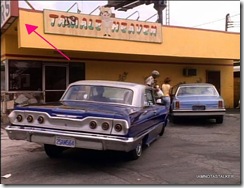 On a side note – While making screen captures for today's post, I spotted something quite interesting.  If you look in the above screen capture, you will notice a sign in the upper left hand corner which ends with the letters "R" and "S".  I am fairly certain that that sign read "Michael's Burgers" and that it wasn't actually supposed to appear in the scene.  I am guessing that producers either forgot to take the sign down for the filming or left it up thinking it would not be visible in the shot.  Whoopsie!  🙂 
Big THANK YOU to Mike, from MovieShotsLA, for finding this location and for taking all of the photographs featured in this post.  🙂
Until next time, Happy Stalking!  🙂
Stalk It: Michael's Burgers, aka Tamale Heaven, is located at 7225 Topanga Canyon Boulevard in Canoga Park.  You can visit their website here.  Directly across the street from Michael's, at 7218 Topanga Canyon Boulevard, is the strip mall that was used in the 1999 movie Blast from the Past.
15426