The Blair House Inn from "Murder, She Wrote"
Dec 31st, 2009 | By
Lindsay
| Category:
TV Locations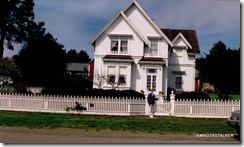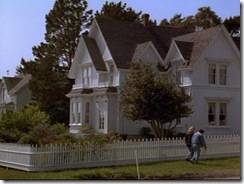 Way back in August, I received an email from a fellow stalker named Jenny who wanted to know if I had ever stalked Mendocino's Blair House Inn – a quaint little Victorian bed and breakfast better known as Jessica Fletcher's (aka Angela Lansbury's) residence on the long-running television series Murder, She Wrote.  And, amazingly enough, I actually had!  As I've mentioned a few times before, I grew up in Northern California – San Francisco to be exact – and when I was about 18 years old, my mom, my dad, and I started spending our Easters in Mendocino, a small coastal town located just about two hours north of the Bay Area.  Well, as you can imagine, I was absolutely floored during that first Easter when I discovered – thanks to the now out-of-print book Mendocino & The Movies – that countless productions had been filmed in the area.  So, I, of course, immediately dragged my parents right out to do some stalking!  And the first location I stalked just happened to be the Murder, She Wrote house.  I had yet to blog about the residence, though, because that particular stalking adventure took place long before the digital age of film and I had absolutely no idea whatsoever where I had stored my Blair House photographs.  It wasn't until just a couple of weeks ago that I was finally able to sift through the numerous picture boxes I keep in my parents' garage and, thankfully, I found my Mendocino stalking photos pretty much immediately.  So, without further ado . . . I give you my post on the Murder, She Wrote house, aka the Blair House Inn.  🙂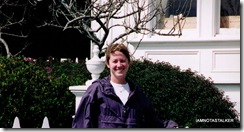 The Blair House Inn was originally built in 1888 as a private residence for a successful banker named Elisha Blair, who had migrated to the area from Maine with his family in 1857.  It's quite ironic to me that the original owner of the Blair House hailed from Maine, being that on Murder, She Wrote, Jessica Fletcher's residence was also supposedly located in the Pine Tree State.  I guess you can say that the property came full circle!   🙂  The Blair House was built by Mendocino architect Oliver Johnson and was constructed entirely out of Douglas Fir and Redwood trees and, amazingly enough, still looks almost exactly the same today as it did back in 1888!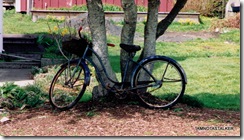 The Blair House Inn is extremely proud of its cinematic history and even had a replica of Jessica Fletcher's beloved bike built to put on display in the property's front yard, which I think is just about the coolest thing ever!  They also named their largest room "Angela's Suite", in honor of Murder, She Wrote's lead actress Angela Lansbury.  You can see photograph's of Angela's Suite here.  And while my family never actually stayed at the Blair House Inn, it looks like a fabulous place to spend a weekend.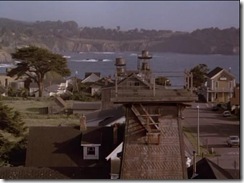 Being that Mendocino doubled for the fictitious town of Cabot Cove on Murder, She Wrote, the Blair House Inn was hardly the only area locale to be featured on the series.  In fact, once a year, the entire cast and crew of the highly popular mystery show would venture out to Mendocino and spend at least one week on location shooting exterior scenes and establishing shots to be used throughout each season.  Out of the 264 Murder, She Wrote episodes that aired during the series' twelve year run, only nine were actually filmed on location in Mendocino, but establishing shots of the town were featured almost weekly.  Some Mendocino citizens were even cast in the various episodes shot on location.  Oh, if only I had lived there while the show was being filmed!!!  😉 
Until next time, Happy Stalking!  🙂
Stalk It: The Blair House Inn from Murder, She Wrote is located at 45110 Little Lake Street in Mendocino.  You can visit their website here.  The Heritage House, which was the hotel used in the movie Same Time, Next Year, is located just a few miles south at 5200 North Highway 1 in Little River.
15523