Vertical Wine Bistro
Jan 4th, 2010 | By
Lindsay
| Category:
This and That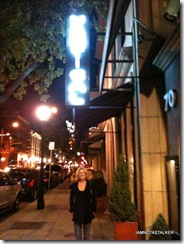 Even though I am not usually a going-out-on-New-Year's-Eve type of girl, this year I wanted nothing more than to ring in 2010 with a glass of champagne at my very favorite restaurant, POP Champagne Bar in Pasadena.  But being that I am not now, nor never have been, a night person – I can't tell you the last time I've actually stayed up past midnight on New Year's Eve – my fiancé and I decided to head over to POP early in the evening, at around 5 p.m., so that we could grab an early drink and be back home, comfy mumfy in our pajamas, by 6:30.  Yes, I am that much of a dork!  😉 So, you can imagine my disappointment when we arrived at POP only to discover a note taped to the front door announcing that the champagne bar would be opening later than usual – at 7 p.m. – that particular night. 🙁  Such a bummer!  But, as fate would have it, as we headed back to our apartment, my head hung low, we stumbled upon a little place called Vertical Wine Bistro, which just so happens to be owned by movie producer Gale Anne Hurd, the mastermind behind such Hollywood blockbusters as Armageddon, Aliens, The Abyss, and the Terminator movies, and I immediately grabbed my fiancé's hand and dragged him right inside!  I figured if I wasn't going to be able to spend my New Year's Eve at POP, I was at least going to get a blog post out of the evening!  😉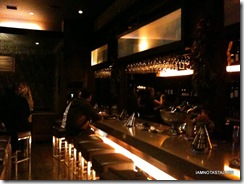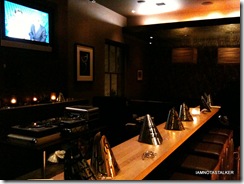 Longtime Pasadena resident Gale Anne Hurd opened Vertical Wine Bistro back in October of 2006 after deciding that Old Town Pasadena was in desperate need of an upscale and sleek, but laidback wine bar where someone like herself could hang out.  She named the bistro in honor of a type of wine tasting known as "vertical" in which patrons sample different vintages of one type of wine from a single winery.  (In case you're wondering, horizontal tasting, consequently, consists of sampling wines of the same vintage from a variety of different wineries.)  Vertical Wine Bistro features an eclectic menu and an extensive wine list with over 400 different wines by the bottle and almost 100 by the glass varieties.  And even though I've known about the restaurant and it's celebrity connection since it's opening three years ago, for some reason, until this past New Year's Eve, I'd never ventured inside.  But I have to say that the place was definitely worth the wait!  Vertical is a very cool, very "New-Yorky" style bar, with a simply amazing menu!!  My fiancé and I chose to share the crab cake appetizer on New Year's and just about died it was so good!  Our crab cake was flanked by a fennel cream and chanterelle mushroom sauce and it was so good, I honestly could have been given just a bowl of that and been happy!  I'm telling you, this stalker is all about chanterelle mushrooms from here on out.  🙂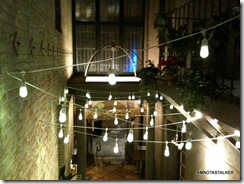 I honestly can't recommend stalking Vertical Wine Bistro enough!  And, who knows, you might even spot a celeb while doing so!  Besides Gale and her screenwriter husband Jonathan Hensleigh, other celebrities who have been spotted at the restaurant include former Bachelor Jason Mesnick and then-girlfriend Molly Malaney and Today Show stars Al Roker, Matt Lauer and Ann Curry.
On a side note – I really have to apologize for the craptastic photographs featured in this post.  Because I hadn't planned on stalking anything on New Year's Eve, I left my purse (and the camera I keep inside of it) at home.  Thankfully, my fiancé had his iPhone on him, so we were able to take the pictures posted above, but unfortunately they aren't of the best quality, which just proves what I've been saying for years – if you live in L.A., NEVER, EVER leave your camera at home!  😉
Until next time, Happy Stalking!  🙂
Stalk It: Vertical Wine Bistro is located upstairs at 70 North Raymond Avenue in Old Town Pasadena.  You can visit their website here.
15550