Simon Baker's Former House
Jan 5th, 2010 | By
Lindsay
| Category:
Celebrity Homes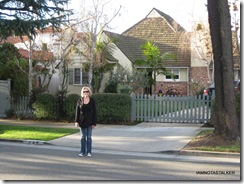 While doing some cyberstalking on fave website Virtual Globetrotting a few weeks back, I came across this post listing the address of a Santa Monica home which formerly belonged to cutie Mentalist star – and my latest celebrity crush – Simon Baker and I just about keeled over from excitement.  So, when my dad asked if I would be able to take him to a doctor appointment in the Santa Monica area yesterday morning, I literally jumped at the opportunity and informed him that we'd be making a little stalking pit stop first.  🙂  Thankfully, since my dad is also a big Mentalist fan, he didn't give me much grief about being dragged along on this particular stalking expedition.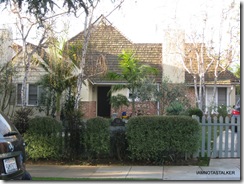 My dad and I were both quite shocked when we pulled up to the residence and saw it in person, as it is a lot smaller than we had anticipated and looks like a fairly normal suburban home.  A very nice suburban home, of course, but still fairly normal, nonetheless.  My dad kept saying, "There is no way Simon Baker lived there!"  Thanks to the property's ostensible lack of a front wall and exterior gate, it's hard to imagine a celeb like SB ever calling the place home.  But I guess it sort of makes sense being that Simon lived in the house about nine months before The Mentalist hit the airwaves, turning him into a household name and creating the need for some sort of exterior wall to keep stalkers like myself at bay.  😉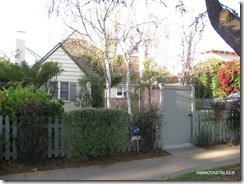 SB and his wife, actress Rebecca Rigg, purchased the 2,394 square foot, three bedroom, two bath home, which was originally built in 1934, on December 13, 2006 for a whopping $2,626,000 and sold it just a little under 13 months later, on January 10, 2008, for a nice little profit at $2,895,000.  While living in the house, the couple remodeled and expanded the kitchen area and added a pool and spa to the backyard.  You can see interior photographs of the home at the time it belonged to SB here.  The area where the house is located – which just so happens to be one of the most expensive areas in all of Los Angeles County – is known as Gillette's Regent Square and was developed by none other than King Camp Gillette, the razor blade magnate who also gave us King Gillette Ranch, aka the Biggest Loser Ranch, in Calabasas.  Amazingly enough, during the time that Simon lived in the house, my fiancé lived just a few blocks away  [in a much less expensive area, of course. ;)], yet we never ran into him!  How we missed each other is beyond me, being that Owen Wilson also used to live in that same vicinity (at 947 23rd Street) and my fiancé and I ran into him not once, but twice!!!!  Oh, SB, where were you hiding???  😉  According to fave website The Real Estalker, when SB sold this house, he purchased an even larger one also in the Santa Monica area.  So, you know what that means, don't you??  Yessiree, there's a whole other Simon Baker residence out there just waiting for me to stalk it!  🙂  YAY!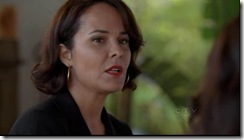 On an interesting side note – Fellow stalker and Mentalist aficionado Liz recently alerted to me to the fact that Rebecca Rigg, SB's real life wife and mother of his three children, played widowed actress Felicia Scott in the Season One episode of The Mentalist entitled "A Dozen Red Roses".  So cool!  🙂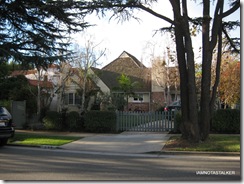 Until next time, Happy Stalking!  🙂
Stalk It: Simon Baker's former house is located at 534 20th Street in Santa Monica.  Owen Wilson's former residence is just a few blocks away at 947 23rd Street.  Courteney Cox also owned a house in the area, at 606 Alta Avenue, during her Friends days.  Across the street from Courteney's former digs is the 7th Heaven house, which can be found at 527 Alta Avenue.  Also in the area is Danny Devito's house from Twins, which can be found at 323 11th Street, and Darrin and Samantha's house from Bewitched, which is located at 267 18th Street.
15565