SpeedZone from "Guess Who"
Jan 20th, 2010 | By
Lindsay
| Category:
Jennifer Aniston Locations
,
Movie Locations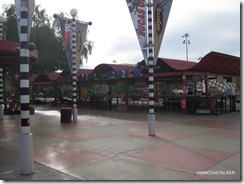 This past New Year's, my fiancé's entire family – including his two school-age nephews – came to town to watch the Rose Parade.  Before their arrival, he scoured the internet to find some fun places in the L.A. area to take the kids after the festivities were over.  One of the ideas he came up with was to spend a few hours at SpeedZone in the City of Industry – an amusement park of sorts which features an array of kid-friendly fun such as go-kart racing, miniature golf, and a large arcade.  I have to admit that I wasn't actually too keen on the idea at first . . . until my fiancé told me that the place was an oft-used filming location, that is.  And then I was 100 percent on board with the venue and even tried to convince everyone that we should skip the whole parade and just head straight there instead!  🙂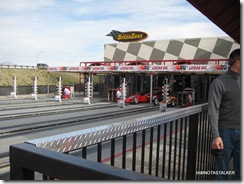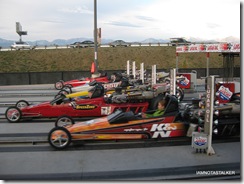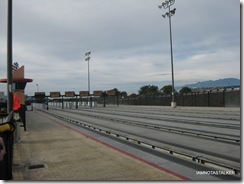 SpeedZone is best known for its four go kart courses, for which it recently won the LA Magazine "Best of Los Angeles 2009" – Best Go Kart Track award.  Those four tracks include the Top Eliminator Dragster, where racers drive authentic 300 horsepower NHRA dragsters on a mini-track reaching speeds of 70 miles per hour in less than 3.5 seconds;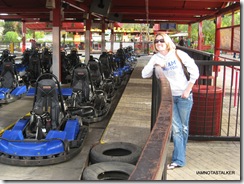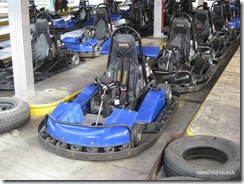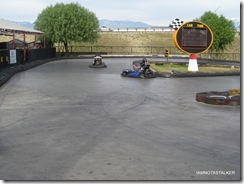 the Slick Trax – an ultra-slick polished surface course which encourages spinning and can accommodate up to 15 different drivers at the same time;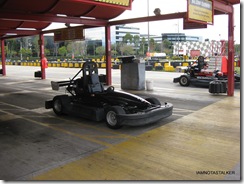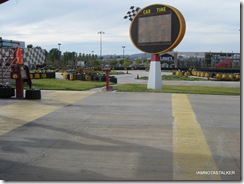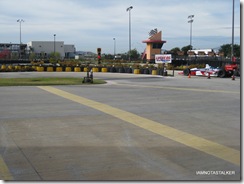 the Grand Prix – a long, single licensed-driver course based on Formula 1 and Indy Car tracks which features tight turns and a speed timer; and the Turbo Track (which I unfortunately did not get a picture of) – a course which can accommodate up to twenty drivers at a time racing in high-torque one- and two-seater cars.     Not into go karts?  Well, that's OK, too, because SpeedZone also features an arcade which boasts over 100 games including numerous video games, air hockey tables, and, my personal favorite, skee ball machines.  There are also two 18-hole golf-courses on the premises and a cafe which serves up pizza, sandwiches, burgers, and cocktails.  Yes, you read that right, the SpeedZone Cafe has a full bar, because adults enjoy go kart racing, too, you know.  😉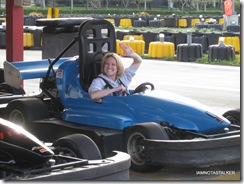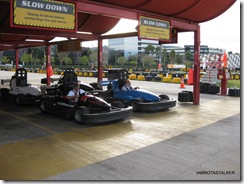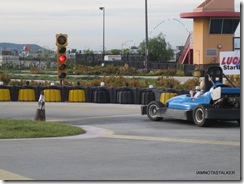 While hanging out at SpeedZone, I raced on both the Top Eliminator Dragster course and the Grand Prix course and the Grand Prix was by far my favorite.  I had an ABSOLUTE blast racing and actually thought I was burning up the course the whole way through . . .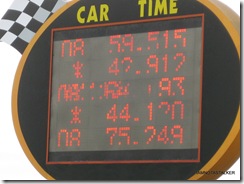 . . . until I got to the end and noticed my pitiful time!  Yes, the 75.249 time is mine.  As you can see, two of the other racers noted on the board pictured above completed the race in almost half the amount of time it took me!  LOL  What can I say, I am cursed with having the opposite of a lead foot.  But I had an absolute blast being there and cannot wait to go back . . . and hopefully improve my time!  🙂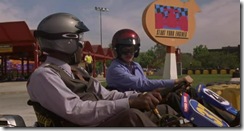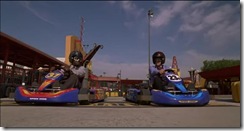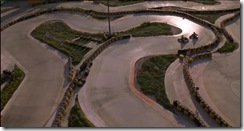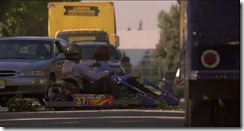 SpeedZone's most memorable cinematic appearance was in the 2005 comedy Guess Who in the scene in which overprotective father Percy Jones (aka Bernie Mac) challenges his future son-in-law Simon Green (aka Ashton Kutcher) to a little drag race on the Grand Prix track.  The two get into a bit of a scuffle during the race and wind up veering off the track, through a large hedge, and straight into oncoming traffic.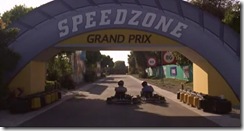 Contrary to what was shown in Guess Who, though, SpeedZone does not allow two people to race on the Grand Prix track at the same time.  And don't go looking for the archway pictured above, which Bernie and Ashton drive under in the movie, either, because I could not find it anywhere, which leads me to believe that it was either a prop brought in for the filming or that it used to be a real feature of the track that was removed sometime after filming took place.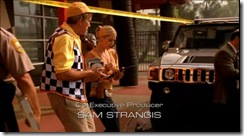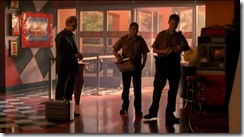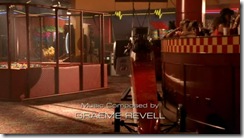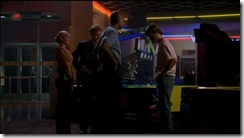 SpeedZone also stood in for Zany Town, the Chuck E. Cheese style arcade featured in the ultra-depressing Season One episode of CSI: Miami entitled "Broken".  The episode was actually filmed almost in its entirety on the SpeedZone premises.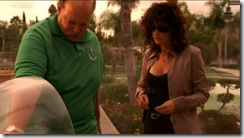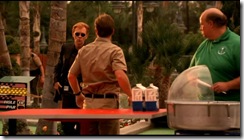 The park's golf area was also used in "Broken", as the "Sir Golf-A-Lot" miniature golf course, where H and the gang finally apprehended the bad guy at the end of the episode.
SpeedZone has also been featured in the reality shows Blind Date, Amish in the City, Average Joe, Who Wants To Marry My Dad, and Dismissed, on the game show Jeopardy, and it is set to appear in an upcoming episode of the new Melrose Place.  While I was stalking SpeedZone, I just had to ask one of the employees which celebrities had visited the theme park over the years and I just about died when he told me that Jennifer Aniston had been there!  Love it!  I was even wearing my Team Aniston sweatshirt at the time.  🙂  Courteney Cox and David Arquette have also raced cars at the park.
Until next time, Happy Stalking!  🙂
Stalk It: SpeedZone is located at 17871 Castleton Street in the City of Industry.  You can visit their website here.  Guess Who was filmed on the Grand Prix track and CSI: Miami was filmed in the Electric Alley arcade and on the Speedway miniature golf course.
16099