Vasquez Rocks County Park
Jan 21st, 2010 | By
Lindsay
| Category:
Movie Locations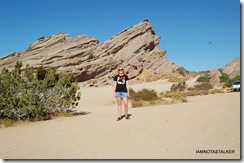 One location that I have been dying to stalk for what seems like ages now is Vasquez Rocks County Park in Agua Dulce, California.  I first read about the park in fave stalking book Hollywood Escapes: The Moviegoer's Guide to Exploring Southern California's Great Outdoors about 7 months ago and absolutely begged my fiancé to take me there.  He politely declined and I've pretty much been stewing about the whole thing ever since.  It's funny how things work out, though, because while Mike, from MovieShotsLA, and I were driving in the Valley on our way to do some stalking a few months back, we got into an in-depth filming locations conversation, as we are often apt to do, and somehow missed the freeway exit we meant to take.  When we realized our mistake about 15 miles later – I told you it was an in-depth conversation 🙂 – and turned off the freeway, we found ourselves at the entrance to Vasquez Rocks County Park and I just about died from excitement.  So, we decided to take a little stalking detour and headed right into the park.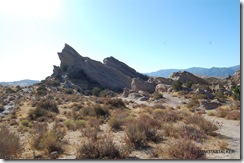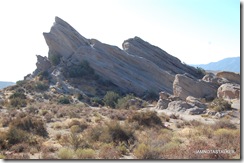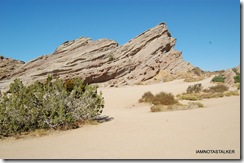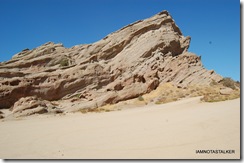 The large sandstone boulders which make up Vasquez Rocks County Park have been around since prehistoric times and were brought into their unique upturned positions thanks to numerous earthquakes and years of erosion.  The 932-acre park is named after Tiburcio Vasquez, the infamous outlaw who wreaked havoc in the Los Angeles area from 1856 until 1875, the year he was executed.  In 1874, just before being captured by authorities, Tiburcio spent quite a bit of time hiding out in the park that now bears his name.  Even though the man murdered and pillaged all across L.A. for close to 20 years, because he claimed that all of his crimes were committed in the name of justice for Mexican-Americans, he is viewed by many as a hero.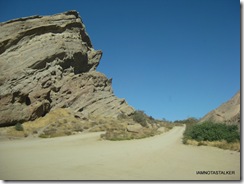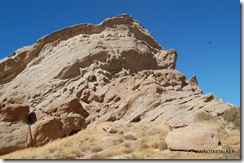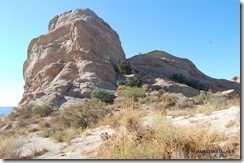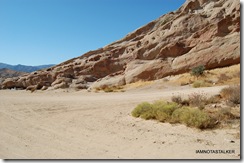 According to The Los Angeles Times, the 150-foot high rocks which populate the park are "the most commercially photographed boulders on the planet".  And, even though the area looks like it could be found in a faraway land or on a distant planet, it actually lies within Hollywood's "Thirty Mile Zone" (aka TMZ – and yes, that term is why the famous website is so named), which makes it extremely popular with location managers.  For those not familiar with the term, the Thirty-Mile Zone encompasses the area within a thirty mile radius of the intersection of West Beverly and La Cienega Boulevards in Los Angeles.  If a production is filmed outside of the Zone, SAG rules stipulate that travel time, mileage, and a special "distant location rate" must be paid to union members of the cast and crew.  So, thanks to its money-saving location and amazing, unique beauty, Vasquez Park has appeared in COUNTLESS, and I do mean COUNTLESS, productions over the years.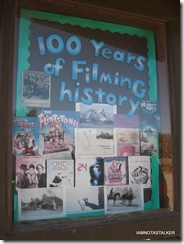 There is even a little kiosk on the property that documents some of the filming that has taken place there in the past.  Love it!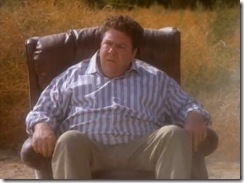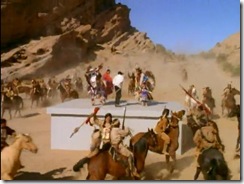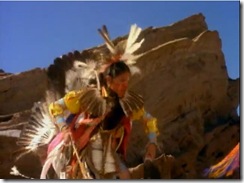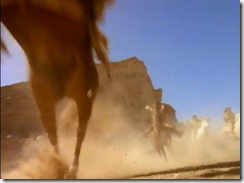 The main reason I wanted to stalk the park was because it was one of the main locations featured in one of my all time favorite music videos – the 1991 video for Michael Jackson's hit song "Black or White".  In an ironic twist of fate, I just happened to be wearing my "I Heart MJ" shirt that day.  🙂  Love it!  Vasquez Rocks were featured in the scene in the video in which George Wendt lands in a remote field after being blasted out of his house thanks to his son, Macaulay Culkin's, loud music.  The rocks also show up in a subsequent scene in which MJ dances on a stage with a group of Native Americans.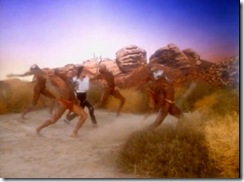 The rocks were not used, however, for the scene in the very beginning of the video in which Michael is shown dancing with a group of Aborigines.  That portion of the video appears to have been shot in front of a green screen inside of a Hollywood studio.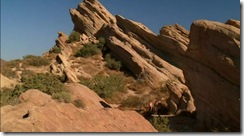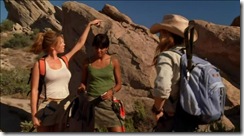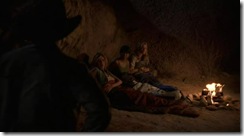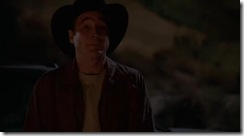 The rocks also appeared in one of my favorite episodes of Las Vegas, which was entitled "Good Run of Bad Luck", in the scene in which Delinda (aka Molly Sims), Nessa (aka Marsha Thomason), and Mary (aka Nikki Cox) go on a search for buried treasure and wind up getting stranded in the Nevada desert until eventually being rescued by country crooner Clint Black.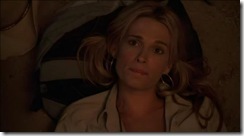 I absolutely LOVE the scene in which Delinda, lamenting over her belief that her father always wanted a son, says "We don't have that click.  You see him with Danny . . . click, click, click, click, click!  I want Daddy and me to be close, you know, like George Jetson and Daughter Judy or Cliff Huxtable and what's-her-name?  You know, the one who married Lennie Kravitz."   LOL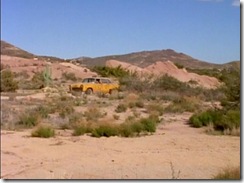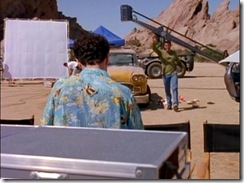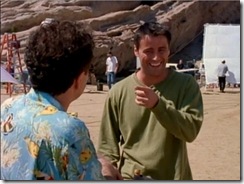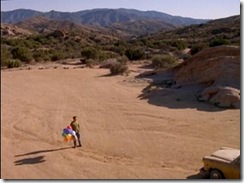 The rocks also stood in for the Las Vegas set of the defunct sci-fi movie Shutter Speed  in which Joey Tribbiani (aka Matt LeBlanc) was supposed to star in the Season 5 episode of Friends entitled "The One With Joey's Big Break".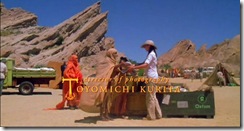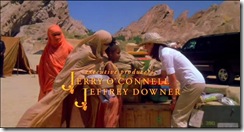 The rocks show up very briefly in the 2004 movie First Daughter, in a beginning scene in which Samantha Mackenzie (aka Katie Holmes) is shown on a peace-keeping mission in an unnamed foreign land.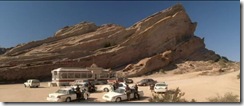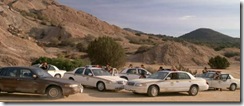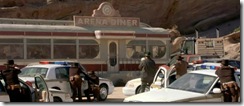 They were also the location of the Arena Diner in Jay and Silent Bob Strike Back.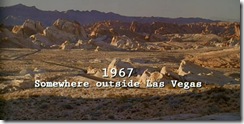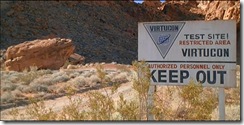 And the location of Dr. Evil's underground lair in Austin Powers: International Man of Mystery.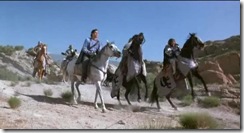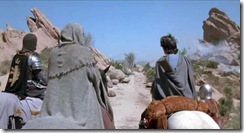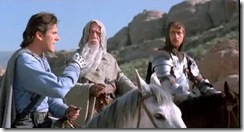 Bruce Campbell rides his horse through Vasquez Rocks in the 1992 flick Army of Darkness.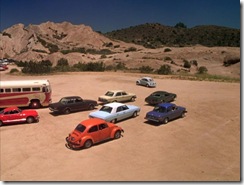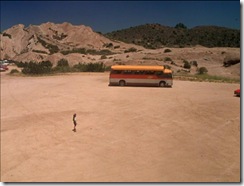 The large open dirt area was the parking lot where Joe Dirt realized his parents had abandoned him in the movie of the same name.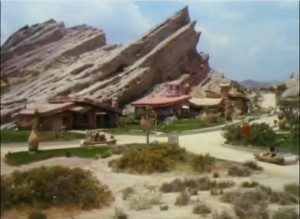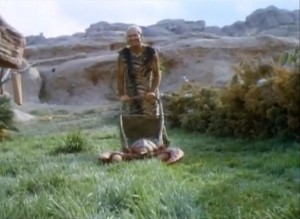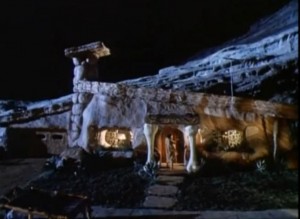 The entire town of Bedrock was built – out of styrofoam, no less – on the Vasquez Rocks property for the filming of both The Flintstones and The Flintstones: Viva Rock Vegas.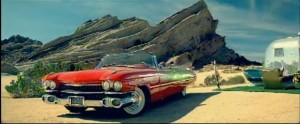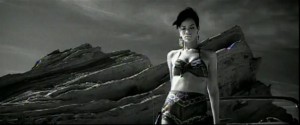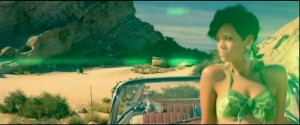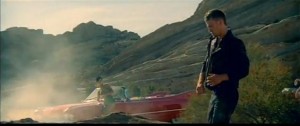 Rihanna and Justin Timberlake recently filmed their "Rehab" video at the Rocks.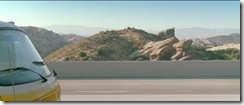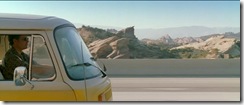 And the park also flies by very quickly in fave movie Little Miss Sunshine, in the scene in which Olive and her family begin their journey from Albuquerque, New Mexico to Redondo Beach, California.  The freeway they are driving on in the above screen captures is the 14.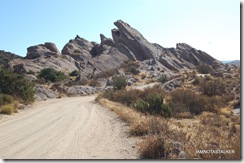 The rocks have also been featured in episodes of Monk, CSI:Crime Scene Investigation, Numb3rs, NCIS, Star Trek, Mission: Impossible, Buffy the Vampire Slayer, MacGyver, Charmed, The Lone Ranger, The X-Files, 24, Bonanza, Fear Factor, Roswell, Sliders, and in the movies Blazing Saddles, Holes, Alpha Dog, Bill and Ted's Bogus Journey, Starship Troopers, Wild Wild West, Short Circuit, Star Trek (2009), and Planet of the Apes (2001), among countless others.  You can see an extensive breakdown of the many productions filmed at the park here.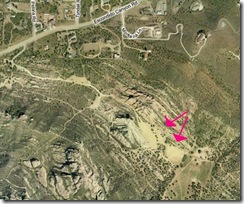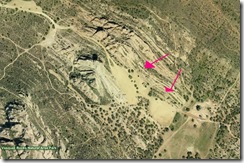 Although the park measures well over 900 acres, the areas most commonly used for filming are those located within walking distance of the two large open dirt fields denoted in the screen captures above.   The dirt fields are located very close to the main road and are easily accessible to stalkers.  🙂  While Mike and I were stalking the park, a student film was being shot on the premises and because one of the crew members thought we were part of the production – and we said nothing to dissuade him of that idea 🙂 – we were allowed to drive right up to the dirt lot.  I am not sure that cars are admissible in that area on a normal basis, though.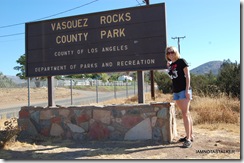 Vasquez Rocks is an absolutely BEAUTIFUL place – one of the most unique and picturesque spots I've ever had the privilege of seeing with my own two eyes – and I HIGHLY recommend stalking it!
Until next time, Happy Stalking!  🙂
Stalk It: Vasquez Rocks County Park is located at 10700 Escondido Canyon Road in Agua Dulce.  The park is open daily from 9:00 a.m. to 5:00 p.m.
16201