Stalking the WB – For the Third Time!
Jan 22nd, 2010 | By
Lindsay
| Category:
This and That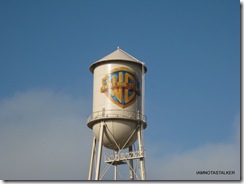 As I've mentioned a few times before, this past October, my good friends from Switzerland came to visit my family for a few weeks.  While they were here, I decided to take them on a Hollywood studio tour.  The only problem was I couldn't decide exactly which Hollywood studio tour to take them on.  So, I got Mike, from MovieShotsLA, on the phone and the two of us had a very in-depth discussion about it, carefully weighing all of our options.  Not kidding – you should have heard the two of us.  🙂   Anyway, we quickly narrowed down our choices to either the Paramount Studio Tour or the Warner Brothers VIP Studio Tour.   And even though I was leaning towards Paramount, Mike convinced me that because the WB Tour covers the overall studio experience, it would be the best choice for those stalkers who had yet to visit a movie studio.  Paramount is geared more towards us die-hard stalkers, in my opinion, which is probably why I like it the best.  🙂  So, with our tour location finally decided upon, the four of us headed out bright and early the following morning to stalk the WB.  This was actually my third time stalking the lot and it really is true what they say – no two tours are alike.  I already want to go back for a fourth time.  🙂   Sadly, though, our tour guide left quite a bit to be desired on this particular venture.  We still had a blast while there, don't get me wrong – it's pretty hard not to have fun on the WB lot – but, for whatever reason, our guide was a grump pretty much the whole way through.  She also seemed to have a pretty high opinion of herself, which didn't help my opinion of her.  😉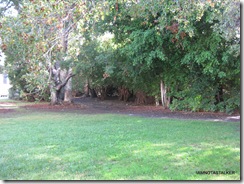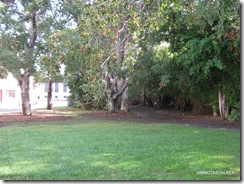 She even got a bit testy with me at one point, after bringing us to the Central Park portion of the lot and asking if anyone knew what television show it had been featured in.  I, of course, raised my hand and said "It's where Phoebe runs weird on Friends!" to which she snapped, "Well, you must have been on the tour before, which is the only reason you'd know that!"  I wanted to explain that I had actually known the answer to that question while on my first WB tour, but I was afraid she'd pretty much bite my head off if I did!    So, since it was obvious she didn't appreciate stalkers, I kept my mouth shut for the remainder of the tour.  The other disappointing aspect of the day was that Hennesy Street, which is one of the WB's New York areas, Midwest Street, aka Anytown USA, and the Jungle area were all closed off to tour groups due to filming.  🙁  The Witches of Eastwick was actually the production being filmed on Midwest Street and we were very briefly allowed to venture over to the outskirts of that area to take a peek at what was going on, but unfortunately no photographs were allowed.  Anyway, aside from Debbie Downer and the fact that numerous areas of lot were closed off, we had a great time on the tour.   🙂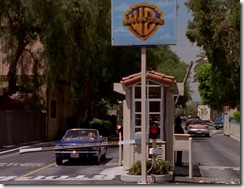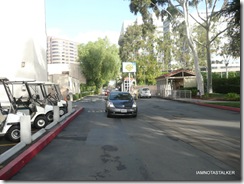 The tour began the way it always does, with our guide driving us via golf cart through the very same studio gate that Carrie Bradshaw drove through in the Season Three episode of Sex and the City entitled "Escape from New York".  LOVE IT!  🙂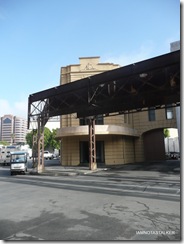 Our first stop was the old ER hospital set which has all but been dismantled.  🙁   So sad!  While the hospital entrance and L Train track will be left up to be used by future productions . . .
. . . the area behind the large brown double doors which used to contain the ambulance bay and waiting room set, is now just empty space, as you can sort of see in the above photograph.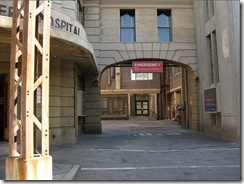 The way it used to look is pictured above.  You can see more photographs of the old ER  set on my two previous WB Tour posts which can be viewed here and here.  According to our tour guide, ER's Jumbo Mart Diner set is going to be left intact to serve as the studio's tribute to the longest running medical drama ever to air on television.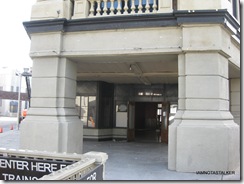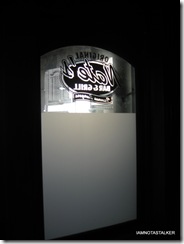 Our next stop was the Nate's Bar & Grill set from ER, which is also being left intact to be used by future productions.  Nate's Bar & Grill is what's called a "practical set" in studio terminology because both its interior and its exterior can be used for filming.
Unlike the facade pictured above which has no interior area.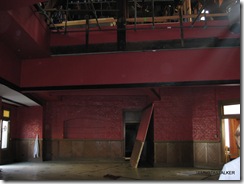 As you can see in the above photograph, Nate's Bar & Grill lacks a ceiling, which is actually typical of movie sets.  The ceilings of sets are always left open so that lights and other production equipment can be hung above the area being filmed.  That's often how I can tell if something was filmed in a studio or on location somewhere – if a ceiling is shown onscreen, that's pretty much a dead giveaway that the production was filmed at a real life location.   😉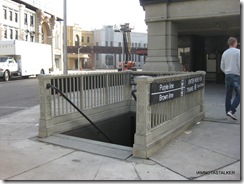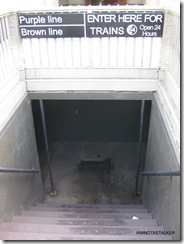 Located just outside of Nate's is a very realistic looking subway set, which was extremely cool to see being that we had just returned from our New York trip a few days beforehand.  🙂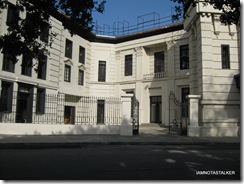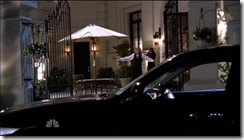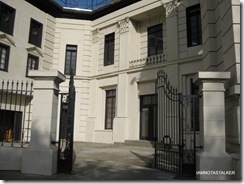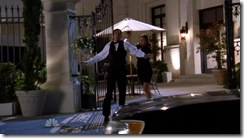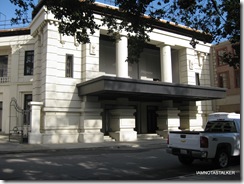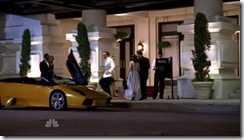 Our next stop was the the Embassy Courtyard, an area which was used in the 1999 made-for-TV movie Annie, in the television series Without a Trace, Hotel, and, as you can see in the above screen captures, Chuck .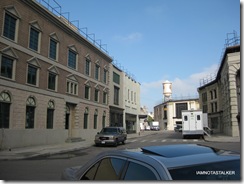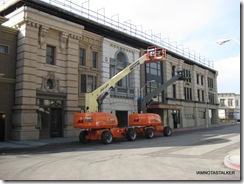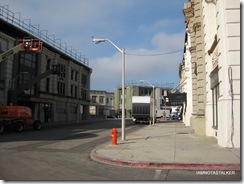 We also visited New York Street, which is not to be confused with Hennesy Street, the lot's other Manhattan-like area.  New York Street has been used in the movies The Big Sleep, Blade Runner, Yankee Doodle Dandy, and The Last Samurai, for which the entire area was dressed to look like 1870s Japan.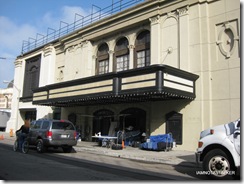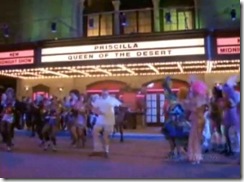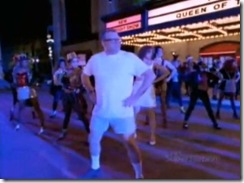 Located on New York Street is the movie theatre facade pictured above, which was featured in the "New York and Queens" episode of The Drew Carey Show in which Drew and the gang challenge Mimi and her friends to a Rocky Horror Picture Show/Priscilla Queen of the Desert dance-off.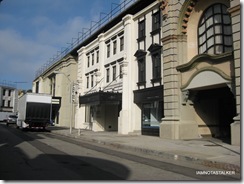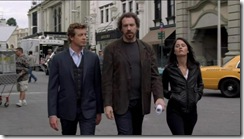 That very same area was also featured in the Season One episode of The Mentalist entitled "A Dozen Red Roses".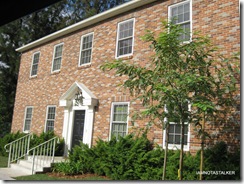 We also briefly visited the Warner Village area of the lot, where we saw "New Christine's" apartment building from the series The New Adventures of Old Christine.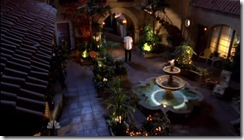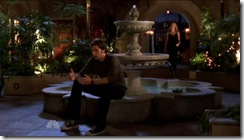 Our next stop was the soundstage used in the filming of the television show Chuck, a series which I have never before seen.  But I was extremely excited to see the set nonetheless because it was modeled after the very same apartment building featured in the movie 'Til There Was You – an apartment building which I have not only stalked, but also blogged about.  🙂   I cannot tell you how cool it was to be seeing that set in person, as it looks very much the same as its real life counterpart.  Love it!  And while our tour guide did let us know that the Chuck set was based on a real life apartment building, she mistakenly told our group that said building was located in Los Feliz, which is actually incorrect.  The building, which is named El Cabrillo, is actually located in Hollywood.  I didn't dare correct her, though, since she had already made it pretty clear that she didn't care to hear any information I had to share. 😉 We also got to venture inside the characters' individual apartments, which really are located directly off the building's courtyard area.   Unfortunately no photographs were allowed inside of the Chuck soundstages, but you can see what the set looks like in the above screen captures.  When I asked our tour guide why the area was off-limits to cameras she said it was to prevent spoilers, i.e. if a crewmember accidentally left something on set that gave away a future plot point and then a tour group came in and took pictures of the set and then those pictures somehow wound up on the internet ;), fans might figure out the future plot development and stop watching the show.  Which I think is pretty silly reasoning, but c'est la vie.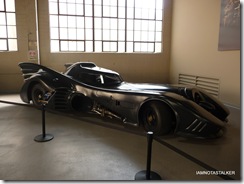 No WB VIP Tour would be complete without a visit to the car museum, where we got to see several vehicles from The Dark Knight, including the Batmobile;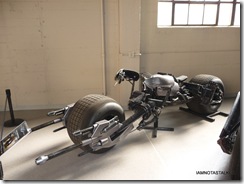 the Bat-Pod motorcycle;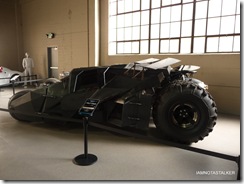 and the Stealth Launch Batmobile; all of which my best friend, Robin, the only guy in the group, loved seeing.  🙂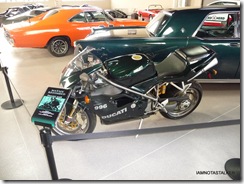 Also on display was the Ducati 996 motorcycle from The Matrix Reloaded;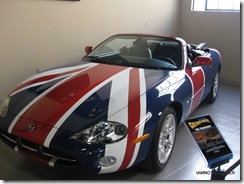 the "Shaguar" from Austin Powers in Goldmember;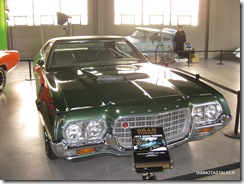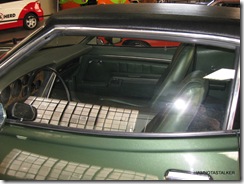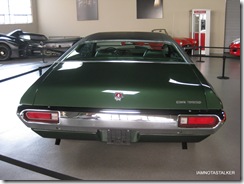 Clint Eastwood's Gran Torino from the movie of the same name;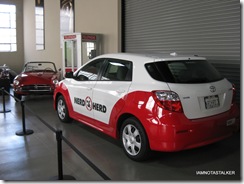 the Nerd Herd car from Chuck;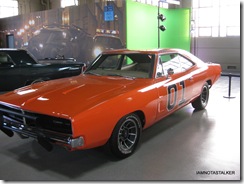 the General Lee from The Dukes of Hazzard;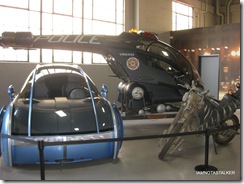 several vehicles from AI, including the Hovercopter;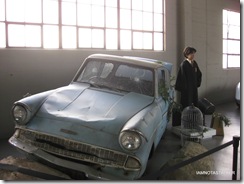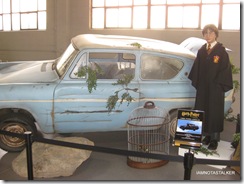 the Ford Angila from Harry Potter and the Chamber of Secrets;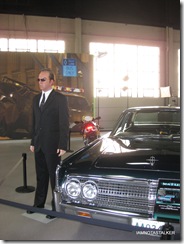 and a 1969 Lincoln Continental from The Matrix, along with a wax figure of "Agent Smith".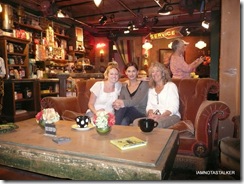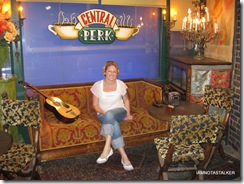 The best part of the tour for me, though, had to be when we got to see the Central Perk set from Friends.  Granted, I've seen the set twice before on the two other WB Tours I've attended, but this time we were actually allowed to venture ONTO the set, walk around, touch things, and even sit on the furniture!  YAY!   Let me tell you, I just about DIED I was so excited!   (Those are my friends Doina and Stephanie sitting on the Friends couch with me in the above photograph.)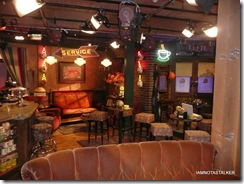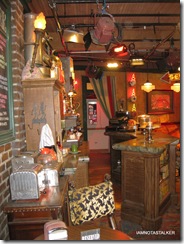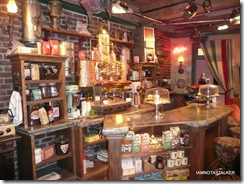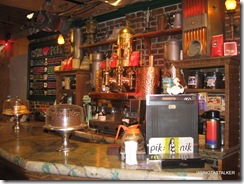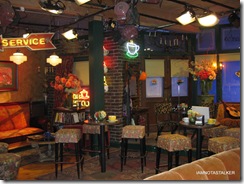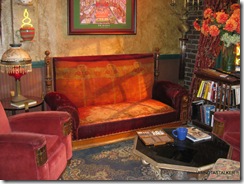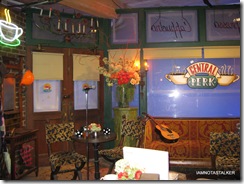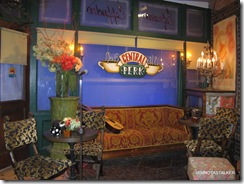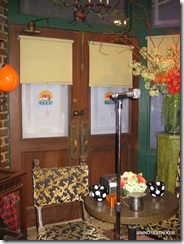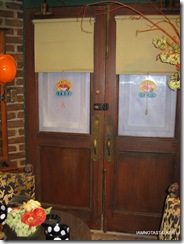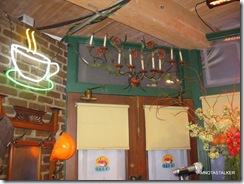 And I just HAD to take pictures of absolutely EVERYTHING!
Well, I've said it before and I'll say it again – I HIGHLY recommend taking the WB VIP Studio Tour!  Even with a craptastic tour guide, it's still a fabulous adventure to have in L.A.
Until next time, Happy Stalking!  🙂
Stalk It: Warner Brothers Studios is located at 3400 Riverside Drive in Burbank. Tours run every 30 minutes Monday through Friday from 8:20 a.m. to 4:00 p.m. Advance reservations are recommended. Tickets cost $45 per person. You can learn more about the tour here .
16353