Sarah Silverman's Apartment Building from "The Sarah Silverman Program"
Jan 25th, 2010 | By
Lindsay
| Category:
TV Locations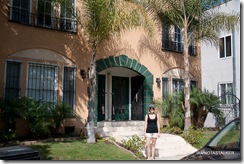 A few months back, I got an email from a fellow stalker named Kate who wanted to know if I could track down the apartment building where Sarah Silverman lives on The Sarah Silverman Program.  Kate had heard on one of the show's DVD commentaries that the building was located somewhere in Hollywood in close proximity to Paramount Studios, where the series is taped.  Because I had never watched an episode of The Sarah Silverman Program – although I did see one being filmed 🙂 – for this particular stalking venture I had to call for reinforcements – i.e. fellow stalker Owen.  🙂  Like the blonde that I am, though, in the email I originally sent him asking for his help, I accidentally told him that the building was located near Universal Studios, instead of Paramount!  Oops!!!  Brain blips like that are quite common for me, I'm afraid, and they drive me – and those around me – crazy!  Anyway, Owen spent quite a bit of time searching in the Universal Studios area (I still feel bad about that!), until I realized my mistake and informed him.  Well, it wasn't 20 minutes later that he emailed me back with an address!  Yes, he is the master!  Seems he found the building by looking at aerial views of various neighborhoods surrounding the Paramount Lot.  He first set some parameters for himself of areas to check, searched all the houses within those boundaries, but had no luck.  Then he opened up the parameters a bit to the south and almost immediately found the apartment.  THANK YOU, Owen!  🙂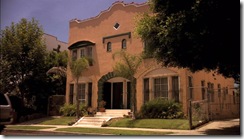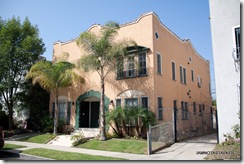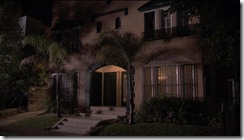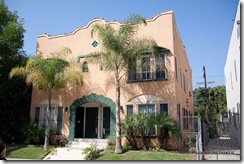 On The Sarah Silverman Program, Sarah, along with her friends Brian Spukowski (aka Brian Posehn) and Steve Myron (aka Steve Agee), live in a Mediterranean style building supposedly located in Valley Village.  In reality, though, the building, which I am happy to report looks EXACTLY the same in person as it does on the show, is located in the heart of Hollywood.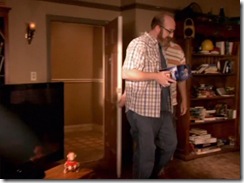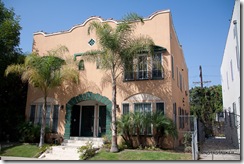 One inconsistency that I did notice, though, is that on the show, Sarah's building has an interior hallway, as you can see in the above screen captures.  But from how it appears in real life, I am fairly certain that interior hallway doesn't actually exist.  In reality, it seems that the building contains four individual apartment units, each of which can be reached via the four front doors facing the street, thus negating any need for an indoor hallway.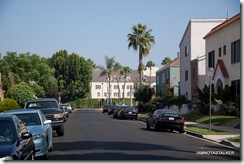 The above photograph is the view looking north from the front of The Sarah Silverman Program apartment building.  The big white structure located behind the large hedge is Paramount Studios, so that DVD commentary wasn't lying – the apartment is indeed located in VERY close proximity to the lot where filming takes place!  🙂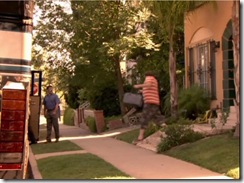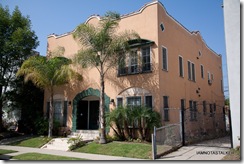 On a side note – I finally sat down to watch a few episodes of The Sarah Silverman Program before writing this post and I have to say that I wasn't really impressed.  It's kind of an odd program.  It can funny at times, but for the most part, it's just . . . well . . . very, very odd.  That's the best word I can find to describe it.  Needless to say, I most likely won't be watching it again.  And I'm actually pretty bummed I spent $4 buying the episodes on iTunes.  I could have bought a cup of Starbucks coffee with that $4 – something which I am fairly certain I would have enjoyed a whole lot more than the show!  😉
Big THANK YOU to Owen for finding this location.  🙂
Until next time, Happy Stalking!  🙂
Stalk It: Sarah Silverman's apartment building from The Sarah Silverman Program is located at 607 North Irving Boulevard in Hollywood, just one block south of Paramount Studios.
16402