Dylan's House from "Beverly Hills, 90210"
Jan 27th, 2010 | By
Lindsay
| Category:
90210 & Beverly Hills, 90210 Filming Locations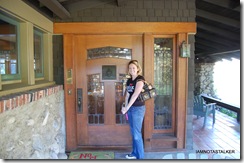 Still licking our wounds this past weekend after finding out that the Walsh Family garage had recently been dismantled, Mike, from MovieShotsLA, and I decided to head over to Dylan McKay's house to do some more Beverly Hills, 90210 stalking.  And, as fate would have it, the real life owner of Dylan's home, an INCREDIBLY nice woman named Mary, just happened to be outside doing some gardening work when we arrived!  So, we got to talking to her and found out quite a bit of behind-the-scenes information, the most fascinating of which was the fact that throughout the show's entire second season, all of the scenes which took place at Dylan's residence were actually filmed inside of Mary's house and not on a soundstage!  And, let me tell you, I just about died when I heard that!  Interestingly enough, though, Mary's house was not used for the exterior establishing shots of Dylan's house until early in the show's third season!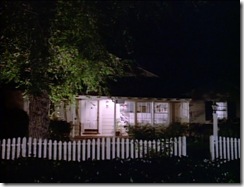 The house used as the exterior of Dylan's abode during the show's second season is pictured above.  And, ironically enough, it's also the very same house that was used as Andrea's residence in the Season One episode of 90210 entitled "Spring Dance".   LOL  The location manager's wires must have gotten crossed somewhere along the line while dealing with this residence!  😉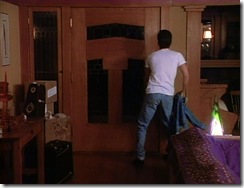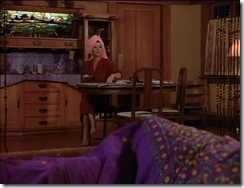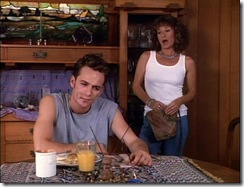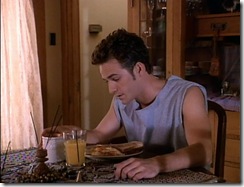 The interior of Mary's house first appeared early on in the series' second season in an episode entitled "Necessity is a Mother" (pictured above).  According to Mary, whenever filming would take place at her home, producers would use her actual furniture in all of the scenes.  She said she and her husband owned a pink couch at the time and producers would cover it up with Indian-style blankets during the filming, as you can see in the above screen captures.  So, that finally answers the question of how Dylan McKay's blanket-happy decorating style came to be.  😉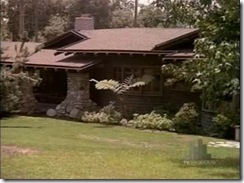 The exterior of Mary's house (pictured above) didn't show up until a full year after the "Necessity is a Mother" episode aired.  Its first appearance was in the premiere episode of the Third Season, which was entitled "Misery Loves Company".  I guess producers didn't figure viewers would notice that Dylan's house changed mysteriously mid-series, but they really should have accounted for all of us stalkers out there.  😉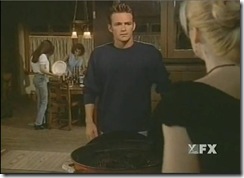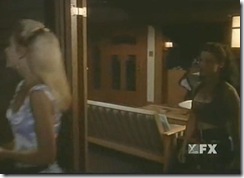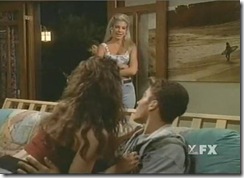 According to Mary, the interiors of her house were used throughout the filming of the entire second season and into the beginning of third, at which time producers ended up building an exact replica of the structure on a studio soundstage.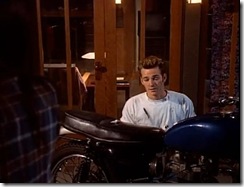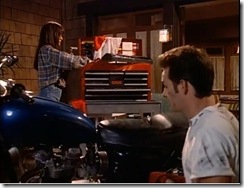 They even rebuilt the home's front porch and side patio area (pictured above), complete with a replica red Webber BBQ, just like the one Mary and her husband owned at the time!  So cool!   You can watch a clip which features an extensive view of Dylan's house from the Season 3 episode entitled "A Song of Myself" here.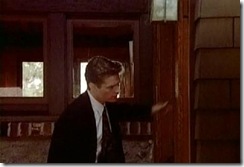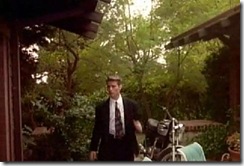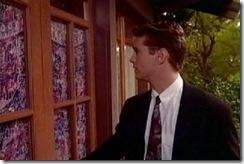 Mary also told us that a scene from the Season Four episode entitled "Twenty Years Ago Today" was also filmed inside of her house.  In the scene, Dylan is shown taking a shower, just as Brandon pulls up to pick up a picture frame he had purchased for his parents' twentieth wedding anniversary.  Because Dylan can't hear him knocking, Brandon ends up breaking the glass on the back door and entering the house.  Dylan hears the glass break, grabs his gun, and almost shoots him.  Ah, dontcha just love 90210 drama?  Mary said that for the filming of Brandon's breaking-and-entering scene, a fake back door – complete with break-away glass – was built and that she got to keep the door after the filming was completed!  She still has the door in her garage!  Unfortunately, we didn't get to see it, but I think it is so incredibly cool that she still has it after all these years.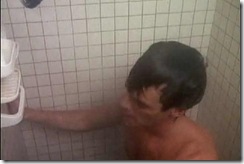 She also told us that her real life bathroom was used for the scene in which Dylan is showering in that episode, which means that Luke Perry actually stood in her shower!  Sigh!  Mary also said that Shannen Doherty was her favorite out of all of the actors on the show.  YAY!  Go Team Brenda!  See, I knew Shannen had to be nice!  🙂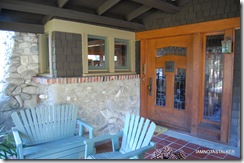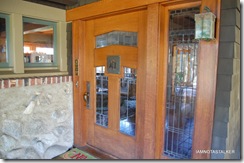 Because Mary's front door is glass, you can easily see inside of the house when standing on the front porch.  And, let me tell you, I was ABSOLUTELY DYING looking at the interior because it looks EXACTLY the same in person as it did on 90210.  But while Mary told us that we could take all the pictures we wanted of the house's exterior and the front porch area, she asked us not to take any photos of the interior through the glass.  🙁   Apparently fans are apt to do that and she's not too keen on it.  And even though it killed me not to, I had to respect her wishes.  🙁  Ugh, such a bummer as I would have LOVED to have posted photographs of the inside here. But you can see some great interior photos of the house from before Mary owned it here and a photograph that someone did actually take through her front door here.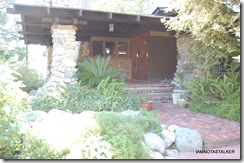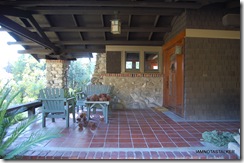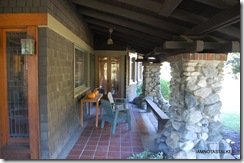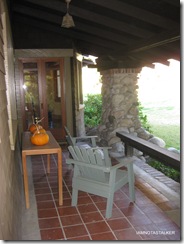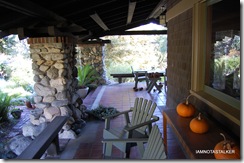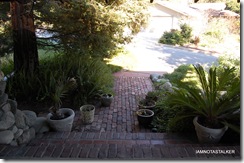 The house's front porch area, which showed up countless times on 90210, is absolutely HUGE and Mike and I just had to take pictures of every single angle of it!  🙂 
The house is absolutely BEAUTIFUL, and extremely unique, in person.  It's appearance from the street is actually quite deceiving, though, as it seems to be rather small and quaint. . .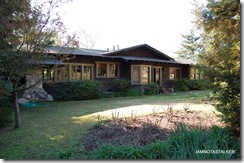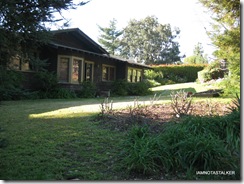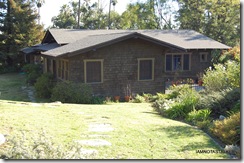 . . . when in reality it is absolutely huge and stretches the length of an entire block.  When you walk by, the place literally seems to just keep going and going and going.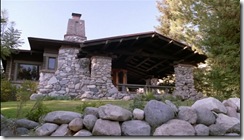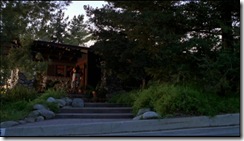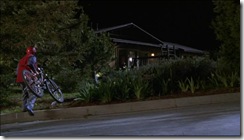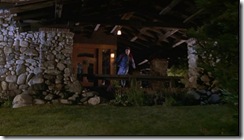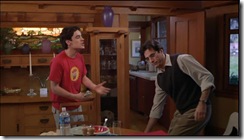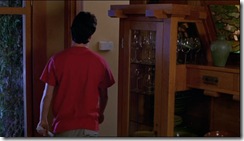 Mary's house was also used as Jesse Bradford's residence in the super cute 2002 movie Clockstoppers.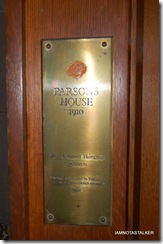 Besides its cinematic significance, the house also has quite a bit of historical significance, as well.  The dwelling is known as the "Parsons House" in architectural circles and it was originally built in 1910 by Arthur and Alfred Heineman, former Greene & Greene Brother's' apprentices.  Amazingly enough, the house wasn't always located in Altadena, though.  It was originally built on East California Boulevard in Pasadena, four miles away from its current location.  In 1980, a condominium development company purchased the land where the Parsons House used to stand and slated the area for demolition.  The developer ended up giving the home to the Pasadena Heritage Society, who later sold the entire structure for one dollar to a man named Phil Elkins.  Elkins hired architect Tim Anderson to restore the Parsons House and then purchased a vacant lot in Altadena, where he would eventually move the structure.  In order to do so, though, the home had to be cut into three separate pieces, using a chain saw, no less!  But the house survived the cut and the four mile journey to Altadena and two years later the entire property was completely restored.  Anderson says, "We probably could have built a reproduction of the house for less than what it cost to restore.  Had we all been less enthusiastic and naive about this project, the house would not have been saved."  You can read an entire history of the house on Tim Anderson's website here.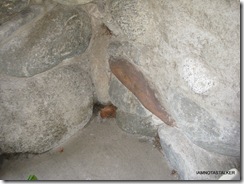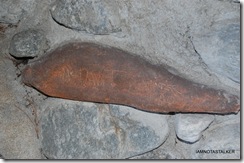 Only the home's chimney and front porch area had to be rebuilt from scratch, but they were made in exact replication of the originals.  Ironically enough, George McDavitt, the stoneworker who did all of the masonry work on the new porch – and who also did the stone work on Bob Dylan's Malibu house –  actually showed up one day at Mary's front door with his teenaged daughter.  It turns out that his daughter was a huge 90210 fan and she didn't believe that her father had actually built a part of Dylan McKay's house, so he wanted to show her his name, which he had engraved in one of the rocks (pictured above).  So cool!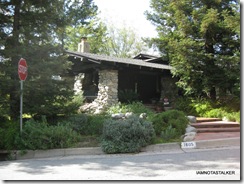 I honestly cannot tell you how exciting it was to be able to see Dylan's house in such an up-close-and-personal way and to talk to Mary about her amazing home and the historic filming that took place there almost two decades ago.   It was truly a dream come true!  🙂
On a side note – My good friend Kristin, who owns my very favorite restaurant POP Champagne and Dessert Bar in Pasadena, will be appearing on KTLA tomorrow morning at around 9:45 in honor of dineLA's Restaurant Week.  If you live in the Los Angeles area be sure to tune in for the segment.  🙂
Until next time, Happy Stalking!  🙂
Stalk It: Dylan's house from Beverly Hills, 90210 is located at 1605 East Altadena Drive, at the corner of Altadena Drive and Porter Avenue, in Altadena.
16587