Jennie Garth and Peter Facinelli's House
Jan 29th, 2010 | By
Lindsay
| Category:
Celebrity Homes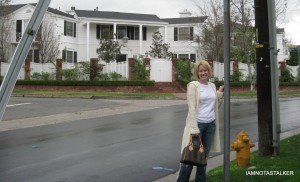 In keeping with the Beverly Hills, 90210 theme I seem to have going on this week, today I thought I'd blog about the real life residence that Jennie Garth and her husband, Twilight  actor Peter Facinelli, and their three children call home.  I found this location over a year ago thanks to fellow stalker Virginie who posted Jennie's address in a comment on my site and even though I've always been one hundred percent on Team Brenda, I had to run right out to stalk the place!  For whatever reason, I've yet to blog about the residence in all this time, though, most likely because I've just never been that big of a Jennie Garth fan.  I know, I know, she was supposedly the "sweetheart" of the 90210 cast, but as I've mentioned before, she just wasn't all that nice or friendly when I met her back in 2000.  🙁  Anyway, last night my fiancé reminded me that I had yet to blog about the Garth/Facinelli residence, so I figured today was as good a time as any.  Better late than never, right?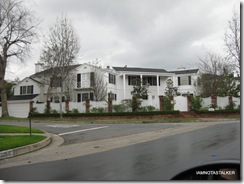 Jennie Garth and her family purchased the 7 bedroom, 9 bathroom, Colonial-style Toluca Lake home pictured above, which measures a whopping 9,685 square feet!, on February 4th, 2005.    The home was originally built in 1934 by Paul R. Williams, a noted celebrity architect who also designed houses for Lucille Ball, Barbara Stanwyck, Frank Sinatra, and Bill "Bojangles" Robinson.  Ironically enough, Williams is also responsible for giving us the mansion located at 1060 Brooklawn Drive in Bel Air, which coincidentally happens to be the residence where Donna Martin lived on Beverly Hills, 90210  🙂 and also where the Colby family lived on the short-lived Aaron Spelling produced series The Colbys.  According to some property records I read today, it seems that Jennie Garth and her husband – or quite possibly the residence's previous owners – did some extensive remodeling work on the home in recent years.  And, because Zillow lists the premises as being comprised of two separate parcels of land, it would also appear that at some point in time, one of the house's owners purchased a neighboring property and subsequently combined the two to create the gargantuan home where Garth and Facinelli now live.  And believe me, it is gargantuan!  The place looks more like a hotel than a private residence.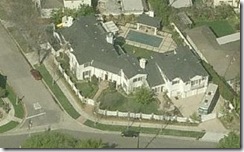 Jennie Garth's house actually has a long history of celebrity inhabitants.  The very same residence was also the boyhood home of the late actor John Ritter.  His parents, actor/country singer Tex Ritter and actress Dorothy Fay, owned the property from 1954 to 1968.  And, according to this article, during the time the Ritters lived there, John Wayne was a frequent visitor.  So cool!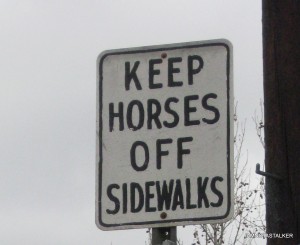 And while the house is very beautiful, I was much more enthralled with the "Keep Horses Off Sidewalks" sign located directly across the street from the residence.  I was absolutely cracking up when I saw it, as that's a sign one just doesn't expect to come across in the L.A. area.  😉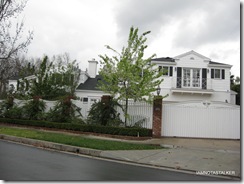 While doing research for this post, I discovered that Jennie Garth's street and the surrounding area are quite similar to the celebrity-filled Blue Jay Way in West Hollywood.  Both neighborhoods are practically busting at the seams with celebrity residents!   Other stars who live in Garth's community include Jennifer Love Hewitt, Hilary Duff, Lindsay Price (Jennie's co-star on 90210), Kirsten Dunst, and Brooke Burns.  Oh, what I wouldn't give to live in that area!  😉
You can check out a video of Jennie walking out of the house here.
Big THANK YOU to Virginie for tipping me off to this location!  🙂
Until next time, Happy Stalking!  🙂
16628