The "Fracture" House
Feb 1st, 2010 | By
Lindsay
| Category:
Movie Locations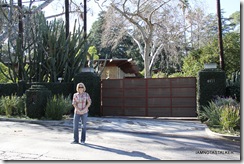 A few weeks ago, while doing some cyberstalking, I came across a fabulous filming locations database named Unreel Locations and I just about died when I saw a listing for what the site referred to as "The Fracture House".  I immediately recognized the property as the ultra modern abode where Ted Crawford (aka Anthony Hopkins) lived in the 2007 flick – a location which I had long been wanting to stalk.  Unfortunately though, Unreel Locations didn't specify where the residence was located, so I had to call in the usual suspects – aka Mike, from MovieShotsLA, and fellow stalker Owen – to help me track it down.  And as expected, it wasn't long before Owen was emailing me back with an address!  YAY!  Owen actually began his search for the home in an unlikely place – on the IMDB Fracture filming locations page – a site which doesn't always serve up the most accurate of information.  But there was a notation on the page stating that Fracture had been filmed in Encino, so Owen decided it was as good a starting point as any.  From there he began Googling "Encino" and "Fracture filming location" and fairly quickly stumbled upon this real estate listing which advertised a vacant piece of property located "next to the famous Sherman House featured in the movie Fracture".  From there it was just a matter of searching the area next to the vacant lot.  And voila, the Fracture house was found!  Thank you, Owen!  🙂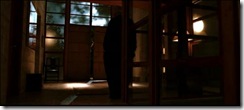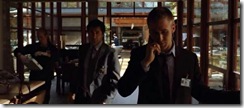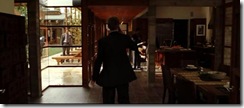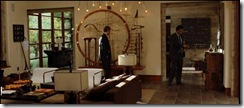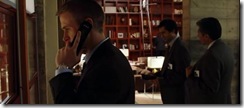 For those who have yet to see Fracture (and I highly recommend that you do – it's a FABULOUS flick), Ted Crawford's house is simply breathtaking in it and, in my humble opinion at least, is the real star of the film.  Both the inside . . .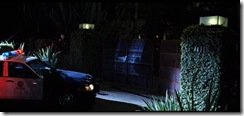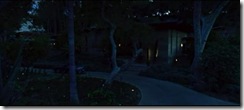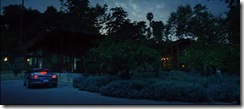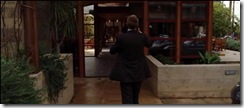 . . .  and the outside of the Sherman Estate were featured extensively in the movie and several weeks were actually spent shooting on location at the home.  Of the property, Fracture director Gregory Hoblit says, "It must be 80% glass, supported by struts, but you can see from one of the house all the way to the other, all the way through it, side to side, end to end, anywhere you go.  It would be a little unnerving to live in a house like that, but fortunately it's pretty well-hidden."   And while Hoblit enjoyed filming at the home and all of the unique camera angles the open, almost transparent-seeming property allowed him, cinematographer Kramer Morgenthau had a different opinion.  "It was very film-unfriendly," he says, "but it was worth every bit of effort and heartbreak and stepping on top of each other.  It was a classic, Schindler-influenced building, where the interiors and exteriors flowed from one to the other, but it was not easy."  Openness and glass walls on a movie set are usually big no-nos, as crew members need places to hide themselves and their large camera equipment behind, so I can't even imagine how difficult it must have been to film at the Sherman Estate.  In this case, though, I think it was worth the extra effort as the house is absolutely unforgettable.  You can read a great article on the filming of Fracture here.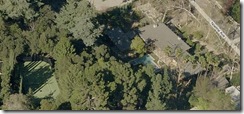 In reality, the 3 bedroom, 4 bathroom, 5,472 square foot Sherman Estate, which sits on 4 acres of land, was built in 2001 by architect Peter Tolkien and the Scanlon Construction Company for Jerome and Zina Sherman.  The "Zen-serenity" aura of the award-winning home was inspired by some Bali and Thailand area hotels where the couple had spent many a vacation.  The house, which was built almost entirely out of wood, concrete, and glass and in which every room opens up to the outdoors, was constructed as a one-story dwelling because as Jerome said in the September 2004 issue of Better Homes and Gardens, "The older I get the more forgetful I am.  I didn't was to be constantly going up and down stairs to find my glasses."   The property also includes a 1,500 foot guest house, a tennis court, a pool and hot tub, and a veritable forest of orange, oak, sycamore, and Deodar trees.  I honestly can't say enough about this house.  It is truly a work of art!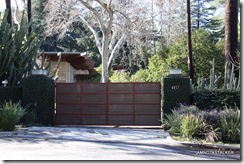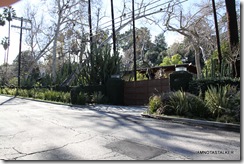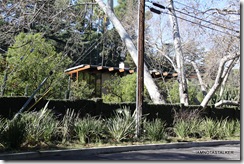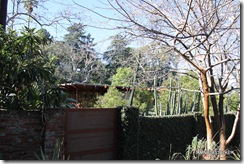 Sadly, though, not very much of it can be seen from the street.  🙁  It was still very cool to stalk the house nonetheless, but oh, what I wouldn't give to see the inside of that place in person!  You can see some great photographs of the interior of the property here and here.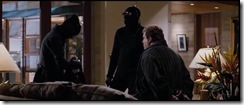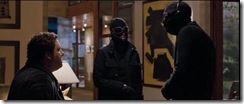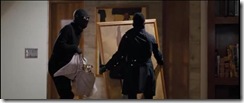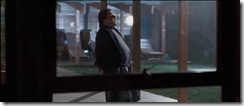 The Sherman Estate also popped up very briefly as one of the homes that Jim Carrey and Tea Leoni robbed in the 2005 movie Fun With Dick and Jane.
A big THANK YOU to Owen for finding this location!  🙂
Until next time, Happy Stalking!  🙂
Stalk It: The Fracture house, aka the Sherman Estate, is located at 4411 Noeline Avenue in Encino.  You can see interior pictures of it here.
16677