The Westlake Village Inn
Feb 5th, 2010 | By
Lindsay
| Category:
TV Locations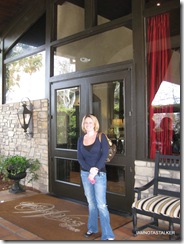 This past weekend, my fiancé and I decided to take a little "staycation" at a hotel named the Westlake Village Inn located about thirty miles away from where we live.  I had read about the hotel while doing some cyberstalking a few weeks beforehand and because it was touted as a frequent filming location was absolutely dying to stay there.  The Inn also looked like the perfect spot for a romantic weekend getaway and, thankfully, in person, it did not disappoint.  The 17-acre hotel, which was originally named the "Westlake Motor Lodge", was first opened in 1968 by Swiss born developer John L. Notter and consisted of 75 simple rooms.  Today, the property, which was remodeled last year, is made up of seven different buildings which are comprised of 141 European-style hotel rooms, no two of which are exactly alike, and beautiful manicured grounds.  Besides being a frequent filming locale, the Inn has also long enjoyed a rich celebrity following.  Just a few of its famous past guests include Arnold Palmer, Hulk Hogan, Sean Connery, Tiger Woods, Julio Iglesias, and politicians Condoleezza Rice, Dick Cheney, Nancy Reagan, and Ronald Reagan, who was a regular.  The hotel even created a Ronald Reagan Suite at the behest of the nearby Reagan Library.  The suite, which is decorated with the late president's photographs and memorabilia, is available to all guests, but was created especially for visiting political dignitaries and even features a special adjoining room for secret service agents to stay in.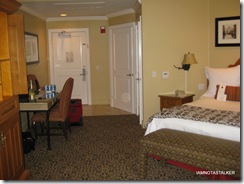 One of the most exceptional aspects of the Westlake Village Inn is its extremely reasonable room rates – according to Notter the hotel is underpriced by about twenty percent.  Because Notter has owned the Inn for over 42 years, his debt is fairly small and he can therefore keep the rates substantially lower than his competitors.  And thanks to those low rates, I was able to book one of the hotel's 400 square foot "Business Suites" at a cost of only $150.00.  Even the Grim Cheaper was amenable to staying in a suite at that low price.  🙂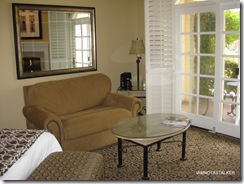 Our room, which I absolutely LOVED, featured a sitting area,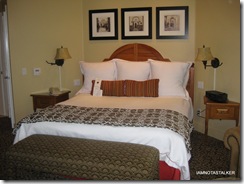 a king size bed,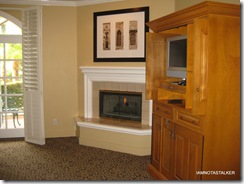 a fireplace,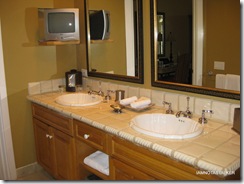 a HUGE bathroom (with a TV!), and a private patio.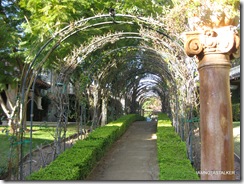 My fiancé and I spent quite a bit of time walking the manicured grounds of the hotel, which are truly beautiful with trellis-covered walkways;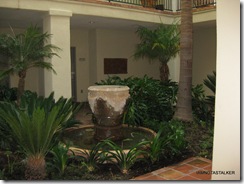 landscaped courtyards;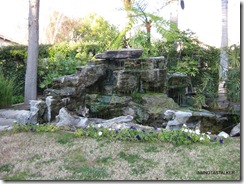 rock waterfalls;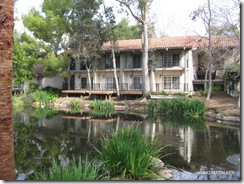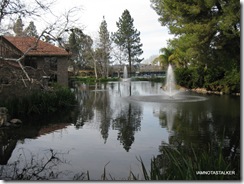 and large ponds.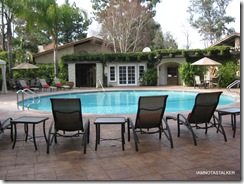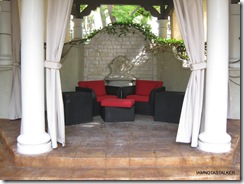 The pool area, with its covered cabanas, is also extremely inviting, but unfortunately it was far too cold in Westlake last weekend – about 50 degrees Fahrenheit – to take a dip.  🙁   I was so tempted, though!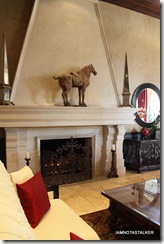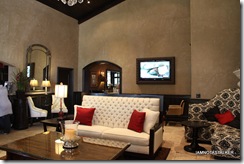 Upon checking into the hotel, the lobby of which is pictured above, I was asked to sign an agreement stipulating that I would not be throwing a party in my room that night.  Being that I've never had to sign such an agreement, I found it a bit of an odd request, but didn't think much of it . . . until about 2 o'clock the following morning, when the people above us returned to their room and screamed out "THE PARTY'S HERE!"  I called the office to complain, but, unfortunately, it didn't seem to do a whole lot of good as the noise continued until about 5am.  It wasn't just the people above us, either.  Outside our patio, another group seemed to having a party, as did even another group still that was located a bit farther away.  Come 2am, it seems, the place turns into one big party.  The hotel is actually a very popular wedding facility and no less than three ceremonies were being held on the grounds during our stay.  Weddings at the Inn have to conclude by 10pm due to noise restrictions, but there is also a bar/nightclub on the property named Bogies, which doesn't close until 2.  So, I am fairly certain that come 10 pm, wedding parties simply move from the reception areas over to Bogies to get their groove on.  Then once Bogie's shuts down for the night, groups move back to their hotel rooms to continue the party there.  Being that I had to sign the "no parties" contract, I am guessing that what I experienced is a fairly common problem at the Westlake Village Inn.  And, unfortunately, it doesn't seem as if they've figured out quite how to deal with it.  So, while we had a nice time there and absolutely loved our room, I wouldn't exactly recommend the place as a good spot for a quiet weekend getaway.  🙁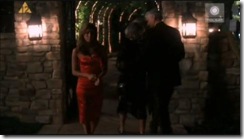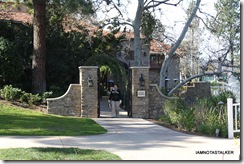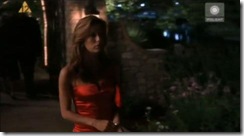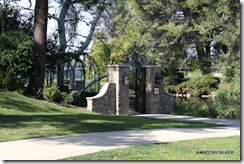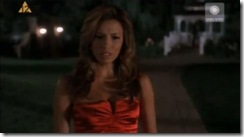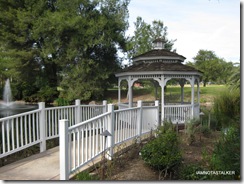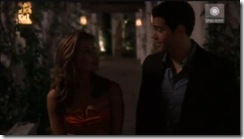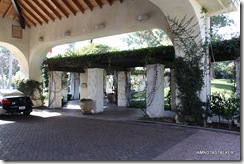 The Westlake Village Inn staff truly could NOT have been nicer to us, though, especially one of the front desk employees who answered all of my silly questions about the filming that has taken place there over the years.  And, let me tell you, there's been quite a bit of it.  The Inn popped up in the Season Three episode of Desperate Housewives entitled "A Weekend In The Country" as the hotel where Gaby runs into her former lover John.  The area used in that scene is the covered pathway located directly across from the hotel's main entrance.  The hotel room and elevator area where Gaby hides in a suitcase in that episode were filmed elsewhere, though.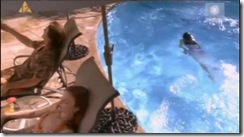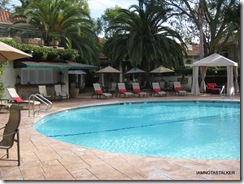 Both the hotel's pool . . .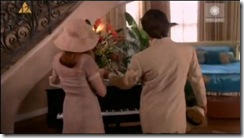 . . . and its two story, 1,500 square foot "Villa Suite" were also used in that same episode during the scene in which Orson is daydreaming about his upcoming honeymoon with Bree.  According to the hotel employee I talked to, another episode of Desperate Housewives was also filmed on location at the Inn.  The episode consisted of one of the ladies kicking her husband out of their house, whereupon he checks into the Westlake Village Inn. Unfortunately I can't figure out which episode that was, though.  Does anyone out there remember it?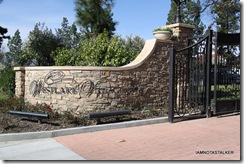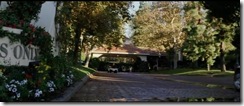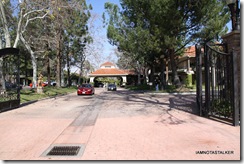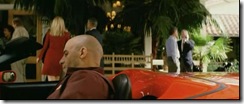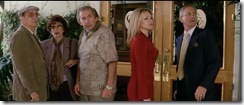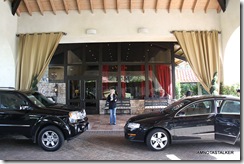 In the movie XXX, the hotel stood in for the Capital Country Club where Vin Diesel steals a member's Corvette and then proceeds to drive it through a tiny covered walkway.  XXX was filmed before the hotel's recent remodel, though, so, as you can see in the above screen captures and photograph, the valet area looks a bit different today.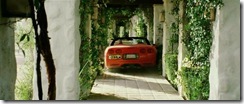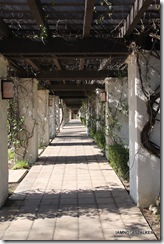 And according to the employee I talked to, a real life Corvette was actually driven down the walkway pictured above during the filming of that scene.  Amazing!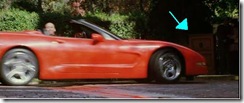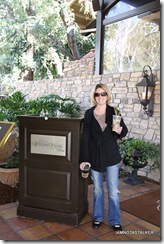 The employee also said that producers brought in a new valet desk for that scene – even though said desk was only visible for a split second – and the hotel ended up keeping it and is still using it today.  🙂  So cool!
The hotel was also used for a large car crash scene in an episode of the television series Eli Stone.
Until next time, Happy Stalking!  🙂
Stalk It: The Westlake Village Inn is located at 31943 Agoura Road in Westlake Village.  You can visit their website here.
16929