The "Hangover" House
Feb 9th, 2010 | By
Lindsay
| Category:
Movie Locations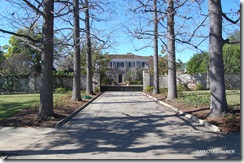 A few weeks ago, Mike, from MovieShotsLA, called me up to let me know that he was on the hunt for the main house used in fave movie The Hangover.  The two of us both had a pretty good inkling that the residence was located somewhere in the Pasadena area, we just weren't sure exactly where.  Randomly enough during that same conversation, I happened to mention that I had just read on OnLocationVacations – my go-to-stalking guide 🙂 – that 90210 had been filming all week at a large gated home located at 465 South Grand Avenue in Pasadena.  Well, it wasn't five minutes after we ended our call that Mike phoned me up a second time, extremely excited, and said "I found The Hangover house and you'll NEVER guess where it is!"  As it turns out, the house was located just two doors  down from the residence where 90210  had been filming!  Apparently, while looking at aerial images of the 90210 location, Mike noticed a neighboring property that bore a striking resemblance to the Hangover house.  Turns out, it was the Hangover house!  🙂  So, I guess it's true what Walt Disney once said . . . It really is a small world, after all!  Well, when it comes to filming locations, at least.   🙂  So, that same weekend, Mike drove out to meet me in Pasadena so the two of us could do a little Hangover stalking.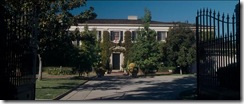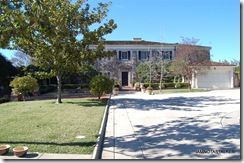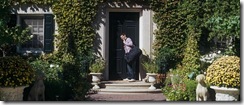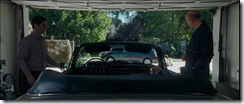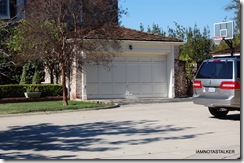 In The Hangover, the house pictured above belongs to the parents of Doug's (aka Justin Bartha's) fiancé, Tracy (aka Sasha Barrese). The residence is featured several times throughout the film.  It first shows up at the very beginning of the movie as the spot from which Doug and his soon to be brother-in-law Alan (aka Zach Galifianakis) leave for the infamous Vegas bachelor party.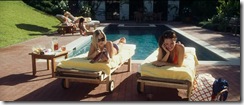 And, as you can see in the above screen capture and aerial image, the real life backyard, which is absolutely HUGE, was used in several scenes as well, including the scene in which Phil (aka Bradley Cooper) calls Tracy, while she is sunning herself by the pool, to let her know that the guys have been unavoidably detained in Vegas an extra day.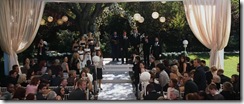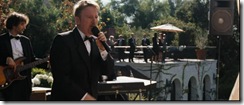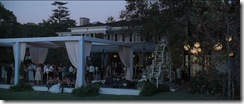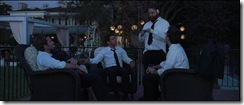 The movie's final wedding scene also took place in the home's real life backyard.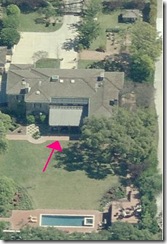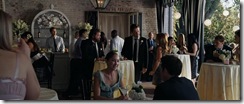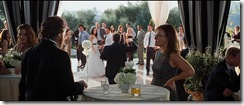 As you can see in the above aerial image, the house has a fairly large covered back porch area.  That porch is where Stu (aka Ed Helms) finally breaks up with his belligerent girlfriend Melissa (aka Rachel Harris) while Alan and the rest of the wedding party look on.  I am also fairly certain that the real life interior of the home was used in the filming of several scenes, as well.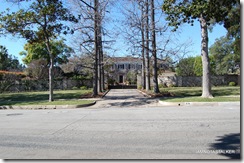 The Hangover house is absolutely beautiful in person.  Although, thanks to its size, calling it a "house" is actually a bit of a misnomer.  The place is really more of a mansion.  It is absolutely HUGE in person, much bigger than I expected it to be.  Even though it did appear quite large in The Hangover, trust me when I say that in real life it is far, far larger – gargantuan actually!  I can't even imagine living there.  The 7 bedroom, 7 bathroom house, which was built in 1930, measures a whopping 7,892 square feet.  And while the property is gated, I am happy to report that quite a bit of it can be seen from the street.  🙂
Big THANK YOU to Mike, from MovieShotsLA, for finding this location!
Until next time, Happy Stalking!  🙂
Stalk It: The house from The Hangover is located at 415 South Grand Avenue in Pasadena.
17050