Jennifer Aniston's House
Feb 17th, 2010 | By
Lindsay
| Category:
Celebrity Homes
,
Jennifer Aniston Locations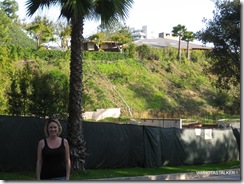 Last week, while killing time before an acting workshop, I stopped by a newsstand in Hollywood and just about died when I spotted my girl Jen Aniston on the cover of the March Issue of Architectural Digest. It turns out the magazine, which is on sale now, is featuring a 12 page spread showcasing Jen's recently remodeled Beverly Hills home, a home which I first blogged about way back in March of 2008.  I was absolutely SHOCKED to discover that the normally press-shy Aniston had actually invited Architectural Digest and its readers into her home for an exclusive peek behind the gates.  For an Aniston worshiper like myself, this was tantamount to finding a hundred dollar bill in my pocket that I didn't know I had!  I was BEYOND excited.  🙂  And even though I had already stalked this location long ago – thanks to fave website Big Time Listings who had published a report on Aniston's purchase of her new home in December of 2006 – I figured the residence was worth a re-stalk thanks to its current cover story.  So, this past weekend, I dragged my fiancé out to Beverly Hills to stalk Jen's house yet again.  🙂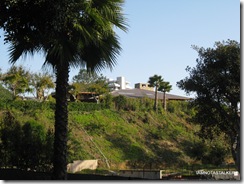 Jennifer Aniston purchased the 9,105 square foot abode she now calls home on November 3, 2006 for $13.5 million.  The residence, which was designed by prominent Los Angeles area architect Hal Levitt in 1970, boasts 6 bedrooms and 7 bathrooms and sits on over a half acre of land.  Apparently the house was in bad shape at the time of the purchase, so Aniston immediately set about on an extensive two and a half year remodel project with designer Stephen Shadley.   The two centered their remodel of the one-story home around Jen's love for entertaining and her desire for a "quiet Zen-like retreat", adding features like Brazilian cumaru wood detailing, Asian and Balinese decor, sliding glass walls which open up to a wrap-around lanai with heated travertine flooring, solar paneling, a kitchen with a wine room and pizza oven, a game room with a vintage pool table, a master suite with a soaking tub, and a dining room with seating for 24 made complete by an authentic 1920s Thai gong which Jen uses to signal her guests to dinner.  Love it!  Aniston dubbed her new residence "Ohana" which means extended family in Hawaiian.  Of the house she says, "It's like a big hug.  People can get so distracted by static, I love the silence here."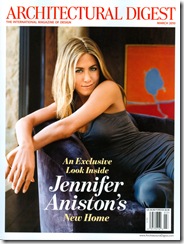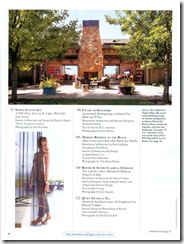 I can't tell you how much I enjoyed poring over the Architectural Digest article – I must have read it three times – and I have to say that Jen's home is absolutely beautiful inside and is just so . . .well, Jen!!  It's exactly the type of place where I would imagine her living.  I would so die to call a spot like that home!   The indoor/outdoor design elements, the koi pond, the glass-paneled walls which open up to the huge wraparound patio, the outdoor living room, the rock detailing, and the views!  Oh, the views!  As Architectural Digest states in the issue, the house "seems to perch directly on a view of Los Angeles".  Couldn't have said it better myself!  The only aspect of the residence that I am not too keen on, actually, is the master bedroom.  While it is admittedly beautiful, it just doesn't appear to be very comfortable.  It looks more like a bedroom you'd find in a designer showcase house, rather than in someone's actual home.  But the rest of the place?  I just love it, love it, love it!  I've got a bone to pick with Architectural Digest, though, as the one area of the house that I was most interested in seeing wasn't even mentioned in the article – her CLOSET!  Oh, what I wouldn't give to take a peek inside Jen's closet!  Sigh – that girl has got the best clothes in all of Hollywood, hands down.  Note – The magazine images pictured above are scans I made from my copy of the March 2010 issue of Architectural Digest. The images do not belong to me, but remain the property of Architectural Digest and photographer Scott Frances.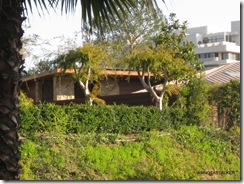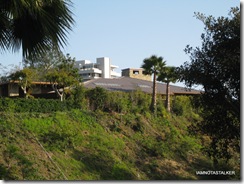 And it seems I am not the only one smitten with Jen.  Photographer Scott Frances had this to say about the AD photo shoot, "Over the years I've had the opportunity to work with many celebrities.  All of them were warm and welcoming and very engaged in the process of their respective shoots.  But never have I felt more at home on a shoot than I did at Jen's.  From the moment of meeting her to the time we drove away, working with her was laughs, repartee, creative exchange, and a big final hug.  It was the most pleasurable and memorable shoot of my career.  And I suspect it will be an experience that will be difficult to surpass."  LOVE IT!  🙂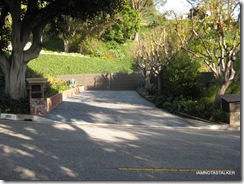 Unlike most celebrity houses, you can actually see quite a bit of Jen's home from the street, including the driveway area . . .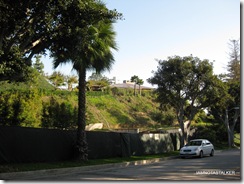 and part of the exterior.  And you can see some great aerial views of the home here.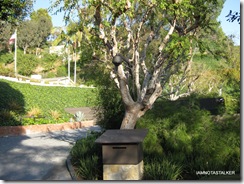 But don't even think about trespassing on the property!!!  Besides a large security gate and numerous security cameras (pictured above), Aniston has plans to build a guard shack at the home's front entrance.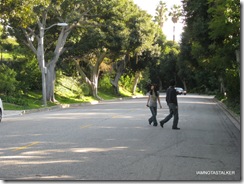 I have a feeling that Jen's house is quite the popular stalking destination.  While there, we happened to encounter two other stalkers who were doing the exact same thing we were.  LOL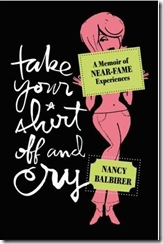 On a side note – I just finished reading Take Your Shirt Off and Cry: A Memoir of Near Fame Experiences, a very interesting book which was written by a former roommate of Jen's named Nancy Balbirer.  In the book Nancy dishes quite a bit of dirt on her former roommate, whom she refers to by the thinly-veiled pseudonym "Jane", such as the fact that she was fired from a guest spot on Friends per "Jane's" request during the show's first season.  There are also a few chapters devoted to William H. Macy, Nancy's former lover and acting teacher whom she calls "Ned" in the book.  And while I actually think that quite a bit of Nancy's memoir is B.S. – especially the part about Jen getting her fired – the book is an absolutely fascinating read which very accurately paints a portrait of what life is really like when you're trying to "make it" in Hollywood.   You can watch a clip of Nancy reading the "Jane" chapter from her book here.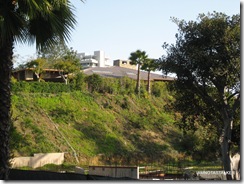 Until next time, Happy Stalking!  🙂
Stalk It: Jennifer Aniston's house is located at 1004 North Hillcrest Road in the Trousdale Estates area of Beverly Hills.  The March 2010 issue of Architectural Digest will be available here and on newsstands throughout the end of February.
17359