Jennifer Aniston's Former Beach House
Feb 26th, 2010 | By
Lindsay
| Category:
Celebrity Homes
,
Jennifer Aniston Locations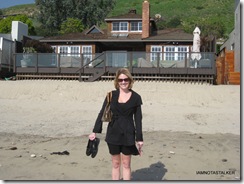 While out stalking the 'Bu with Mike, from MovieShotsLA, a couple of weeks ago, I just about had a complete heart attack as the two of us passed by my girl Jen Aniston's former beach house and I noticed that the door to the front gate was standing WIDE OPEN!  Let me tell you, I must have screamed for a good sixty seconds over that one!  Once Mike regained his hearing ;), he made an immediate U-turn across Pacific Coast Highway so that the two of us could head over to the house to get a peek behind the gates.  I've actually stalked Jen's former Malibu bungalow a few times in the past – and have even blogged about it once before – but being that this was the first time I was catching a glimpse of her front courtyard area, I figured the place was worth a re-post.  And let me tell you, I was pretty much dying the whole time I was there.  I mean never in my wildest dreams did I ever think I'd get to see past that front gate!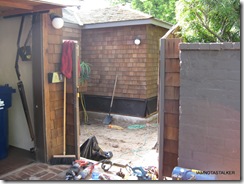 As we walked up to the house we noticed some workers standing out front, so I, of course, struck up a conversation with them.  The workers told us that they were doing some landscaping in the front courtyard area of the residence, which is why the gate was open.  When I asked one of them if he knew that Jennifer Aniston used to live on the property, he looked at me like he had absolutely no idea who Jennifer Aniston even was.  LOL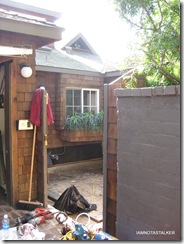 I didn't want to overstep my bounds or get the landscapers in any sort of trouble while I was stalking the place, so I stayed on the sidewalk area while taking the above pictures, but believe me I was absolutely dying to venture in for a closer look!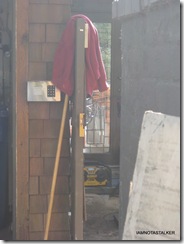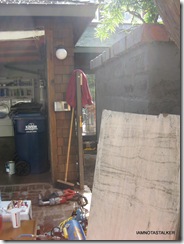 I did manage to catch a glimpse of the glass front door, though, which you can just barely see in the above pictures.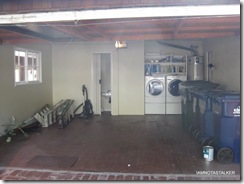 While there, I was so focused on seeing Jen's former courtyard area that I didn't even realize the garage door to the house was open.  It wasn't until Mike elbowed me and whispered really loudly in my ear, "GET A PICTURE OF THE GARAGE!  GET A PICTURE OF THE GARAGE!  That's where Jen did her laundry!" that I even noticed it.   LOL  I so wanted Mike to ask the landscaping guys if we could peek inside the house, but he refused as he felt like that would definitely be crossing a line.  And I have to admit I agree with him – which is why I didn't want to ask the workers myself.  😉  But, oh, what I wouldn't give to see the inside of that house!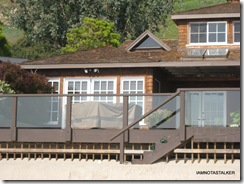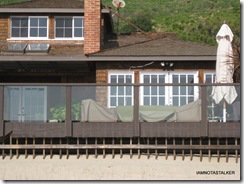 During the time Jen rented the home, the glass walls of the back patio area were actually covered over with some sort of black paneling which shielded the star from the prying eyes of not only the paparazzi, but stalkers such as myself.  So, I was beyond floored when Mike and I traveled to the back side of the property and noticed that those panels were no longer there, which meant that Jen's former "backyard" was visible.  YAY!  It's actually very surprising to me that the notoriously press-shy Aniston ever lived in this house – especially during her divorce, when the media frenzy was at an all-time high – being that the public beach access walkway is located just a few feet to the east of the property.  Because the area was so easily accessible, the paparazzi used to supposedly camp out night and day on the beach directly behind her house.  Ugh!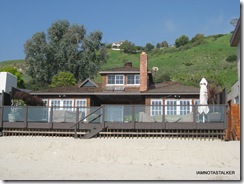 Jen moved into her wood-shingled Malibu beach bungalow in early 2005, immediately following her separation from now ex-husband Brad Pitt.  She leased the property, which is supposedly owned by Oracle C.E.O Larry Ellison, through the end of 2007 for a reported $30,000 a month.  Despite the fact that it is located right on the sand, thisclose to the ocean, Jen's former beach house is fairly modest by celebrity standards.  The residence, which was built in 1945, boasts two bedrooms, three bathrooms, and measures a scant 1,531 square feet.  And I have to say that I ABSOLUTELY LOVE the place.  The house is incredibly charming and so very, for lack of a better word, cute and I would give anything to live in something similar.  I am so enamored of the place in fact that I would consider it my dream pad, even if it hadn't been previously lived in by Jen.  😉  The two-story bungalow is actually the place where the actress conducted her infamous first post-split interview which ran in the September 2005 issue of Vanity Fair magazine.  According to several other interviews which also took place at the home, Jen decorated her bachelorette pad with mostly white furnishings adorned with white candles, white flowers, and quite a bit of Asian-inspired decor.  She also reportedly kept a little vase filled with loose Merit brand cigarettes on an end table next to the couch for her guests to partake of.  Apparently Jen remodeled the home a bit, even though it was a rental, before moving in.   Vanity Fair author Leslie Bennetts says, "Although the bungalow was dark and depressing when she first saw it, a quickie makeover has transformed it into a cozy sanctuary that's far more representative of Aniston's personal taste than the showplace she and Pitt shared, where the decor seemed all hard edges and unforgiving materials."  Bennetts goes on to ask Jen what she likes best about being separated from Brad, to which the actress responds, "I can have a comfortable couch."  LOL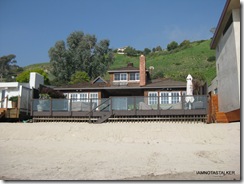 On a side note – Early last year fave website Big Time Listings reported on another (possible) former rental of Aniston's in the Laurel Canyon area.  And while Big Time Listings can't actually verify that the actress ever lived in the home, according to the September 2009 issue of Elle Magazine, Jen did rent a house in Laurel Canyon during her pre-Friends days, so it's a definite possibility.
Until next time, Happy Stalking!  🙂
Stalk It: Jennifer Aniston's former beach rental is located at 22164 Pacific Coast Highway in Malibu.
17766