Kristin Cavallari's Beach House from "The Hills"
Mar 1st, 2010 | By
Lindsay
| Category:
The Hills Filming Locations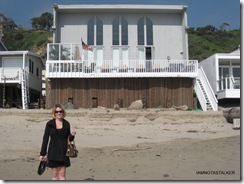 Just down the street from Jennifer Aniston's former beach house, which I blogged about on Friday, is the residence that Kristin Cavallari called home during this past season of fave reality show The Hills.  So, since we were already in the area a couple of weeks ago, I just had to drag fellow stalker Mike, from MovieShotsLA – who I am sad to say is not at all a fan of the MTV show – over to stalk the place.  I found this location thanks to fellow stalker Virginie who posted Kristin's former address in the comments section of my site way back in October of last year and it's been high up on my "To-Stalk" list ever since.  Thank you, Virginie!  Unfortunately, though, since I so rarely get out to the 'Bu, I had yet to stalk the residence.  And while I realize that The Hills ended its current season over two and a half months ago and that I am just slightly late to the game on this one, as I always say, it's far better to be late than never.  🙂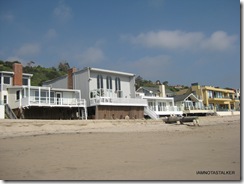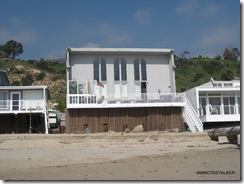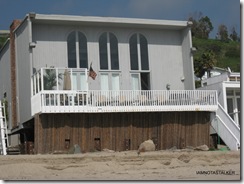 The four bedroom, four bath beach house pictured above, which was built in 1969 and measures 2,972 square feet, first showed up when Kristin Cavallari joined the cast of The Hills in the Season Five episode entitled "It's On Bitch".  But she didn't stay there long.  The Laguna Beach  alum moved out of this location just ten episodes later, on the show's season finale which was entitled "Boys of the Summer".  I am fairly certain that Kristin never actually rented this house, though, and quite possibly never even truly lived there, but that the property was leased by MTV solely for filming purposes.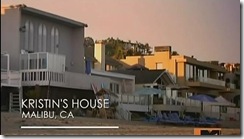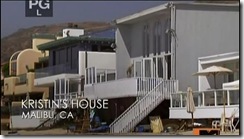 And quite a bit of filming did actually take place on location at the residence.  In fact, the house showed up in all ten episodes which featured Kristin during Season Five.  The back side of the property was the area most often featured on the show . . .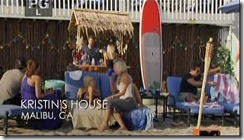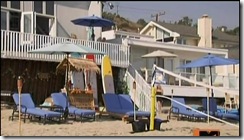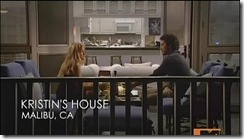 . . . and was the site of Kristin's many beach parties and get-togethers.  Oh, how I wish I had stalked this place back when The Hills  was still filming so that I could have seen her little tiki bar and patio furniture in person.  Sadly, all of the outdoor decor that appeared on the show has long since been removed.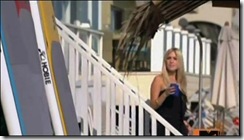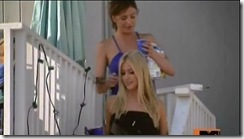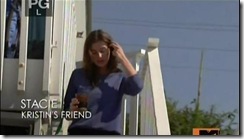 And, of course, I just had to get a picture of the house's back stairwell, which appeared numerous times on the show.  I so wanted to pose for a picture while standing on the stairs, too, but being that someone was inside the property while we were stalking the place, I didn't think that would be a very smart move.  😉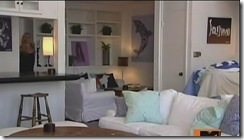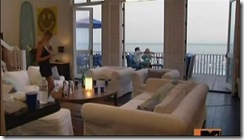 The inside of the home was also featured numerous times on the show and while I have to say that the residence's interior is absolutely GORGEOUS, it doesn't, in my opinion at least, really match up to the exterior, which seems to be a bit dated and weathered.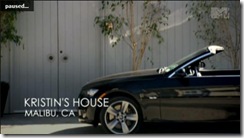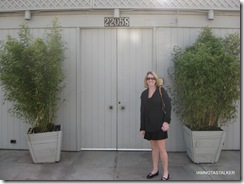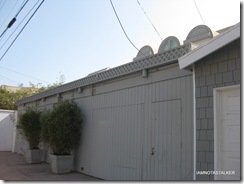 For whatever reason, the front entrance to the house was only ever shown once on The Hills, at the very beginning of the "It's On Bitch" episode, in the scene in which Kristin is shown getting into her car and driving off on Pacific Coast Highway on her way to make an appearance at Spencer and Heidi's "Welcome Home" party.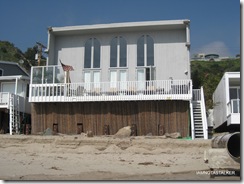 Amazingly enough, while doing research for this post I discovered that appearing on The Hills  isn't the home's only claim to fame.  The property actually has a long and storied Hollywood history.  According to this article, in the early '80s the beach pad belonged to music executive Jerry Goldstein.   In the '90s, it was purchased by another music man, record promoter and Giant Records president Charlie Minor.  Sadly, on March 19, 1995, Minor, who had worked with both Sting and Janet Jackson during the course of his highly successful career, was murdered in the house by a former girlfriend named Suzette McClure who shot him nine times after catching him in bed with another woman.  But the house's notoriety doesn't end there, for it was also used as one of the locations of the Silver Spoon Beach House – the notorious party pad where throngs of young Hollywood stars would hang out during the summer months.  Just a few of the celebs who were seen there include Lindsay Lohan, Ali Landry, The Real Housewives of Orange County's Slade Smiley (Ugh, gag me!) and Gretchen Rossi, Brody Jenner, and ironically enough, even Kristin Cavallari, who not only partied at the house, but also once did a photo shoot there.
A big THANK YOU to Virginie for finding this location!  🙂
Until next time, Happy Stalking!  🙂
Stalk It: Kristin Cavallari's beach house from The Hills is located at 22058 Pacific Coast Highway in Malibu.   Jennifer Aniston's former Malibu home is located just a few houses east of Kristin's at 22164 Pacific Coast Highway.
17816