Shannen Doherty's Former House
Mar 3rd, 2010 | By
Lindsay
| Category:
Celebrity Homes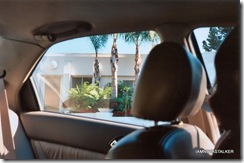 One of the first locations I ever stalked, long before I moved to the L.A. area, was the residence that Shannen Doherty called home during the height of her Beverly Hills, 90210 fame.  I was on summer vacation in between my Junior and Senior years of college at the time and had flown down to Southern California for the weekend to visit my then-boyfriend and then-best friend, both of whom lived near Los Angeles.  The three of us ended up spending one of the days I was in town stalking the Hollywood area, although this was long before I called my unique hobby "stalking".  Our first stalk that day just happened to be Grauman's Chinese Theatre, a place which I had only ever visited once previously during my teenage years.  I remember being absolutely ecstatic upon seeing the numerous handprints and footprints of the stars, especially those of Tom Cruise who I was in love with at the time.  At some point during our Grauman's stalk, I wandered into the theatre's little gift shop and stumbled upon The Ultimate Hollywood Tour Book – a stalking tome the likes of which I had never before seen.  I was instantly enamored with the book and, despite being a starving college student at the time, immediately forked over the $16.95 to purchase the guide.  The rest of our day in Hollywood was spent using the book to tour various filming locations and numerous homes of the rich and famous.  And while my then-best friend, whom we'll call Julie for the purposes of this post, refused to take me to the Walsh House – she said it was WAY TOO FAR for her to drive – she did agree to make a stop at Shannen Doherty's former West Hollywood abode, which I could NOT have been more excited about.   And, as fate would have it, when we pulled up to the residence a man happened to be standing on the front porch.  Well, let me tell you, I immediately started screaming and begged Julie to pull over so that we could ask the man some questions about SD, but she had an absolute meltdown and flat out refused to stop!  In fact, she didn't even want me to take a picture of the residence and was screaming at me the entire time to put my camera away.  The above photo is the only one I managed to snap during her little tantrum.  I'm not sure what it was that Julie was so nervous about, being that Shando had moved out of the home about four years prior and I had only wanted to ask the new resident if he had ever met the star and if the stories about her being a bad girl were true.  But, alas, that was not to be.  I'm fairly certain it goes without saying that Julie and I are no longer friends.  😉
She did agree to drive a bit north of the house, though, so that I could snap another photograph of the residence from farther away.  That's me and my college boyfriend in the above pic, along with a very tiny, very blurred view of SD's former house.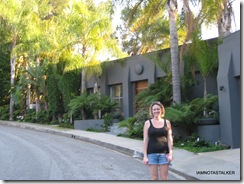 Anyway, the other day while doing some stalking in the West Hollywood area, I was reminded of my long past failed stalk of Shannen's house and mentioned the story to my fiancé.   He thought the whole thing was absolutely hilarious, especially when I showed him the photograph I had taken out of Julie's car window, and it was then that I decided I just had to blog about the place.   So, later that day I dragged him up Doheny Drive to re-stalk Shannen's former residence and was quite to surprised to discover that the property had been altered since my last visit.  Apparently, Shannen's former home, which is currently for sale at the bargain price of $4,695,000, was given a recent facelift, both inside and out.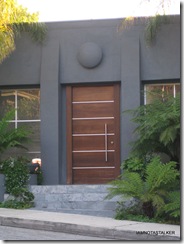 As you can see in the above photograph, though, the house still has that weird round sculpted adornment above the front door that it had when I first stalked the place back in 1998.  The 3 story, 3 bedroom, 3.5 bathroom residence, which was built in 1967 and measures 3,699 square feet, boasts city and ocean views, a gourmet kitchen, a master suite with a fireplace and an infinity bathtub (although I must confess I don't even know what the heck an "infinity bathtub" is), a pool, a waterfall, a spa, and an outdoor fireplace.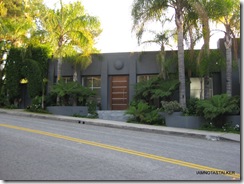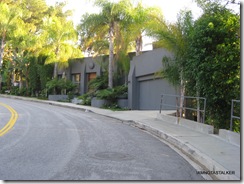 This is the same house that Shannen not only famously trashed, but was evicted from in March of 1993.  Supposedly the actress moved out of the property in the middle of the night after being served with an eviction notice while still owing $14,000 in back rent.  Her landlord ended up filing a lawsuit against her claiming she caused $136,300 in damage to the property while living there.  Included in that $136,000 was a reported $70,000 in structural damage that was also caused by the actress.  How in the heck one tiny person – SD is reportedly 5'2" – can cause that much structural damage to a house I'll never know, but I digress.  Shannen's former home had actually seen its fair share of notoriety long before the 90210 bad girl moved in, though.  In the 70s, famous Hollywood Madame and longtime Heidi Fleiss mentor, Alex Adams, also lived at the property and even operated a brothel out of it for several years.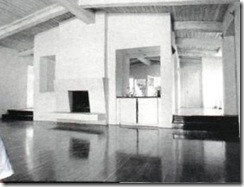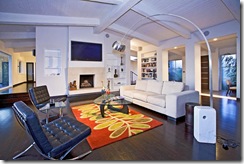 While doing research for this post, I managed to dig up the above black and white photograph of the interior of the house which was taken just around the time Shannen lived there and was featured in a February 24th, 1997 People Magazine article about the star.  The color photograph pictured above was taken off of the home's real estate website – which you can view here – and as you can see, despite the recent remodel, the beamed roof and fireplace area still look very much the same today as they did when Shannen called the place home.  So darn cool!!!  🙂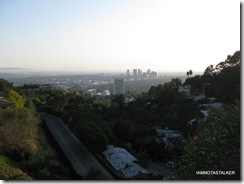 And, of course, while we were stalking the place a couple of weeks ago, I just had to drag my fiancé up the hill to take a photograph of the house from the same spot where I had taken a picture of it all those years beforehand.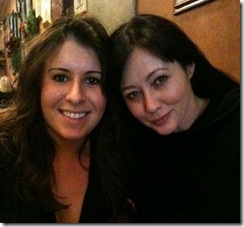 On a side note – Fellow stalker Erika recently met Shannen Doherty while dining at the Marmalade Cafe in the Malibu Lumber Yard.  Because Erika is 100% on Team Brenda (YAY), she just had to ask Shannen if she'd be willing to snap a picture with her, to which the star happily obliged!  See, I knew SD HAD to be nice!  🙂  Oh, what I wouldn't give to have my photo taken with Shannen Doherty!
Until next time, Happy Stalking!  🙂
Stalk It: Shannen Doherty's former house is located at 1654 North Doheny Drive in West Hollywood.
17907