Marix Tex Mex Cafe – Jennifer Aniston's Favorite Restaurant
Mar 16th, 2010 | By
Lindsay
| Category:
Celebrity Sightings
,
Jennifer Aniston Locations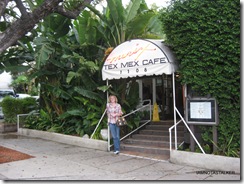 Two weeks ago, while out doing some Oscar Weekend stalking, I dragged my fiancé to Marix Tex Mex Cafe in West Hollywood, a restaurant which has long been one of my girl Jen Aniston's favorite places to dine.  And while Jen has always been pretty vocal about her love of Mexican food and margaritas, I had never actually heard of the eatery until last year when a woman in one of my acting classes mentioned that she had spotted the actress there on numerous occasions.  Well, let me tell you, I just about died upon hearing that!  For whatever reason, though, I had yet to stalk the restaurant.  So, when I realized that my fiancé and I were in the West Hollywood vicinity this past Oscar Weekend, I begged him to make a little lunchtime pit stop at the Tex Mex hot spot.  It should come as no surprise that the Grim Cheaper was not AT ALL keen on the idea of grabbing a bite to eat at a place frequented by a famous actress, as he thought the prices would be outrageously expensive.  I am happy to report, though, that Marix was EXTREMELY reasonable and that even the Grim Cheaper enjoyed himself while there!  🙂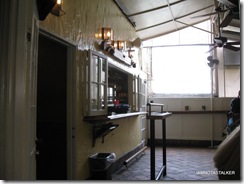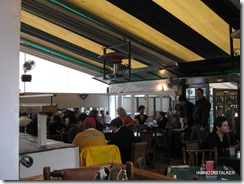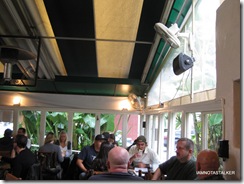 Marix is an absolutely ADORABLE little restaurant tucked away off of Santa Monica Boulevard on a tree-lined side street in uber-hip West Hollywood.  The eatery is small, casual, and intimate and it's not at all hard to see why Jen frequents the place.  Not to mention the fact that it serves up some fabulous food!  Like FABULOUS!  The chicken fajitas were A-MA-ZING, as were the tortilla chips and fresh salsa.  I literally gorged myself while there.  The Marix staff also could NOT have been more friendly and I am happy to report that the place lacks any of the pretentiousness that is usually prevalent in L.A. area restaurants.  I literally cannot say enough good things about the place and wish I lived closer so that I could frequent it more often.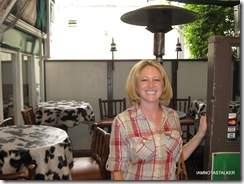 Marix Tex Mex Cafe has actually been a long time favorite of Jen's and was even mentioned way back in December of 2001 in this People Magazine article about the star.  According to my friend from acting class, Jen can usually be spotted on the restaurant's SUPER CUTE front patio which is pictured above.  I hear Jen doesn't frequent the place as much as she used to, though, thanks to the paparazzi who discovered the celebrity hot spot a few years ago and have been a constant presence ever since.  Other stars who have dined at the eatery include Jessica Simpson and her BFF/hair stylist Ken Paves, Courteney Cox, David Arquette, and their daughter Coco, Kate Hudson, Oliver Hudson, Ian Ziering, Brad Pitt, Angie Everhart, Dexter's Michael C. Hall and Jennifer Carpenter, Ron Livingston, Gwen Stefani, Gavin Rossdale, Pamela Anderson, Michelle Rodriguez, Wanda Sykes, The Biggest Loser's Bob Harper, and Wilson Cruz of My So-Called Life fame.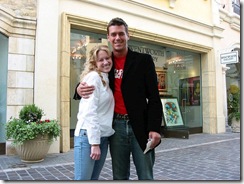 And while we didn't run into Jen while dining there, we did spot former Bachelorette contestant Jerry Ferris at the table directly in front of us.  I noticed Jerry pretty much immediately upon sitting down, but, while I knew he was famous, neither my fiancé nor I could place who he was.  I asked our waitress if she recognized him and she in turn asked the other servers on duty, but no one seemed to have any idea whether or not he was even famous.  Am I the only person who watched Season Three of The Bachelorette????  LOL  Anyway, by that time I was going absolutely crazy because I KNEW I recognized Jerry, but could not for the life of me figure out from where.  Then all of a sudden it hit me like a ton of bricks – sitting in front of me was the man who had stolen America's heart (or at least mine) on Jen Schefft's season of The Bachelorette.  I had absolutely LOVED Jerry on the series and was actually lucky enough to have met him shortly after his reality TV stint ended just about five years ago.  Well, as soon as I figured out it was him, I told my fiancé I wanted to ask for a photograph, but that I felt bad since he was eating at the time, to which the Grim Cheaper said, "You ALREADY have a photograph with the guy (pictured above) – please do NOT bother him again."  LOL  Sadly, I listened to the GC and did not go up to Jerry (HMPH!), but I really regret doing so as he had been a TOTAL sweetheart to me when I met him back in 2005.  Ah well!  Maybe I'll run into Jerry during my next Marix stalk.  😉
Until next time, Happy Stalking!  🙂
Stalk It: Marix Tex Mex Cafe is located at 1108 North Flores Street in West Hollywood.  They also have a second location which can be found at 118 Entrada Drive in Santa Monica.  You can visit the Marix website here.
18382