Millions of Milkshakes
Mar 17th, 2010 | By
Lindsay
| Category:
This and That
Thanks to the earthquake which jolted me awake at around 4 O'clock this morning after which I was not able to fall back asleep, I am currently feeling a bit off my game.  So, I have to apologize in advance if today's particular blog post isn't exactly up to par.  Anyway, on with the stalking!  Back in November, fellow stalker Lavonna tipped me off to a little milkshake stand in West Hollywood named Millions of Milkshakes which has become quite the celebrity hot spot as of late.  The shop, which opened up in 2008, is basically a make your own milkshake bar featuring a virtual smorgasbord of over one hundred different ingredients (consisting of everything from chocolate chip cookie dough and Toblerone chocolate bars to fresh blueberries and protein powder), that customers can mix together in over 75 million different combinations – and yes, they actually paid a mathematician to calculate the number of milkshake possibilities – with either regular ice cream, non-fat frozen yogurt, or non-dairy ice cream.  If you're not brave enough to invent your own concoction, or don't have the time to peruse the shop's extensive menu of toppings – and believe me, it is overwhelming! – you can order up one of the many varieties created by and named after your favorite celebrity.   Of course, once Lavonna told me about the place I immediately added it to my long list of "To Stalk" locations, but since I don't get out to WeHo very often, I had yet to actually visit it.  But since we were in the area two Saturdays ago eating at the nearby Marix Tex Mex Cafe, I just had to drag my fiancé a few blocks to the west to finally stalk the famous milkshake stand.  And, let me tell you, the place was well worth the wait!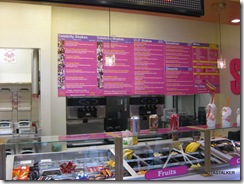 Millions of Milkshakes is an absolutely adorable little spot that was first opened up on Halloween day of 2008 by a British restaurateur named Sheeraz Hasan.  At the tender age of 16 in his hometown of London, Sheeraz came up with the inspired idea of converting his family's then-failing restaurant into a Hollywood themed eatery named the Tinseltown Cafe.  His cafe became an immediate success and a few years later Sheeraz headed out to Hollywood, with stars in his eyes.  He ended up becoming friends with Creative Artists' Agency founder Roland Perkins and creating his very own Los Angeles news show entitled Hollywood TV.  After the show took off, Sheeraz set his sights on opening up a milkshake stand.  Using his Hollywood connections, he invited tween queen Miley Cyrus to make an appearance at his newly opened eatery which set off an immediate publicity storm.  Shortly thereafter, the place became insanely popular with celebrities and non-celebrities alike.  Just a few of the stars who have created their own signature shake at the now-famous milkshake bar include LaToya Jackson, Vivica A. Fox, Donny Osmond, Ben Stein, Aaron Carter, John Gosselin (UGH!), Leonardo DiCaprio, Lindsay Lohan, Spencer and Heidi Pratt, Stephanie Pratt, Antonio Sabato, Jr., Gwen Stefani, Adam Sandler, Tim Allen, Paris Hilton, all three Kardashian sisters, and fellow stalker Owen's main gal Jennifer Love Hewitt.  In fact, Millions of Milkshakes has become such a celebrity hotspot that Good Day L.A. recently dubbed the place "the new red carpet".  Love it!  Also adding to the stand's popularity (at least in my eyes) is the fact that they are almost always playing Michael Jackson music on the stereo.  😉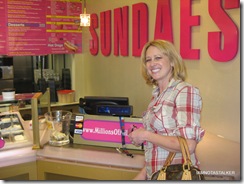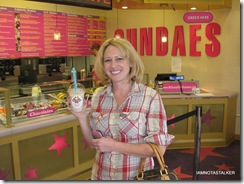 Because my girl Jen Aniston has yet to create a Millions of Milkshakes signature shake, my fiancé and I opted instead to order Miley Cyrus' creation.  And even though I really can't stand the singer/actress, I have to say that the girl's got some good taste in shakes!  The Hannah Montana star's drink is made up of vanilla ice cream, chocolate chip cookie dough, and Reese's peanut butter cups and I have to say that it was simply A-MA-ZING.  Like quite possibly one of the best things I have ever tasted in my entire life!  Sadly, because I am diabetic, I could only sample two small sips of the drink, but OMG you can bet I'm running straight to Millions of Milkshakes the next time my blood sugar is low.  😉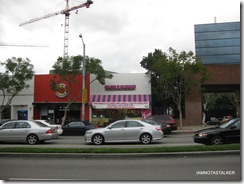 Big THANK YOU to fellow stalker Lavonna for tipping me off to this location and a Happy St. Patrick's Day to all of my fellow stalkers!  🙂
Until next time, Happy Stalking!  🙂
Stalk It: Millions of Milkshakes is located at 8910 Santa Monica Boulevard in West Hollywood.  You can visit their website here.
18416