Mia Wallace's House from "Pulp Fiction"
Mar 18th, 2010 | By
Lindsay
| Category:
Movie Locations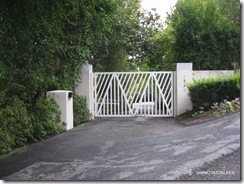 A few weeks ago, fellow stalker Chas, from ItsFilmedThere, set his sights on tracking down every single location featured in the 1994 movie Pulp Fiction.  Well, as soon as I found out about this bold undertaking, I begged him to find the ultra-modern abode belonging to Mia Wallace (aka Uma Thurman) in the flick, which was, of course, the location I was most interested in stalking (besides the '50s inspired Jack Rabbit Slims restaurant, which unfortunately doesn't exist in real life).  And, sure enough, he did!  Chas somehow managed to track down a crew member from the film who remembered that Mia's residence was located somewhere in Beverly Hills a few miles north of Sunset Boulevard.  So, Chas immediately got to cyberstalking and I am happy to report found the abode fairly quickly.   And once he gave me Mia's address, I dragged my fiancé right out to stalk the place.  Sadly, though, the gate pictured above is pretty much the only part of the property that is visible from the street.   🙁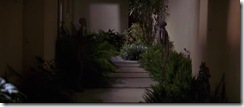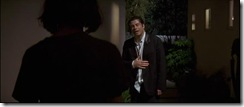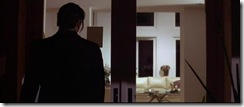 I was so hoping to see the home's main entryway, as that is the area of the house that is most recognizable from Pulp Fiction, but alas that was not to be.  🙁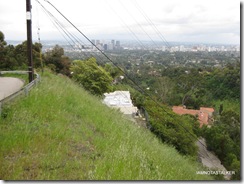 You can catch a slight (very, very slight) glimpse of the residence if you drive a bit north of the property . . .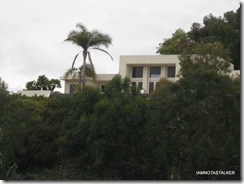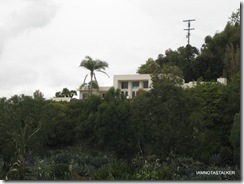 . . . . and another slight view of it if you drive a bit south of the main gates.  Aside from those two limited views, though, there unfortunately isn't a whole lot to see at this location.  Such a bummer!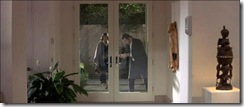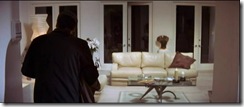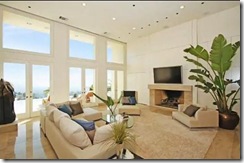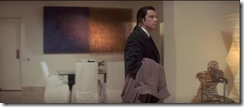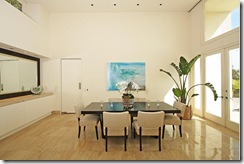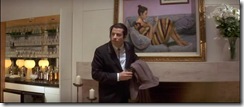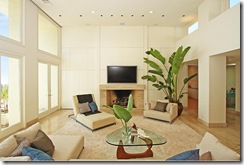 But that's why God created real estate listings!  While doing some research on the property earlier today, I not only stumbled upon a real estate website advertising the home (which is currently for sale at a price that is only made known upon request – yikes!), but a YouTube video, as well (see below)!  Score!   And, as you can see in the above photographs and screen captures, it seems that the real life interior of the residence was also used in the filming of Pulp Fiction.  So cool!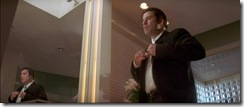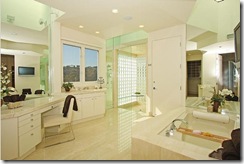 Even the home's real life bathroom was used in the scene in which Vincent Vega (aka John Travolta) tries to talk himself out of wanting to get together with Mia.   So cool!
In real life, the home, which was built in 1960, boasts three bedrooms, three and a half bathrooms, measures 4,015 square feet and sits on almost a full acre of land.   And while the real estate listing does boast that the "gated celebrity view estate" (and I'm not even really sure what that phrase means!) features an infinity pool and "state of the art electronics and security systems", for whatever reason it fails to mention its cinematic cameo!  If I was the property's real estate agent, you can bet its appearance on the silver screen would be my main selling point!  Hello!  I mean, that's bound to drive the price up at least a few dollars.  😉
Big THANK YOU to Chas, from ItsFilmedThere, for finding this location!  🙂
Until next time, Happy Stalking!  🙂
Stalk It: Mia Wallace's house from Pulp Fiction is located at 1541 Summitridge Drive in Beverly Hills.
18457