Tom Kelley's Photography Studio – The Site of Marilyn Monroe's Nude Pictorial
Mar 19th, 2010 | By
Lindsay
| Category:
Marilyn Monroe Locations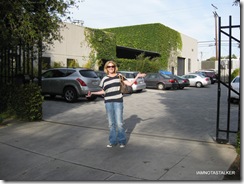 A few weeks ago, while out doing some Oscar stalking with Mike, from MovieShotsLA, the two of us visited a convenience store on Hollywood Boulevard which just so happened to be selling the latest edition of fave star map "Movie Star Homes and Notorious Crime Scenes".  So, I, of course, just had to buy myself a copy (actually, truth be told, Mike purchased it for me – Thank you, Mike!) and was absolutely floored to discover that one of the many new addresses included in the map was that of Tom Kelley's former photography studio, the very place where a then-unknown wanna-be actress named Norma Jeane Baker posed for her now-infamous series of nude calendar photographs on May 27, 1949.  Just twenty-two years old at the time, the blonde ingenue, who would just a short time later come to be known as one of the most famous movie stars in the entire world, posed sans clothing while laying on top of a drape made of red velvet.  When later asked about what she was wearing during the controversial photo shoot, Marilyn said, "It's not true that I had nothing on.  I had the radio on."  Love it!  Well, once I had the address of the studio, Mike and I headed right over there to stalk the place.   Yay!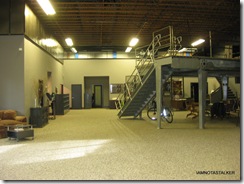 Tom Kelley's former photography studio is currently inhabited by Pictures in a Row, a production company which touts the famous history of their office space right on their website – SO LOVE IT!  The studio is unfortunately gated, but, as luck would have it – and I always seem to have the most AMAZING luck when I am out with Mike – one of the Pictures in a Row employees just happened to be standing outside of the gate when we pulled up.  So we, of course, got to talking to him and I told him about my blog and my love of Miss Monroe and asked if I could snap a few photographs.  Well, not only did he tell me to snap away, but he then asked – are you sitting down for this? – if I wanted to COME INSIDE THE STUDIO TO SEE WHERE THE FAMOUS PHOTOGRAPHS HAD BEEN TAKEN!   Well, let me tell you, I just about FAINTED right there on the spot!  Did I want to come inside????  Did I want to come inside?????  OF COURSE I DID!  So, after regaining my composure, he led me past the front gates and INTO TOM KELLEY'S FORMER STUDIO.  As you can probably imagine, I was just about DYING the entire time.  The interior of the studio is pictured above and while the employee told me that the space has undergone quite a few changes in the sixty some-odd years since Marilyn was photographed there . . .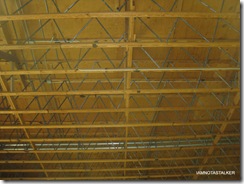 . . . the ceiling has been left largely untouched.  So, what is pictured above is pretty much the exact view Marilyn had as she looked upwards while Tom Kelley photographed her from a ten foot ladder.  So darn cool!  I really can't tell you how incredible it was to be able to actually set foot inside of such a historically significant building onto what I very much consider to be hallowed ground.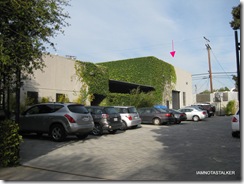 Because Marilyn's calendar photographs became so incredibly famous, the legends surrounding them abound.  There are even differing reports as to why the struggling starlet posed in the first place, but according to her official statement she was behind on a rent payment and simply needed the $50 paycheck.  Apparently, after the two hour session ended, the photographs of Marilyn sat in one of Tom Kelley's filing cabinets for over a year until Western Lithograph contacted him to see if he had any nudes he'd be willing to sell.  Kelley ended up selling the company two of his Marilyn photographs for a mere $200 fee and it was those two prints, which were entitled "Golden Dreams" and "A New Wrinkle", that wound up in the calendar.  The calendars were then sold and hung up in men's garages all over the U.S., but it wasn't until March of 1952 that a newspaper journalist named Aline Mosby identified the now-wildly-famous Marilyn as the calendar's model.   What followed was a virtual media firestorm, making Monroe more popular than she already was.  But the story doesn't end there.  In 1953, a young entrepreneur named Hugh Hefner purchased one of Kelley's prints and featured it as the centerfold in the very first issue of his new men's magazine which he dubbed Playboy.  That first issue sold a staggering 54,000 copies and turned the magazine and its creator into household names.  The rest, as they say, is history.  Marilyn was so significant in building Heff's empire, in fact, that he wound up purchasing the crypt directly next to hers at Pierce Brothers Westwood Memorial Park Cemetery so that he could lay in eternal rest with the woman who launched his career.  The area of the studio where Marilyn posed is denoted with the pink arrow in the above photograph.
Until next time, Happy Stalking!  🙂
Stalk It: Tom Kelley's former photography studio, where Marilyn posed for her now infamous nude calendar pictures, is located at 736 Seward Street in Hollywood.
18473