The Alley from Michael Jackson's "Beat It" Music Video
Mar 25th, 2010 | By
Lindsay
| Category:
Michael Jackson Locations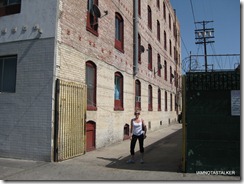 Last week, Mike, from MovieShotsLA, stumbled upon an article about Michael Jackson's "Beat It" music video written by a journalist named Sylvie Simmons who was actually on the set with the pop star during the legendary filming.  The article, which was published in a 1983 issue of "Creem Magazine", begins with the following sentences, "Downtown between the Pacific American Fish Co. and the Hotel St. Agnes Hospitality Kitchen there's an alley. Cars block each end, no escape. And, silhouetted in the car headlights, two rival LA gangs are swaggering towards each other."  She was, of course, speaking about the scene in the beginning of the "Beat It" video in which two groups of opposing gang members are shown walking down a dark alley.  Well, once Mike and I read Sylvie's words, we immediately started Googling the terms "Hotel St. Agnes Hospitality Kitchen" and "Pacific American Fish Company" to see if we might be able to track down the historic alley that supposedly ran between them.  I was actually thinking that this particular find would be an easy one – a slam dunk, if you will – but alas that was not the case at all.  Unfortunately, because 27 years have passed since the iconic video was filmed on the streets of Downtown Los Angeles, we both came up completely empty handed.  As far as we could tell, both the Hotel St. Agnes Hospitality Kitchen and the Pacific American Fish Company had long since either moved to new locales or been shut down entirely.  But, thankfully, Mike had a pretty big ace up his sleeve, so our "Beat It" alley search didn't end there.
As they say in battles, "When all else fails, call for reinforcements!", which is exactly what Mike did.  As luck would have it, Mike happens to know an LAPD officer named Rudy who has worked in the skid row area of Downtown Los Angeles for years.  So, Mike immediately called up Rudy and asked if he might be able to track down the fish market's former location.  And, sure enough, he did!  The former Pacific American Fish Company headquarters (pictured above) is located at 620 South Gladys Avenue, just a few short blocks from where both the "Beat It" diner and pool hall scenes were filmed.  Unfortunately, though, neither of us could find any sort of alleyway or hotel near the former fish company building.  It was then that I decided to expand my search.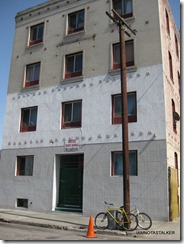 Using Google Street View I wandered a block north of the former Pacific American Fish Company and stumbled upon a building with a sign posted above its entrance which read "Hotel Saint Agnes".  Eureka!  I was extremely surprised to discover, though, that the fish company and the hotel were separated not only by several hundred feet, but by a large street, as well.  I had taken Simmons' words to mean that the two buildings were located directly next door to each other and that the alley could be found right in the middle of them.  In reality, though, she was describing an alley located at a point somewhere in between two places that I am guessing at the time were area landmarks.  So, I immediately started looking at all of the alleys that are situated in the space between the Hotel St. Agnes and the former fish market and fairly quickly came across one which looked like it could be the "Beat It" locale.  And, sure enough, it was!  YAY!  So, yesterday, on the way home from taking my dad to a doctor appointment, the two of us stopped in Downtown Los Angeles to finally do a little stalking of the famous "Beat It" alley!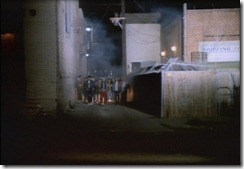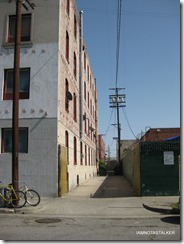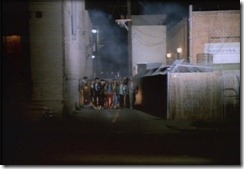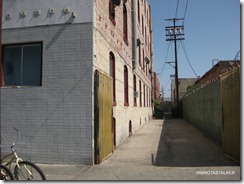 The "Beat It" alley actually shows up just once in the video and only for a very brief second, but to me the location is still iconic.  And, amazingly enough, as you can see in the above screen captures and photographs, it still looks almost EXACTLY the same today as it did 27 years ago when "Beat It" was filmed!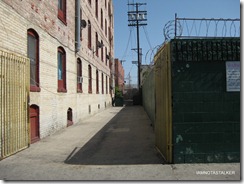 There are, of course, some differences, such as the fact that, for whatever reason, the Saint Agnes Hotel has since added rows of windows along its side.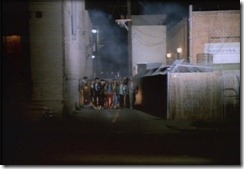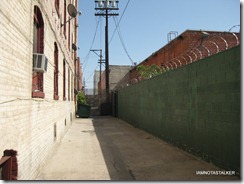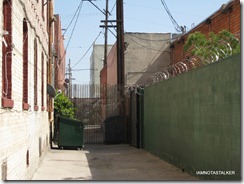 But the shape and position of the buildings and telephone poles in the background of the video as compared to real life are an almost perfect match.  Whoo-hoo!  The distance from the street to the buildings that border the alleyway is a bit off, as you can see in the above pictures, but I have noticed that movie cameras have a tendency to distort proximities, for whatever reason.  Objects in camera are not as close as they appear.  😉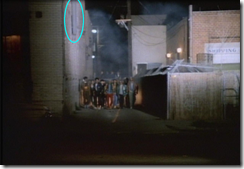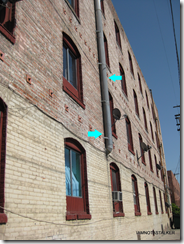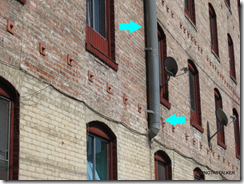 What struck me the most about the alley, though, was the fact that the big grey pipe shown running down the side of the Hotel Saint Agnes in "Beat It'" is STILL there to this day, over two and a half decades later!   SO DARN COOL!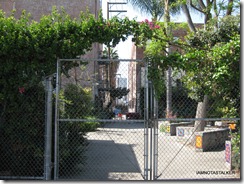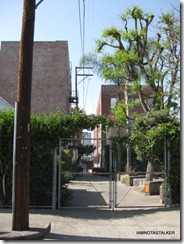 The other alleyway, that the rival gang is shown walking down in "Beat It", is, I believe, located directly across the street from the first one on the west side of South Gladys Avenue.  Unfortunately, though, because the images from that scene are so darn dark, I can't really say for certain that it's the right spot.  Oh, Michael, why couldn't you have filmed "Beat It" during the day?  I realize it wouldn't have given you the same sort of dangerous effect as filming at night did, but it sure would have made things easier on us stalkers!  😉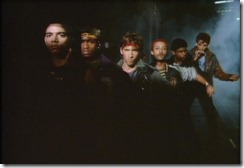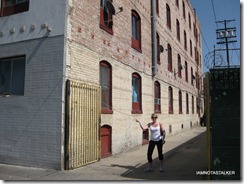 And, of course, I just had to do the little "Beat It" gang member finger snap while I was there.  I so wanted to look tough in the above picture, but that's a little hard to do when you're wearing capri sweatpants and carrying a Louis Vuitton purse.  😉  I am happy to report, though, that while the alley is not in an entirely fabulous area, it's not nearly bad as where the former pool hall/now grocery store is located.  I mean, as you can see, I did get out of the car for this stalk!  I wouldn't, however, recommend visiting this location alone, as it is in a pretty desolate part of town.  As always, please exercise caution.
Until next time, Happy Stalking!  🙂
Stalk It: The "Beat It" alley is located on the South 500 block of Gladys Avenue, next to the St. Agnes Hotel which is located at 560 South Gladys Avenue, in Downtown Los Angeles.
18606