The Probable "Beat It" Diner, Part II
Mar 30th, 2010 | By
Lindsay
| Category:
Michael Jackson Locations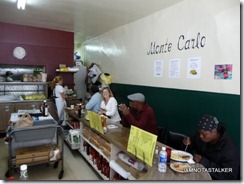 [UPDATE – The Monte Carlo Restaurant is NOT where "Beat It" was filmed.  The iconic video was actually shot at the Special Café, located just a few blocks away.  You can read all about it here.  Even though this post contains erroneous information, I am leaving it up as it chronicles an important part of the long, arduous journey my fellow stalkers and I embarked upon to track the locale down.]
This past Friday, after yet another doctor appointment in Downtown L.A., my dad and I stopped by the Monte Carlo Restaurant, aka the (probable) diner which appeared in Michael Jackson's 1983 music video for his hit song "Beat It".  Our mission that day – and yes, we chose to accept it 😉 – was two-fold.  First, I wanted to take more interior photographs of the place in the hopes that I would be able to find some small element which matched what appeared in the video so that I could finally confirm or deny once and for all whether or not "Beat It" had actually been filmed there.  Second, I wanted to take a closer look at the restaurant's "Open/Closed" sign to see if it was, in fact, the same exact one which was featured in the video, as fellow stalker John had speculated in a comment in my last post on the Monte Carlo.  If it was, my plan was to ask the owner if we could swap it out with a new sign that my dad had purchased so that I could take the "Beat It" sign home as a souvenir.  Upon closer inspection, though, the sign which is currently displayed in the window of the Monte Carlo Restaurant is brand, spanking new and is in far too good of shape and is far too clean to possibly be the same sign which hung there 27 years ago.  But . . .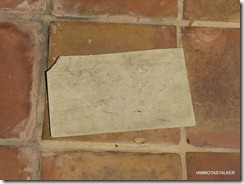 . . . as luck would have it, while we were dining my dad did happen to spot a loose linoleum floor tile that someone had propped up against the wall near where we were sitting, so he snagged it on our way out the door.  I'm really not kidding – he actually walked out of the restaurant with a floor tile in his hand!!!!  LOL  And while I'm still not even sure if "Beat It" was actually filmed at the Monte Carlo or, if it was, if that particular floor tile was in place at the time, it's still a pretty cool relic to have.  But, while I did walk away with a nifty souvenir, sadly the first part of our mission was not achieved as we didn't get any sort of confirmation about "Beat It" being filmed on the premises.  In fact, if it's possible, I am even MORE confused now than I was before!  This was actually a particularly frustrating stalk for me.  The woman who owns the Monte Carlo is Chinese and speaks very little English and I can't tell you how difficult it is to know that she has all of the answers I am seeking, yet not be able to fully communicate with her.  I am dying to bring someone into the restaurant who speaks Chinese fluently who could translate our conversation as I think it would finally put an end to all of our doubts and questions about the "Monte Carlo" being the "Beat It" cafe.  Any volunteers???  Anyway, to aid in my conversation with the owner, I showed her some screen captures from "Beat It" that I had stored on my cell phone.  Well, let me tell you, she just about had a heart attack right then and there!  She was practically screaming over the pictures and kept saying "My restaurant!  My restaurant!  Oh my God, my restaurant!"  She immediately grabbed my phone and proceeded to show the pictures on it to all of the people who were working the breakfast shift and all of the patrons who were dining at the time.  She then came back over to me and, from what I could best understand, said that she had been made to leave the restaurant during the filming of "Beat It", so she never got to meet or even see Michael.  She also explained that she had never actually watched the video before – which I found very odd.  If the biggest superstar in the world filmed a video in your cafe, wouldn't you not only have seen said video, but also bought a copy of it?  So, while it was extremely cute to see her get so excited over the pictures of Michael standing in her restaurant, it really gives me pause that she had never seen "Beat It'" before.  Because of the communication barrier, though, I wasn't able to ask her why that was.  Like I said before, I really need to get a translator in there!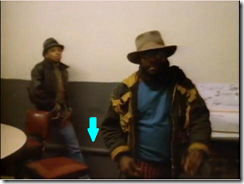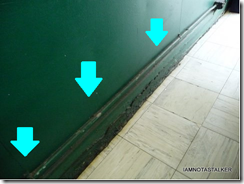 I did spot a few landmarks of sorts while my dad and I were at the Monte Carlo that match up with what appeared in the video – one of which was the conduit pipe which runs horizontally along the restaurant's south wall.  I am ashamed to admit that I actually never noticed the pipe in the video until fellow stalker David from Spain pointed it out to me a couple of weeks ago when I posted my first write-up on the "Beat It" cafe.  So, this past Friday while stalking the restaurant I made sure to look to see if that pipe was there in real life, too, which it was!  YAY!  That's a pretty big confirmation, at least in my eyes, that the Monte Carlo is, in fact, the same place that appeared in "Beat It".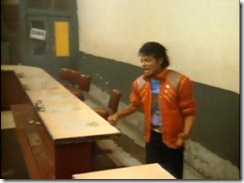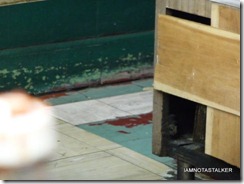 As you can see in the above photograph and screen capture, the lower portion of the wall next to the restaurant's entrance also matches the lower portion of the wall that appeared in the video.  It is apparent that the area of the wall closest to the floor was once painted a lighter shade of green, as was the case in "Beat It".  The flooring also appears to be worn in pretty much the exact same spots as it was in the video.  But, again, I would expect that sort of wear and tear in an old restaurant.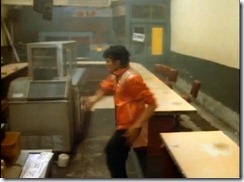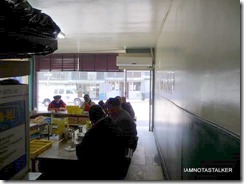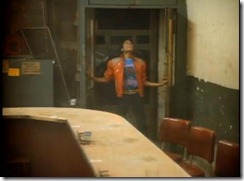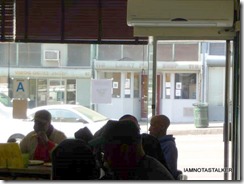 My dad took some photographs from close to the same angle from which "Beat It" was filmed so that I could try to match up certain aspects of the Monte Carlo to the "Beat It" cafe, but I am still unable to say whether or not it's the same place.   I'd love to hear the opinions of my fellow stalkers, though.  🙂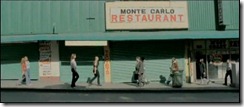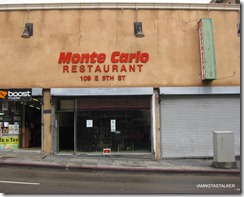 In a very ironic twist of fate, fellow stalker David from Spain was recently watching videos at a party and almost fell off his chair when he noticed a familiar site in the 2004 Hoobastank video for the song "The Reason".   That familiar site just so happened to be the Monte Carlo!  Yes, "The Reason" was filmed on location outside of the probable "Beat It" diner!!!!   Honestly, what are the odds of that?  What amazed me most about the whole thing, though, was how much of the restaurant has changed in the six short years since the video was filmed.  As you can see in the above screen capture and photograph, the exterior is almost unrecognizable.  In fact, if the "Monte Carlo" name hadn't been displayed outside, I wouldn't have believed it was the same place!  Apparently, at the time "The Reason" was filmed the restaurant had a green metal roof, a green metal overhang/awing, and completely different exterior signage, all of which is now gone, which got me to thinking – if that much has changed in six short years, imagine the myriad of changes that have occurred in the twenty-seven years since "Beat It" was filmed.  I mean, it's no wonder the cafe looks so different today than it did in the video.
On a Michael Jackson side note – I recently became obsessed with tracking down and purchasing the SUPER CUTE rhinestone-encrusted MJ T-shirt that comedian Jo Koy wore last week on the Chelsea Lately show (pictured above).  Thankfully, after the episode aired Jo twittered about where one could purchase said shirt and I immediately did.  🙂  The tee was created by a company named Broke2 and costs $40.  Not a bad deal, at all!  I had a feeling that some fellow MJ-obsessed stalkers might also be interested in the shirt.  If so, you can pick one up here.  They come in both women's and men's styles.
Until next time, Happy Stalking!  🙂
Stalk It: The probable "Beat It" diner, aka the Monte Carlo Restaurant, is located at 109 East Fifth Street in Downtown Los Angeles.  Please remember that the cafe is not located in the safest of areas, so exercise caution when stalking it.
18773