The "Father of the Bride Part II" Wall, House, and Intersection
Mar 31st, 2010 | By
Lindsay
| Category:
Movie Locations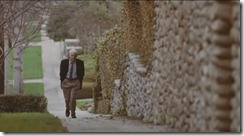 As I've mentioned quite a few times in the past, fellow stalker Owen and I are just a bit obsessed with both the 1991 movie Father of the Bride and its sequel, 1995's Father of the Bride Part II.  And while we had tracked down most of the locales featured in the flicks, Owen had his sights set on locating the wavy stone wall that George Banks (aka Steve Martin) walked by towards the beginning of Part II.  Although the wall only appears for one very brief second in the movie and seems like a rather peculiar spot to want to stalk, Owen was absolutely consumed with finding it.  And I must say, I understand.  Yes, maybe to some it is just a wall that flashed by once in a movie that is well over a decade and a half old, but to people who love Father of the Bride Part II and have watched it countless times over, that wall is a landmark – a significant piece of cinematic history.  Fellow stalker David from Spain made a comment to me the other day that rang so very true.  Speaking about our shared and unwavering desire to track down certain filming locations, he said, "I think you and I are infected with the same virus."  😉    Couldn't have said it better myself, David, couldn't have said it better!  So, when Owen told me he was dying to stalk that Father of the Bride Part II wall, I completely understood and vowed to help him find it.  As it turned out, though, he didn't need my help after all.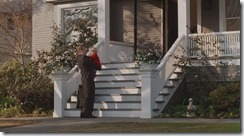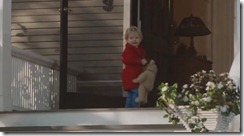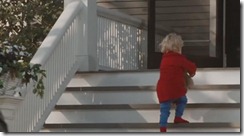 I was able to help him with one thing, though.  After Owen asked for my assistance with this particular stalk, I popped in my Father of the Bride Part II DVD and immediately recognized the grey-shingled home that George walks by just prior to the stone wall.  In the scene, George is shown walking in his neighborhood after getting into a fight with his wife Nina (aka Dianne Keaton), after just finding out that she is pregnant.  While walking he wonders if he still has what it takes to be a good dad at his age and then spots a man much younger than he standing on the front porch of a home kissing his son goodbye before leaving for work.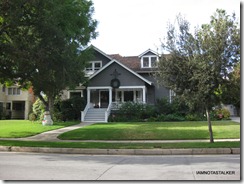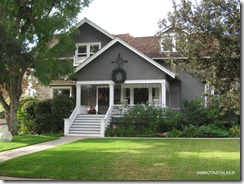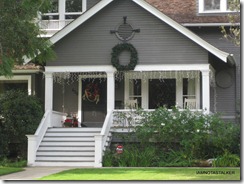 As fate would have it, Mike from MovieShotsLA, and I had JUST walked by that very same house a few weeks beforehand.  While grabbing a Starbucks one day in Pasadena, the two of us decided to take a walk over to the Mr. Deeds house which was fairly close by.  As we strolled down Madison Avenue, we randomly stopped to admire the above pictured residence and Mike said, "Wow, what a beautiful home!  I bet it's been used in a movie before!"  Because the house was so incredibly picturesque and had "Anywhere, U.S.A." written all over it, I completely agreed.  As the two of us walked on, the residence stuck in my brain and became one of many in Pasadena that I refer to as a "Thanksgiving House".  Every so often in my stalking travels I will come across incredibly charming and idyllic spots that immediately make me think of coming home at Thanksgiving.  I started using the phrase "Thanksgiving House" as a child after taking a stroll one holiday morning with my parents and listening to my mom say "Don't you want to spend Thanksgiving in a house that looks like that?" as she pointed out the many beautiful residences we passed.  The term has, for whatever reason, stuck.  So, when I popped in my Father of the Bride Part II DVD to help Owen with his search, I, of course, immediately recognized my "Thanksgiving House"!  Which proved Mike right – it had been used in a movie!  😉  And, ironically enough, when I returned to the house a few weeks later to snap some pictures, a crew was just getting ready to set up for the filming of a Cialis commercial on the premises!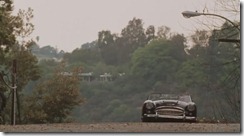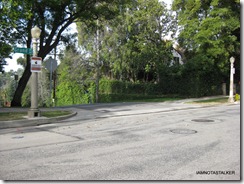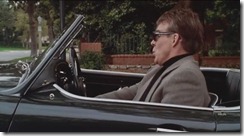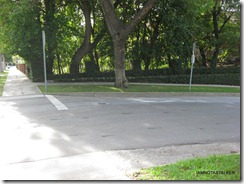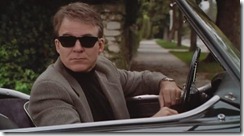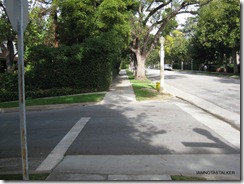 Once Owen knew that the grey-shingled house was located in Pasadena, he began searching for the stone wall there, too.  What he found first, though, was the intersection where George gets propositioned by a young blond woman in a convertible.   How in the heck he managed to recognize a fairly non-descript intersection is beyond me!  But he did and my hat is definitely off to him!  As fate would have it, while looking at the intersection via Google Street View, Owen fairly quickly noticed that it was located at the top of a very large hill.  Also located on that hill?  You guessed it – the stone wall Owen had been searching for!  YAY!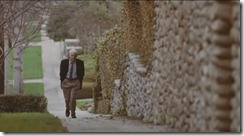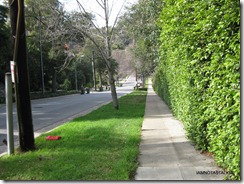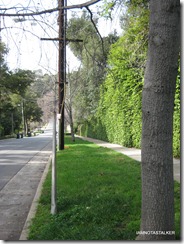 Sadly, though, Owen's stone wall looks very different today than it did in 1995 when Father of the Bride Part II was filmed.  In fact, the entire thing is now completely covered over with ivy and is almost completely unrecognizable.  Such a bummer!  Why anyone would cover up such a cool looking stone wall is beyond me.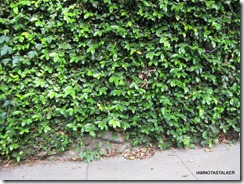 But as you can see in the above photograph, a few stones can still be seen peeking out from under the ivy in some parts of the wall.  So, at least there's that.
Big THANK YOU to Owen for tracking down these locations!  🙂
Until next time, Happy Stalking!  🙂
Stalk It: The Father of the Bride Part II house is located at 639 South Madison Avenue in Pasadena.  The spot where the blond woman hits on Steve Martin is at the intersection of South Grand Avenue and Arbor Street in Pasadena.  The stone wall Steve Martin walks in front of later on in the movie is just west of the intersection, on the 500 block of Arbor Street.
18817