Isabel's House from the "Bewitched" Movie
Apr 8th, 2010 | By
Lindsay
| Category:
Movie Locations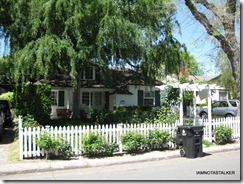 Last week, fellow stalker Tony, from the On Location in Los Angeles flickr page, asked for my help in tracking down the residence belonging to Isabel Bigelow (aka Nicole Kidman) and her loyal cat, Lucinda, in the 2005 movie adaptation of the television series Bewitched.  So, I, of course, immediately called upon "The Team" – aka fellow stalkers Owen, Mike, from MovieShotsLA, and Chas, from ItsFilmedThere – to see if they could help me find it.  Which they, of course, did!  Owen fairly quickly came upon fave website Hooked on Houses' awesome write up about the cottage which stated that it was located somewhere in L.A.'s San Fernando Valley.  And because the house's address number – 4427 – was also visible in the movie, we had two very strong leads to follow.  Owen immediately began searching the Valley – once he figured out exactly what part of Los Angeles constituted "The Valley", something I have still not yet been able to do 😉 – for houses with a "4427" address number and voila, it wasn't very long before he found the correct one.  YAY!  Thank you, Owen!  So, bright and early yesterday morning, I headed out to stalk the place.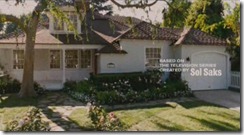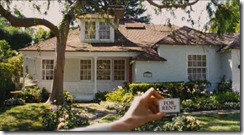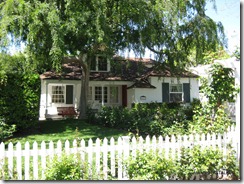 In Bewitched, Isabel discovers the house pictured above during a walk and immediately decides it would be the perfect place to start her new, "normal", non-witch life in which she has vowed to stop using magic.  She does, of course, continue to use magic – fairly soon after making the decision not to, in fact –  and, with a simple twitch of her nose, has a "for rent" sign put on the residence's front lawn and immediately leases the place and moves right in.   It's not very hard to see why producers chose to use the charming colonial style cottage featured in the movie, as it is extremely picturesque and idyllic.  It's exactly the type of place I'd imagine a witch seeking normalcy to want to live.  Heck, I would LOVE to live there, myself!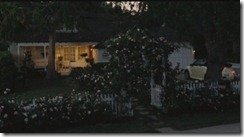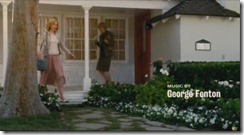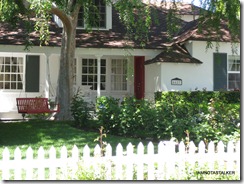 As you can see in the above screen captures and photographs, Isabel's house looks almost EXACTLY the same in person as it appeared onscreen, right down to the address plaque, white front porch bench, and red front door.  Love it!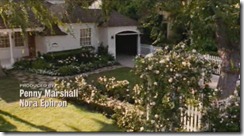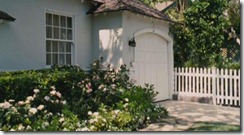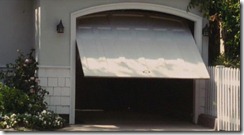 In fact, the only differences I noticed in real life were the absence of Isabel's single-car garage and the shutters on the window just to the left of it.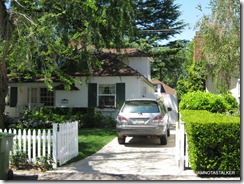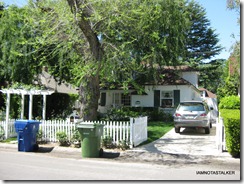 As you can see in the above photographs, that single-car garage is not there in real life.  There is a detached two-car garage located directly behind and to the right of the house, though, which leads me to believe that Isabel's garage was simply a facade that producers had built solely for the filming.  And, according to Hooked on Houses, only the exterior of the real life residence was used in Bewitched.  The absolutely adorable interiors, sadly, only ever existed on a studio soundstage.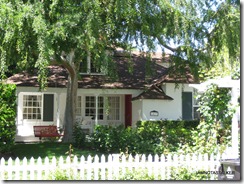 On an ironic side note – According to IMDB's Bewitched Trivia Page, in real life Isabel's home was once owned by Bewitched director Nora Ephron's parents' friends.  Ephron had visited the residence numerous times during her childhood and when it came time to scout locations for the movie, she remembered the house and thought it would be perfect to use as her lead character's abode.  What Nora didn't realize, however, was that her parents' friends who once owned the house were none other than Larry Berns and his wife, Sandra Gould – an actress who is best known for playing nosy neighbor Gladys Kravitz on the Bewitched television series.  Cue the Disney music, 'cause it truly is a small world after all!
Big THANK YOU to Owen for finding this location!  🙂
Until next time, Happy Stalking!  🙂
Stalk It: Isabel's house from the Bewitched movie is located at 4427 Radford Avenue in Studio City.
19171