Raquel Welch's "Beyond The Cleavage" Book Signing
Apr 26th, 2010 | By
Lindsay
| Category:
Celebrity Sightings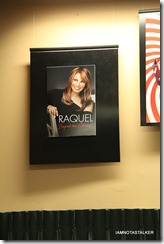 Ever since my mom found out that actress and 1960's/1970's sex symbol Raquel Welch was scheduled to do a book signing for her new tome Raquel: Beyond the Cleavage at Vroman's Bookstore in Pasadena on the evening of April 22nd, she became absolutely obsessed with attending the event.  And, even though I wasn't exactly sure who Raquel Welch was (at first I actually thought she was one of the original Charlie's Angels!), I agreed to accompany her.  Unfortunately though, because my father was in the hospital for most of this past week, my mom wound up not being able to attend the signing.  My entire family is pretty much spent – both emotionally and physically – at the current moment, but we are heading back to Minnesota to enroll my dad in the Mayo Clinic in a few weeks and hopefully the doctors there will be able to figure out what is wrong with him and restore some normalcy to our lives.  But I digress.  Even though my dad had been released from the hospital and was back at home on Thursday night, my mom said that she just didn't have the energy to attend the signing, so, since I live pretty close to Vroman's, I told her I'd go in her place.  I dragged the Grim Cheaper along with me, which is how, this past Thursday night, two very unlikely fans found ourselves sitting at Vroman's Bookstore amidst about 150 Raquel Welch enthusiasts, waiting to meet the raven-haired icon.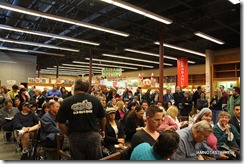 I expected Raquel's signing to be absolutely jam-packed, but when I arrived an hour and a half prior to its starting time, there were only about 15 people in the audience.  As the minutes ticked away, though, more and more fans showed up, but there were still far less people in attendance than I had originally anticipated.  By my estimation, there were only about 150 fans in the audience by the time 7 o'clock rolled around.  Before Raquel made her appearance, one of the Vroman's staff members explained the rules of the evening.  Now, I've been to quite a few book signings in the past and this was the first time that rules had ever been established beforehand.  The staffer explained that no photographs of the star were to be taken when she entered the room nor while she was speaking and that the only time pictures would be allowed was during the actual book signing.  She also stipulated that Raquel would not be posing for ANY photographs with the fans, nor would she be personalizing the books, which I thought was pretty ludicrous.  At all of the book signings I've ever been to, the authors have ALWAYS personalized their books.  I mean, what is the point of getting it signed, otherwise?  It is also pretty rare that an author won't pose for photographs with their fans.  I mean, if someone is going to shell out $28 plus tax to pay for a book and then wait upwards of two hours to get it signed, I really feel that the very least a star can do is personalize it and pose for a quick photograph.  The restrictions were pretty maddening and led me to believe that Raquel would be a full-on Di-va with a capital "D".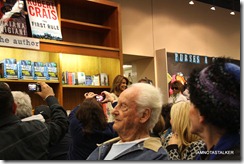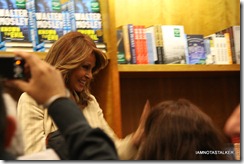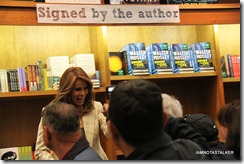 Which, I am happy to report, actually couldn't have been further from the truth!  The event started right on time and Raquel walked into the room promptly at 7 p.m.  We were told she had actually arrived at Vroman's thirty minutes early, which, in and of itself, is a non-diva maneuver.  And I have to say that she was absolutely BEAUTIFUL in person!  Like AMAZINGLY beautiful!  I wasn't expecting her to be quite so luminous.  Raquel's not nearly as short as I expected her to be, either – she was about my height, 5'4"  but my fiancé said she was wearing pretty tall heels, so she very well could be significantly shorter when wearing flats.  She was also extremely friendly and warm and waved and said hello to all of the people she walked by while making her way to the front table.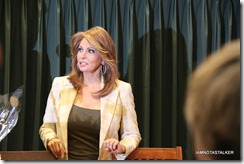 And even though the Vroman's staff had forewarned the fans that if anyone took a picture of Raquel while she was speaking, they would be asked to leave and their cameras possibly confiscated, THOUSANDS of flashbulbs went off as soon as she entered the room.  You can see how bright the camera lights were in the above photograph.  And they pretty much didn't stop going off the entire time!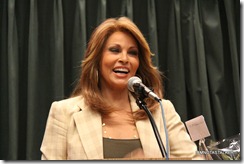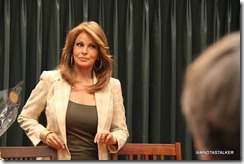 Raquel gave a very brief speech prior to signing her books, in which she stated that she has long been a fan of Vroman's Bookstore because it's an "old girl" like herself (the place was founded in 1894) and that it's still going strong, which is also much like herself.  She even called the place the "book lovers' book store", which just about made me want to swoon as I, too, absolutely LOVE Vroman's.  She talked about how much respect she has for writers now that she has completed a book, as it was very grueling work.  Tell me about it, honey!  😉  Raquel was extremely vivacious and charming during her speech and not AT ALL the diva I was expecting her to be after hearing her restrictive book signing policies.  Which brings me to a point.  Sadly, many of the people in attendance Thursday night were . . . well, to put it in plain language, creepy.  One man was wearing pajamas – not kidding – and quite a few others had on ripped-up, dirty sweatpants, disheveled hair, and looked as if they had rolled out of bed about two minutes prior to the event.  The guy behind me in line reeked of cigarette smoke and kept making odd grunting noises the closer he got to Raquel.  Seeing the myriad of oddball fans made me wonder if the icon was refusing to take posed photographs for her own protection.  I'll never know for sure, but the whole thing made me sad.   Note to fans – if you are going to meet someone you admire at a signing, don't wear pajamas or ripped-up sweatpants, run a comb through your hair, and, at the very least, take a shower!  I mean would you want to meet and pose for a picture with someone who had done anything less?  Gross!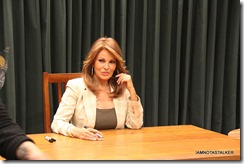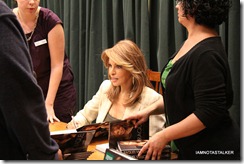 After Raquel's speech, the signing began.  Because I had gotten there so early, I was the fifteenth person in line and didn't have to wait long to get my mom's book signed.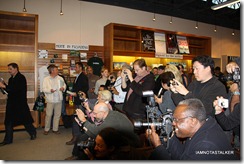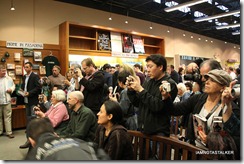 The whole event got kind of crazy as soon as she started signing books, though, and about thirty people rushed right up to the front table and began snapping photographs.  Book signings are usually pretty calm events, so I was surprised when this one incited such hysteria!  It was pretty funny to watch.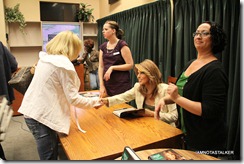 I was pleasantly surprised when I reached the front of the line and Raquel stuck out her hand for me to shake!  She was SUPER friendly and, as I said before, very warm.  I think she got slightly offended, though, when I told her that the book was for my mom, who was a huge fan of hers.   Ah well.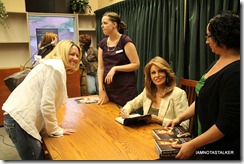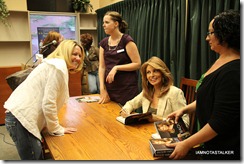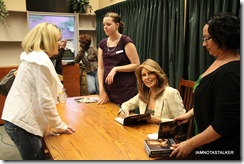 I am also very happy to report that Raquel did (sort of) pose for pictures with those fans who had someone accompanying them who could stand off to the side and snap a quick pic while she was signing their book.  My fiancé has a camera with a speed-burst shutter, which means that he can take a multitude of photographs in the space of one second, which he did while I was standing with Raquel.  Unfortunately though, the two of us couldn't quite seem to get it together in any of the photographs and we were never looking in the same place at the same time. LOL  But at least I got a picture with her . . .
. . . and a book signed for my mom.  As you can see, though, Raquel did not personalize it, which I thought was pretty darn janky.  🙁  Ironically enough, the woman sitting next to me during the event actually told me that it was better not to have my book personalized.  That way when I die, my family can sell it on eBay for a profit, whereas a book endorsed to "Lindsay" would be worthless.  NO JOKE – she actually said that!  LOL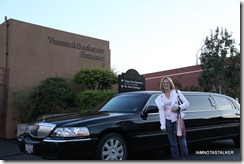 When we left Vroman's after the event had ended, we spotted Raquel's limo waiting in the parking lot, so, of course, I just had to take a picture with it.  🙂  All in all, the evening was a great experience, despite all of the ridiculous rules put in place prior to Raquel's arrival.  I had a blast meeting the icon and seeing how friendly, upbeat, and BEAUTIFUL she is in person.  My mom may have been the family's sole Raquel fan prior to Thursday night, but now there is definitely a second one.  🙂
Until next time, Happy Stalking!  🙂
Stalk It: Vroman's Bookstore is located at 695 East Colorado Boulevard in Pasadena.  You can check out their upcoming celebrity and author events here.  And you can purchase Raquel: Beyond the Cleavage here.
19726