Viola's Mansion from "Monster-in-Law"
Apr 28th, 2010 | By
Lindsay
| Category:
Movie Locations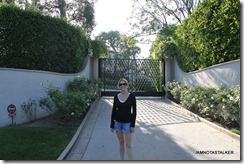 The second Monster-in-Law location that I set my sights on tracking down this past weekend was the gargantuan mansion owned by Viola Fields (aka Jane Fonda) in the flick.  Once again, fellow stalker Nick had done most of the legwork on this one by discerning that the house was located in Pasadena and had been built in 1927 by famed Los Angeles-area architect Wallace Neff, the very same man who was responsible for designing King Gillette Ranch (aka the Biggest Loser Ranch) and the dwelling where Brad and Jen lived during most of their five year marriage.  But even though Nick had provided me with that wealth of information, for some reason, I had a very difficult time finding this particular residence.  As fate would have it, not only did Wallace Neff design quite a few homes in the Pasadena area, but the vast majority of them were Mediterranean in style and extremely similar in appearance to the Monster-in-Law mansion.  So, I once again headed over to fave bookstore Vroman's with the hope that it could provide me with some Wallace Neff insight.  And, sure enough, it did!  As was the case with Kevin's house from Monster-in-Law, which I blogged about yesterday, Viola's mansion was chronicled in the very first book in which I looked – Wallace Neff: Architect of California's Golden Age.
In real life, the Monster-in-Law mansion is known as the "George O. Noble House" and, as I mentioned above, it was designed by Wallace Neff in 1927.  The Spanish Revival-style abode boasts six bedrooms, five bathrooms, and a whopping 8,971 square feet of living space.  And, while it once sat on over three acres of land, much of the parcel was subdivided in later years and the property currently encompasses "only" 1.2 acres.  Sadly, though, not much of the residence is visible from the street.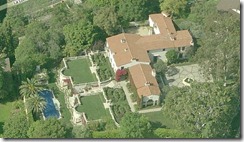 But, as I've said before, that's why God created aerial maps!  😉  As you can see in the above image, the George O. Noble House is not only stunning, but absolutely ginormous!
The mansion was featured quite a few times in Monster-in-Law . . .
. . . most notably in the scene in which Charlie Cantilini (aka Jennifer Lopez) and Kevin Fields (aka Michael Vartan) get married.
And, thanks to a photograph provided in the book Architectural Realism, you can see that the mansion's real life interior was also used in the flick. 
The George O. Noble House also appeared in the 2009 horror flick Drag Me to Hell as the residence belonging to Clay Dalton's (aka Justin Long's) parents.  And, as was the case with Monster-in-Law, the real life interior of the residence was also used in the movie.
A few other Monster-in-Law locations can also be found in the Pasadena area, including the Ross House, which I blogged about yesterday, and the Bundy House, aka the Governor's mansion from Benson, which was used as the home of one of Charlie's dog walking employers (pictured above).  And, yes, I did also find Charlie's apartment building from Monster-in-Law.  Tune in tomorrow for that location.  🙂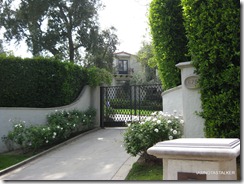 Big THANK YOU to Nick for helping me find this location!  🙂
Until next time, Happy Stalking!  🙂
Stalk It: The George O. Noble house, aka Viola's mansion from Monster-in-Law, is located at 675 Burleigh Drive in Pasadena.  The Governor's Mansion from Benson is located at 1365 South Oakland Avenue in Pasadena.
19813