Charlie's Apartment Building from "Monster-in-Law"
Apr 29th, 2010 | By
Lindsay
| Category:
Movie Locations
The third and final Monster-in-Law locale that I set out to find this past weekend was the supposed Venice Beach area apartment building where Charlie Cantilini (aka Jennifer Lopez) lived in the flick.  Fellow stalker Nick had already determined that the Spanish-style building was located somewhere in Hollywood, so from there I set out on a Google search using the terms "Mediterranean", "apartments", and "Hollywood".  And I have to say that I got REALLY lucky on this one, because the first thing that popped up was this  link to a complex named "Mediterranean Apartments" on North Sycamore Avenue.  After looking at an aerial view of the building, I quickly determined that it was not, in fact, the Monster-in-Law locale that I had been searching for, but I did notice another apartment complex just a few doors down that looked an awful lot like Charlie's. And sure enough, it was!  The stalking gods were definitely smiling on me during this search, because, honestly, what are the odds of tracking the building down so easily???  And, let me tell you, I almost fell over when I realized that not only had I already stalked Charlie's apartment a few years prior, but I had even blogged about it!  More on that later, though.
In real life, Charlie's apartment building is known as the El Cadiz and it is located in the heart of Hollywood, a good fifteen miles away from Venice Beach, it's purported location in Monster-in-Law.   The building was constructed during the height of the Great Depression in 1936 by architect Milton J. Black and was named after the province of El Cadiz in the south of Spain.  According to the book Courtyard Housing in Los Angeles: A Typological Analysis, the complex has the distinction of being the very last Spanish Revival-style courtyard apartment building to be constructed in L.A.  In 2005, the Church of Scientology purchased the El Cadiz, and thanks to the community's fear that the place would subsequently be torn down, just a few months later the City of Los Angeles declared it a Cultural Historic Monument, preserving its beauty for future generations to appreciate.  The El Cadiz is an absolutely gorgeous dwelling that boasts numerous Andalusian decorative elements including a red-tiled roof, covered balconies scattered throughout, large water fountains, arched doorways and windows, and a multitude of courtyards.  Sadly, though, none of those elements is visible from the street and what is visible is fairly non-descript, as you can see above.
Even more unfortunate is that fact that not even Google maps can give us a very good view of the building.  🙁   But you can read a more in-depth history of the property and see a picture of its interior courtyard here.
Charlie's apartment building is only featured at the very beginning of Monster-in-Law, in the scenes which take place before she moves in with new-fiancé Kevin Fields (aka Michael Vartan). 
Because of the way some scenes were filmed and because, according to the movie's production notes, all of the apartments in the El Cadiz building were vacant and undergoing extensive renovations at the time of the filming, I am fairly certain that the real life interior of one of the units was used in the movie, too.
Coincidentally, the El Cadiz was also featured each week during the first two seasons of the immensely popular television series Alias, where it stood in for Sydney Bristow's apartment.   (An even further coincidence is that both productions starred actor Michael Vartan!)  As I mentioned above, I actually stalked the place – and blogged about it! – back in February of '08, but because only the exterior of the complex was featured in Alias, while only the interior courtyard was featured in Monster-in-Law, I didn't recognize that they were actually the same place.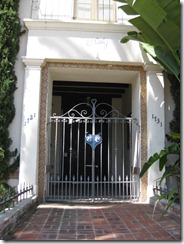 Big THANK YOU to fellow stalker Nick for helping me find this location!  🙂
Until next time, Happy Stalking!  🙂
Stalk It: El Cadiz, aka Charlie's apartment building from Monster-in-Law and Sydney Bristow's apartment building from Alias, is located at 1721-1731 North Sycamore Avenue in Hollywood.
19851