On the Set of "NCIS: Los Angeles"
May 4th, 2010 | By
Lindsay
| Category:
Celebrity Sightings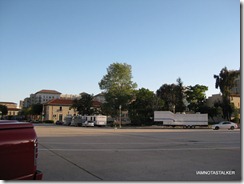 This past Thursday afternoon, my fiancé called me up to let me know that an episode of NCIS: Los Angeles was being filmed at the YWCA building in Pasadena, just a few blocks away from his office.  So, I immediately grabbed my jacket and my camera and headed over to the set with one goal in mind – to get a photograph with actor Chris O'Donnell, who had been the love of my life back in my high school days.  I showed up to the corner of North Garfield Avenue and East Union Street to find that NCIS had commandeered an entire city block of Old Town Pasadena for the filming!  But, unfortunately, all of the action was taking place inside of the YWCA building, so aside from a slew of production equipment and a myriad of about thirty production trucks, there wasn't a whole lot to see.  And, sadly enough, the security guard on duty – who absolutely could NOT have been nicer – told me that I had missed both LL Cool J and Chris O'Donnell by a mere twenty minutes.  Apparently, the two actors had walked out of their makeup trailer shortly beforehand and, on their way to the set, had stopped to pose for photographs with a small group of fans who had showed up to watch the filming.  UGH!  Talk about bad timing!  The security guard told me that I was welcome to hang around, though, and that the actors would most likely be back outside at some point during the next few hours.  So, hang around, I did.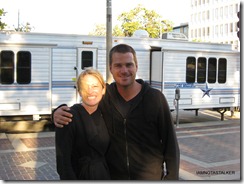 And, as luck would have it, I spotted Chris O'Donnell walking alone from the set to his trailer just a few minutes later.  But because he had no entourage with him and because he was a good twenty feet away from me, I didn't realize it was him until it was much too late.  I was absolutely shocked – and pleasantly surprised – to have spotted Chris walking alone, as stars almost always have some sort of an entourage – or "handlers" as they are called in "the biz" – who accompany them while on set.  Even more shocking was the fact that Chris had walked to his trailer.  It is fairly commonplace for stars to be driven back and forth to their Star Waggons while working on a production.  Granted, Chris' trailer was located only about a half a block away from the YWCA building, but I've seen stars be driven far less distances while on set.  Heck, I've even seen one celeb being driven from one side of a street to the other!  Not kidding!  Chris seemed super down-to-earth and friendly and made it a point to wave and say hello to the security guard who was on duty, which I also thought was incredibly cool!  I have so much respect for stars who acknowledge and are friendly to the crew members who work behind the scenes of their productions.  I once read that Drew Barrymore makes it a point to learn the name of each and every crew member – right down to the negative cutter – who works on her movies, which I thought was just about the coolest and most non-divaish thing I had ever heard!  So love it!  Anyway, once I spotted Chris, I parked myself outside of his trailer and immediately called up the Grim Cheaper and told him to get over to the set as soon as possible so that he could take a picture of the two of us.  The GC was NOT happy about this development, but headed over to the YWCA building anyway.  Ah, the things we do for love.  🙂   Thankfully, it was only about an hour before Chris exited his trailer and walked to the set – again sans entourage.  I called out to him and asked if he would mind taking a picture with me, and the guy truly could NOT have been nicer!  He was so incredibly friendly, down-to-earth, and low-key that he almost didn't even seem like a celebrity.  He happily posed for the above photograph (during which the wind was blowing like mad, which is why my hair ended up in my face!  UGH!) and shook my hand and introduced himself.  I told him that I had been a fan since 1992 when Scent of a Woman first premiered, and he thanked me for the longtime support and then continued on to the set.  Sigh!  The few NCIS: Los Angeles crew members that I spoke with were also incredibly friendly and nice and the vibe on set reminded me distinctly of that of CSI: Miami.  Love it!  🙂  After meeting Chris, the GC was ready to head home, so I never did get to see LL Cool J.  But getting a photo with Chris O'Donnell more than made up for that fact.  🙂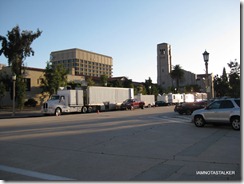 The Young Women's Christian Association building, where filming took place, was originally constructed in 1921 by famed Los Angeles-area architect Julia Morgan, who is best known for designing the world-famous Hearst Castle in San Simeon.   The land on which the YWCA now sits was donated to the Association by prominent Pasadenean David Gamble, of Proctor and Gamble fame.  The building, which cost $350,000 to build and was originally used by the Association as a social venue and a dormitory of sorts for young women, is currently in a state of disrepair and has sat abandoned and boarded up for the past two decades.   The City of Pasadena is currently involved in an eminent domain dispute with its owner and is trying to purchase the historic building and restore it to its former glory.  The owner, however, is refusing to sell. You can read more about the history of the YWCA building, which is on the National Register of Historic Places, here and  you can see some great interior photographs of the place here.  Other productions filmed on the premises include the movie Idle Hands and an episode of Heroes.
Until next time, Happy Stalking!  🙂
Stalk It: NCIS: Los Angeles was filmed at the YWCA building, which is located at 78 North Marengo Avenue in Pasadena.
19889