The Drug Store and Beauty Salon from "Beautiful Girls"
May 13th, 2010 | By
Lindsay
| Category:
Movie Locations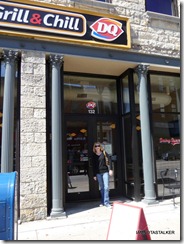 Another Stillwater location that I was incredibly excited about stalking was the drugstore where Gina Barrisano (aka Rosie O'Donnell) spewed a very choicely-worded rant at Willie Conway (aka Timothy Hutton) and Tommy "Birdman" Rowland (aka Matt Dillon) over their superficial treatment of women in fave movie Beautiful Girls.  Fellow stalker Owen had actually managed to track down this locale – and Willie and Marty's houses, come to think of it – long before getting his hands on the flick's master location list, which I talked about yesterday.  Sadly, though, the Beautiful Girls drugstore, which was named St. Croix Rexall Drugs, closed in 2008 and the space which once housed it has since been completely remodeled and turned into a Dairy Queen.  When Owen first told me the sad news, I was reminded of the scene in You've Got Mail, during which Kathleen Kelly (aka Meg Ryan) talks about the closing of her children's bookstore and says, "People are always telling you that change is a good thing, but all they're really saying is that something you didn't want to happen at all has happened.  My store is closing this week.  I own a store – did I ever tell you that?  It's a lovely store and in a week it will be something really depressing, like a Baby Gap."  Sigh.  Couldn't have said it better myself, Meg!  I mean can you think of anything more depressing than a Dairy Queen?  Ugh, I so hate change!  I can't even begin to describe how depressed I was over learning that the drugstore was no longer, but because it was the site of one of my all-time favorite movie scenes, I just had to stalk the location where it once stood.
Only the interior of St. Croix Rexall Drugs was used in Beautiful Girls.
And it, of course, looks completely different now than it did then.  When locations change, I often stalk them anyway in the hopes that there will be something recognizable – some small remnant of the movie magic which once took place there – which still remains at the site, but, as you can see, that, sadly, was not the case with the Beautiful Girls drugstore. 
The exterior of the Dairy Queen is pictured above, but, sadly, it, too, was completed re-vamped after St. Croix Rexall Drugs closed.  You can see some exterior and interior photographs of what the building used to look like on this Flikr page.
At the time of filming, the salon where Gina worked – and where she actually began her rant – was a place called Smitty's Barber Shop and it was located right around the corner from St. Croix Rexall Drugs. 
Sadly though, that, too, has since been closed and is now a tattoo parlor named Tatts by Zapp.  Such a bummer!
The interior of Smitty's was also used for a brief scene between Rosie O'Donnell, Mira Sorvino, and Anne Bobby in Beautiful Girls, but the tattoo parlor was closed when we showed up to stalk the place, so I wasn't able to peek inside to see if it looked at all the same as it did in the movie.
As bummed as I was to discover that both the drugstore and the salon had long since closed down, I still had an absolute blast in Stillwater.  The city is BY FAR one of the most adorable places I have ever visited in my life!  I loved, loved, loved it!  So did my parents, who, as I mentioned in a previous post, are seriously considering spending a few months there after my mom retires next year, which I think is so incredibly cool!  Especially since we never would have even known about the place had it not been for Beautiful Girls.  Fellow stalker Owen and I were just discussing how visiting off-the-beaten-path areas one might otherwise never have known about is one of our very favorite things about stalking.  When my best friend Robin came to visit me from Switzerland last year, he asked how it was that I knew about so many fabulous, not-in-a-guidebook-type spots in Los Angeles and New York.  DUH – because they were all in a movie or TV show, of course!  🙂  Anyway, if you ever have the chance to visit Stillwater, I HIGHLY recommend doing do.  Not only is the architecture unique, quaint, and beautiful . . .
. . . but there are amazing views of the St. Croix River from pretty much everywhere you look!  It is a truly gorgeous city!
You can watch the not AT ALL suitable for work – unless your speakers are turned off or you have headphones on – drug store scene from Beautiful Girls by clicking above.
Big THANK YOU to Owen for finding this location!  🙂
Until next time, Happy Stalking!  🙂
Stalk It: The former St. Croix Rexall Drug Store, now Dairy Queen, from Beautiful Girls is located at 132 Main Street South in Stillwater, Minnesota.  Gina's Salon, the former Smitty's Barber Shop, is now the Tatts by Zapp tattoo parlor, which is located at 235 East Chestnut Street, just around the corner from the Dairy Queen.  To learn more about Stillwater, you can visit the city's official website here.
20178