The "Beautiful Girls" Bus Stop
May 17th, 2010 | By
Lindsay
| Category:
Movie Locations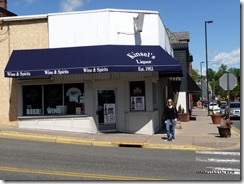 The fourth and final Stillwater location that my family and I stalked while in Minnesota two weeks ago was the "Knight's Ridge, Massachusetts" bus stop where Willie Conway (aka Timothy Hutton) was first dropped off upon returning home for his high school reunion at the very beginning of fave movie Beautiful Girls.  In real life, that location is not actually a bus stop at all (nor is it located in the fictional town of Knight's Ridge, either, of course), but a liquor store named Kinsel's Liquor which, as fate would have it, just so happened to be our very first stalking stop in Downtown Stillwater.  It's pretty darn cool that my parents and I began our Stillwater journey in the exact same spot where Willie began his in Beautiful Girls.  🙂  I found this location thanks to fellow stalker Owen and the highly-coveted Beautiful Girls master locations list which he procured for me before my trip.  And even though Kinsel's Liquor appeared in only one very brief scene in the movie, since we were in the area and since it is the location where the storyline of Beautiful Girls truly begins, I just had to stalk the place. 
The first few minutes of Beautiful Girls actually take place about a thousand miles east of Stillwater, at a New York City lounge named the 1889 Bar & Grill, where Willie works as a piano player.  After the 1889 closes for the night, Willie says good-bye to his boss and heads over to New York's Port Authority Bus Terminal where he purchases a one-way ticket to his hometown of Knight's Ridge, Massachusetts.  Why a one-way ticket, you ask?  Because at that point in the movie, Willie is at a crossroads in his life and is unsure of whether or not he will ever return to the Big Apple.  Sadly, though, like so many other Beautiful Girls locations, the 1889 Bar & Grill is no longer.  The space which once housed the lounge was torn down in 2006 to make way for a luxury hi-rise condominium building named 100 West 18th.  Such a bummer!
Early the next morning, Willie gets dropped off in Knight's Ridge, at a fictional bus stop located right in front of Kinsel's liquor, where his high school buddy Michael "Mo" Morris (aka Noah Emmerich) is waiting to pick him up. 
After a huge hug, Willie and Mo retreat to Mo's station wagon, which is parked on the south side of the liquor store, where the two men discuss Willie's current girlfriend of about a year, Tracy, whom he is unsure if he wants to marry.  The men then head to Willie's childhood home and the story takes off from there.  🙂  So, there it is – today's post.  It's a short one, I know.  In fact, truth be told, being that this location is "just" a bus stop, and not even a real one at that, I hesitated to even blog about it.  But because it is the place where one of my all-time favorite movies truly began, it is extremely sentimental to me and I decided I just had to! 
Big THANK YOU to Owen for finding this location for me!  🙂
Until next time, Happy Stalking!  🙂
Stalk It: The Beautiful Girls bus stop is actually Kinsel's Liquor Store, which is located at 118 East Chestnut Street in Stillwater, Minnesota.  The Greyhound bus dropped Willie off on the east side of the store, while Mo's car was parked on the south side.  The 1889 Bar & Grill was formerly located at 108 West 18th Street in New York City.
20253