Mickey's Diner from "The Mighty Ducks"
May 19th, 2010 | By
Lindsay
| Category:
Movie Locations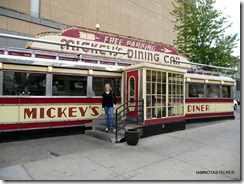 I thought I'd give y'all a break from the myriad of Beautiful Girls locations that I've been blogging about as of late by dedicating today's post to a very famous and historic St. Paul restaurant named Mickey's Diner.  The diner is something of a Twin Cities landmark and pretty much every Native Minnesotan that my parents and I met while in the North Star State two weeks ago – from the concierge at our hotel to the barista at the local coffee shop – told us that we absolutely HAD to grab a bite to eat there.  Ironically enough, though, like any good stalker, I already had Mickey's at the very top of my Must-See-While-In-Minnesota list long before our plane even touched ground at the Minneapolis-St. Paul International Airport.  I first found out about the diner a few weeks prior to my trip thanks to the the IMDB Mighty Ducks filming locations page and, since I loved the entire Mighty Ducks series – especially its leading man, Joshua Jackson – I was dying to see the place in person.  Unfortunately though, because I had over twenty locations on my To-Stalk list, I didn't have time to actually eat at Mickey's, which is a real shame as I hear the food there is absolutely to die for!   Not eating at Mickey's is truly my only Minnesota stalking regret.  🙁  Ah well, there's always next time!
Mickey's Diner was founded by friends David "Mickey" Crimmins and John "Bert" Mattson, who decided to purchase a dining car after attending the National Restaurant Convention in Chicago in 1937.  The fifty foot by ten foot car, which was one of the first to be designed in the Art-Deco-style, was originally built in Elizabeth, New Jersey by the Jerry O'Mahoney Company.  In 1939, the completed restaurant was transported by a flatbed railcar to its current location at the corner of West 7th and St. Peter Streets in Downtown St. Paul.  It has been in continuous operation – 24 hours a day, 365 days a year – ever since and, after three generations, is still owned and operated by the Mattson family.  On February 23, 1983, Mickey's was added to the National Register of Historic Places.
Mickey's Diner is an incredibly cool little spot and the people there truly could NOT have been nicer.  They answered all of my silly little questions about the filming that has taken place there over the years and allowed me to take all of the photographs of the interior that I wanted, even though I wasn't actually dining there.  I'm hardly the first stalker to visit the place, though.  According to this article written by Chicago Sun-Times staff writer Dave Hoekstra, the restaurant's current owner, Melissa Mattson, conducted a survey back in 1999 to determine how many of her patrons were actually movie buffs who had come to stalk the diner due to its many cinematic appearances.  According to her findings, stalkers account for five percent of her customers.  Love it!    
In Disney's The Mighty Ducks, Mickey's was the spot where Charlie Conway's (aka Joshua Jackson's) mom Casey (aka Heidi Kling) worked.  The diner also appeared in the movie's sequels, D2: The Mighty Ducks and D3: The Mighty Ducks.  And yes, that is a VERY young Joshua Jackson pictured in the above screen captures!  🙂
In 1996's Jingle All The Way, Howard Langston (aka Arnold Schwarzenegger) pushed his car to Mickey's Diner after running out of gas on a Minnesota bridge.  And while the real exterior of the restaurant was used in the filming . . .
. . .  the interior was actually a set that was recreated on a soundstage.  As you can see in the above screen captures, the set was built to be much larger than the actual restaurant.  In real life, the diner boasts four booths, which are located at the far west end of the dining car, 17 counter stools, and can only accommodate a maximum of 36 patrons.
The 2006 movie A Prairie Home Companion actually opens up at Mickey's Diner, where private investigator Guy Noir (aka Kevin Kline) is shown feasting on "a grilled cheese sandwich with beans for a chaser" before heading across the street to work at the Fitzgerald Theatre one rainy Saturday night in St. Paul. 
The diner is also the site of the movie's closing scene, in which Guy, along with his friends Rhonda Johnson (aka Lilly Tomlin), Yolanda Johnson (aka Meryl Streep), Lola Johnson (aka Lindsay Lohan), Dusty (aka Woody Harrelson), GK (aka Garrison Keillor), and Lefty (aka John C. Reilly), discuss taking their former radio show on the road for a farewell tour.  And apparently, quite a few of the stars of A Prairie Home Companion would stop into Mickey's quite regularly to grab a bite to eat during their time on location in St. Paul.  So cool!  Mickey's Diner has also been featured in the television series Rachel Ray's Tasty Travels, Unwrapped, Roker on the Road, Alton Brown's Feasting on Asphalt, and Jesse Ventura's Minnesota.  The diner is also something of a celebrity hotspot and has attracted the likes of Roseanne Barr, Tom Arnold, Liv Tyler, Bill Murray, Andy Garcia, Faith Hill, Tim McGraw, John Stewart, the Beach Boys, New Kids on the Block, and Julio Iglesias, who once spontaneously serenaded a Mickey's waitresses while on bended knee. 
On a side note – While making A Prairie Home Companion, the movie's stars, including Woody Harrelson, Lindsay Lohan, Lily Tomlin, Tommy Lee Jones, Kevin Kline, Virginia Madsen, and John C. Reilly, all bunked at the absolutely gorgeous St. Paul Hotel.  The St. Paul was built in 1910 by the Minnesota-area architectural firm of Reed and Stern, who are perhaps best known for designing Grand Central Station in New York.  The hotel is absolutely beautiful inside and if you are in the area, I HIGHLY recommend stalking it.  The next time I visit Minnesota, I am DEFINITELY booking myself a room there!  🙂
Until next time, Happy Stalking!  🙂
Stalk It: Mickey's Diner is located at 36 West 7th Street in St. Paul, Minnesota.  The restaurant is open 24 hours a day, 365 days a year.  You can visit the Mickey's Diner website here.  The St. Paul Hotel is located at 350 Market Street, also in St. Paul, Minnesota.  You can visit the St. Paul Hotel website here.
20393